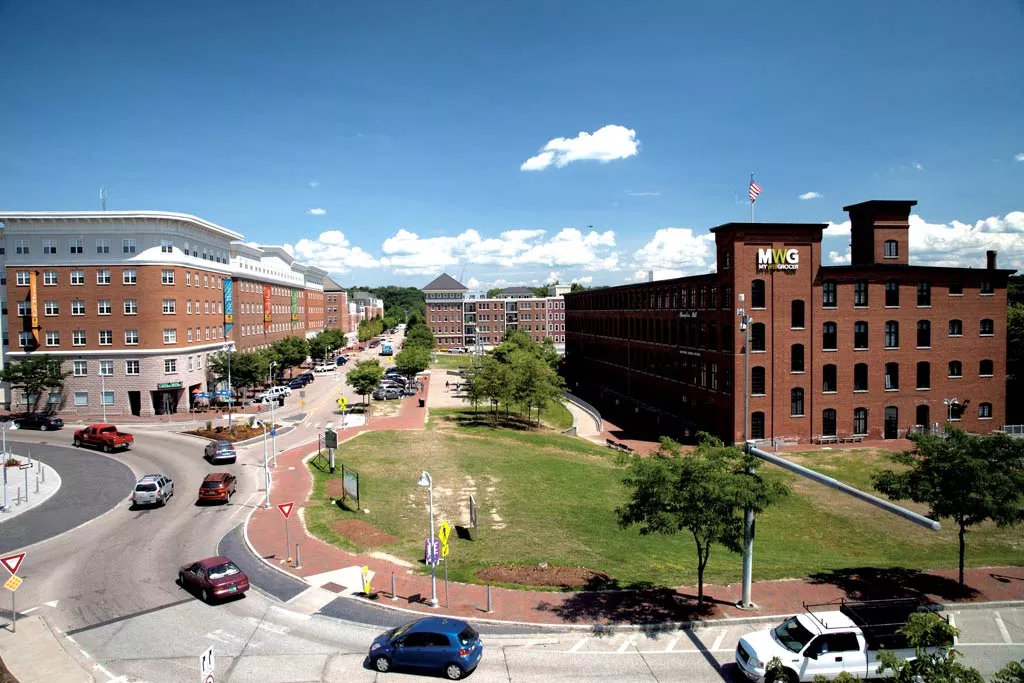 Matthew Thorsen
Winooski
Burlington's great, but sometimes you need a change of scenery. Luckily, there's another vibrant cultural and social hub just across the river in Winooski.
The city is named after the Winooski River, which got its name from the Native American word for onion.
Incorporated in 1922, the Onion City was once an industrial mill town overshadowed by Burlington, its well-to-do neighbor. When the woolen mills closed in the 1950s, it struggled to recover.
But now the 'Noosk is in the midst of a dramatic revitalization. In recent years, developers have renovated the old mills and built condos, luxury apartments, a parking garage and student housing such as Spinner Place.
Winooski, population 7,239, is also home to a sizable number of immigrants and refugees, making it one of Vermont's most ethnically diverse communities.
Both of these trends have given rise to some of the area's best restaurants, many of which are located around Winooski's infamous downtown roundabout.
These days there are plenty of student-friendly spots packed into this 1.2-square-mile city. Here are seven of our favorites:
As its name suggests, Winooski's principal coffee shop doubles as an art gallery. You can take in work by local artists while enjoying decadent pastries and sipping coffee or tea drinks in one of the sunny window seats. It's the perfect place to write a paper or chat with friends. And here are three words that will change your life: coffee ice cubes.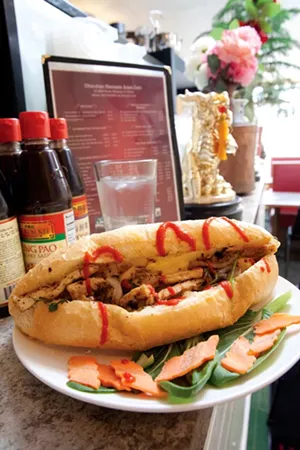 Matthew Thorsen
Dharshan Namaste Asian Deli
A Nepalese woman and her Vietnamese husband own this four-table eatery, where you'll find delicious and reasonably priced pan-Asian specialties. Their tasty wings come in two flavors: hot-and-spicy or sweet-and-sour. For $3.50, the bahn mi sandwich is a great deal. If the line is too long, slip out and order from Pho Dang, the no-frills Vietnamese joint across the street.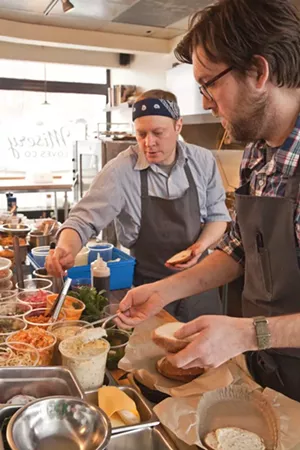 Matthew Thorsen
Misery Loves Co.
Got a hot date? Treat yourselves to Misery Loves Co. Its two James Beard Award-nominated chefs serve up creative cuisine at both lunch and "supper," though the menus differ. For lunch, try an artfully made sandwich with a homemade soda and a side of "filthy fries." For dinner, you and your sweetie can order a selection of small plates or split a "Meat & Three" — an order of meat with three sides. The menu changes daily, though it rarely caters to vegetarians. Get gourmet coffee and pastries the morning after at the restaurant's bakery — MLC Bakeshop. It's on the other side of the roundabout.
You can shoot pool and shake your lecture-hall blues at Winooski's hippest live music venue. Up-and-coming local, regional and national acts rock out nearly every night in this friendly, intimate room.
You can't see mountains from Winooski's waterfront, but you can occasionally spot herons, muskrats and beavers. The falls are scenic, too, and the sound of rushing water blocks out the traffic noise. Continue past the falls, beyond where the boardwalk ends, and you'll wind up under the bridge across I-89, where local graffiti artists surreptitiously stash their masterpieces.
Courtesy Of Sloan Mercantile
Sloane Mercantile
This newly opened resale shop — one of Winooski's true gems — offers a wide selection of clothing, vinyl, locally sourced art and knick-knacks of all kinds. It also hosted a number of performances during the last Waking Windows, the Onion City's annual spring music and arts festival.
There's a line out the door of this breakfast spot on Saturday and Sunday mornings, and with good reason. Sneakers is known for unique twists on classics such as eggs Benedict and chicken and waffles. The menu includes lunch and lots of vegetarian options. Too hungry to wait? On the weekend check out Our House or McKee's Pub & Grill, two other tasty, but typically less crowded, Winooski breakfast joints nearby. wg
Can't get enough of the 'Noosk?
Craving pad Thai, dumplings and mango sticky rice? Over at Tiny Thai, they're cooking up some of the best Asian cuisine in the area.
It'll only take two words to get you into Mule Bar: Taco Tuesday.
Wanna re-enact the spaghetti scene from "Lady and the Tramp?" Papa Frank's serves up no-frills Italian on the cheap in a down home atmosphere.
Looking for a late night Sicilian slice or a just spot to catch the game? Try Donny's NY Pizza and Sports Bar. Especially if you're a Yankees fan.
Are you a budding wine snob? First of all, get over yourself.Then check your pretentiousness at the door and dig on the voluminous wine list at this boutique wine bar Oak45.
Students enrolled in Dr. Todd's "What's Brewing in Food Science?" class at UVM should take a look at Vermont Homebrew Supply, right next to the Beverage Warehouse.