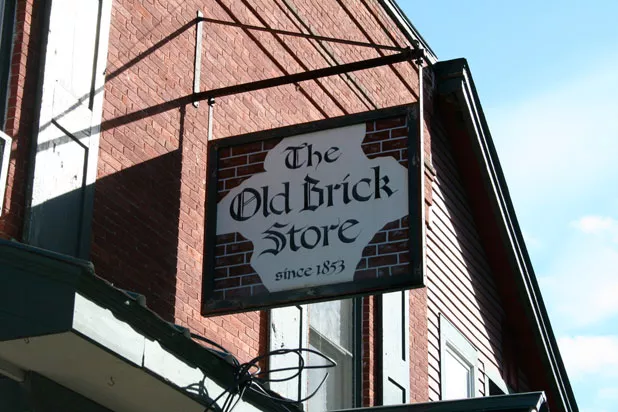 The current chapter in the history of Charlotte's Old Brick Store began with a tragedy. When Nancy Cunha - owner of Burlington's Manhattan Pizza - purchased the business in January of 2006, "it was supposed to be her dream store," explains her eldest daughter Alisha. But two weeks after the purchase, Nancy passed away unexpectedly, leaving the businesses in the hands of her three young daughters.
Although she was in nursing school at the time, Alisha took the reins, with help from her siblings. "My mother's intention was to put a Manhattan down here, and we basically finished what she started," Cunha relates.
Last year, she and her boyfriend added an Essex branch to the family of pizzerias and made plans to sell the rural Charlotte locale. But with the economic downturn, they couldn't find a buyer. Cunha recently listed the Brick Store with Vermont Business Brokers.
Things have been tough in the interim. "By April, we'd been trying to sell the store for a couple months," explains Cunha. Money was tight, so they nixed the pasta and pies: "We decided to go back to the roots of the Old Brick Store and turn it into a deli and a country store," she explains. But loyal customers have found the stock depleted and many items unavailable. "The economy has hit us hard this summer, but we're doing better these days. As we can, we order a little extra here and there. We've got Vermont soaps, gift-y things and local stuff," Cunha professes.
Has Rick Benson's Little Garden Market, just a few hundred feet down Ferry Road, hurt the business? "I think it's different enough that they complement each other," Cunha says. "People who are just looking for a good deli sandwich will always come here, and people who are looking for the more upscale to-go stuff will go there. I think the more variety we have [in the area] the better."
Despite the troubles in Charlotte, Cunha asserts that the other two Manhattan locations are doing "great." And hopefully, once the Brick Store is sold, she'll be able to devote more resources to both of them, and to her chosen profession: nursing.