James Buck
Ashley Messier with her oldest daughter
In April of last year, my sister Maddie was led from her cell at a New Hampshire jail to a telephone, where she called in to a hearing that was taking place in a Vermont family court. The matter before the court was not related to her incarceration, which was for failing to report to her probation officer, but the fate of her 3-year-old son.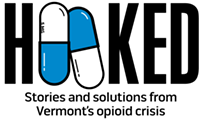 I wasn't at the hearing, which was closed to everyone except the parties directly involved, but Maddie and our sister Maura each called me later crying. Maura told me Maddie had sobbed as she informed the judge she was voluntarily terminating her parental rights to her son, Ayden, and that the judge commended her for her bravery in taking the step, which would allow Maura and her husband to adopt him.
This outcome was what Maura had been advocating for over the past year and a half, but she knew that separation from her son had been an almost unbearable source of pain for Maddie, and we all feared what this final and permanent severing would mean for her.
I don't know of a word that adequately describes what Maddie was feeling when I spoke with her several hours after the hearing — despair and devastation are understatements. She had struggled with substance-use disorder for more than a decade, experiencing the most and least stability since the birth of her son. He had given her a reason to live, and losing him was so painful it became one more trauma she used drugs to survive.
That hearing was one of the final chapters in a saga that had been going on for almost three years, since the first time Ayden was removed from Maddie's custody by Vermont's Department for Children and Families, after she and her partner relapsed into drug use six months after he was born. They went to rehab, got sober and were reunited with their son before his first birthday.
But a year later they relapsed again, and this time were unable to pull themselves out of their addiction in the three to six months they were allowed before the state began the process of having Ayden adopted.
That April court hearing was also one of the last chapters in the saga that was Maddie's life since becoming addicted to opioids as a teenager. She died less than six months later, a month before Maura and her husband officially adopted her son.


---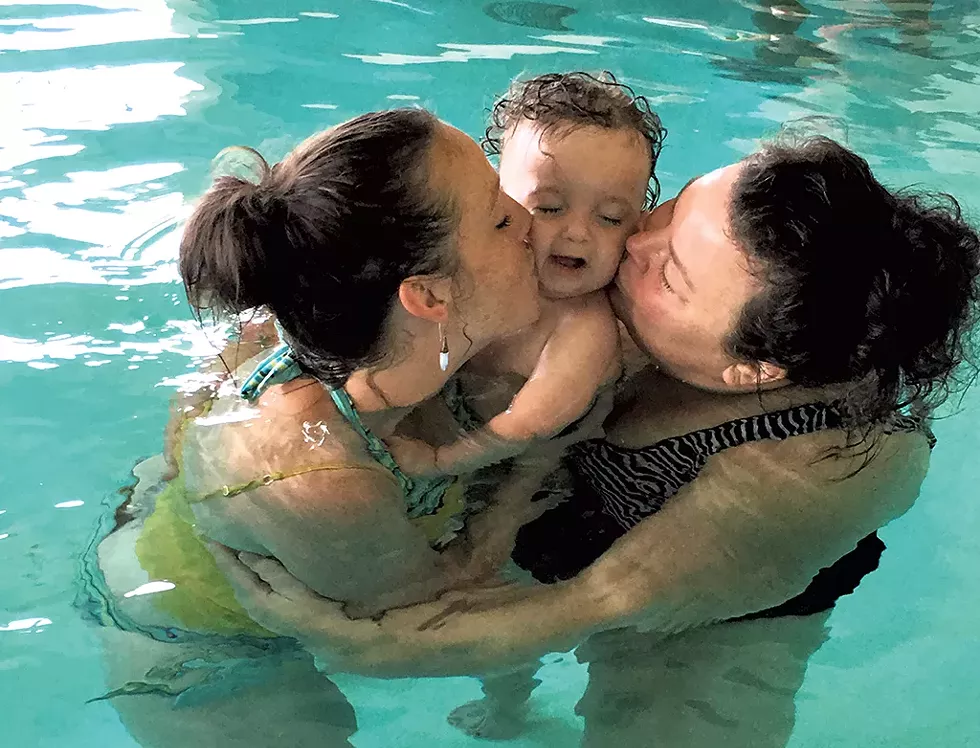 From left: Maddie, Ayden and Maura
When I proposed to my editors at this newspaper that I write a story about the impact of the opioid epidemic on families with children, they encouraged me to focus on the children. Parents who use drugs and lose custody of their kids are not going to be sympathetic to readers, they warned. And perhaps they were correct; the story I wrote before this one, about pregnant women with opioid-use disorder, was read by far fewer people than any others in this series.
But it is impossible to write about the impact of the opioid epidemic on children without writing about their parents. Because that is the impact of the opioid epidemic on children: what's happening to their parents. Kids are affected both by what they experience in homes where there is opioid-use disorder and by being separated from their moms and dads when they are removed from those homes.
When my sister Maddie died last fall, her obituary went viral, and my family received letters, emails and phone calls from people around the world.
"I'm a child of an addict," a woman with a warm, low voice said in a voicemail she left for my mom. "I grew up in the foster care system. I never got to be reunited with my mother after being taken from her. I didn't escape all of the things that happen to people that have my upbringing but I fared far better, and I'm alive, and I was able to read that obituary today and realize how it injured me so that people only saw my mom as an addict.
"She was never anything else once that became her burden," the woman said, crying now. "Your obituary for Maddie humanized her and set her free in a way that I wished for my mom, and now I feel like I got it. So thank you."
I can think of many reasons we should care about parents who use drugs and lose custody of their children. The nameless woman who left the voicemail is one of them. My nephew is another. There are hundreds more reasons in the custody of the State of Vermont right now.
As a woman named Ashley Messier put it, "The most important relationships for kids are their parents. And broken parents equal broken kids."


---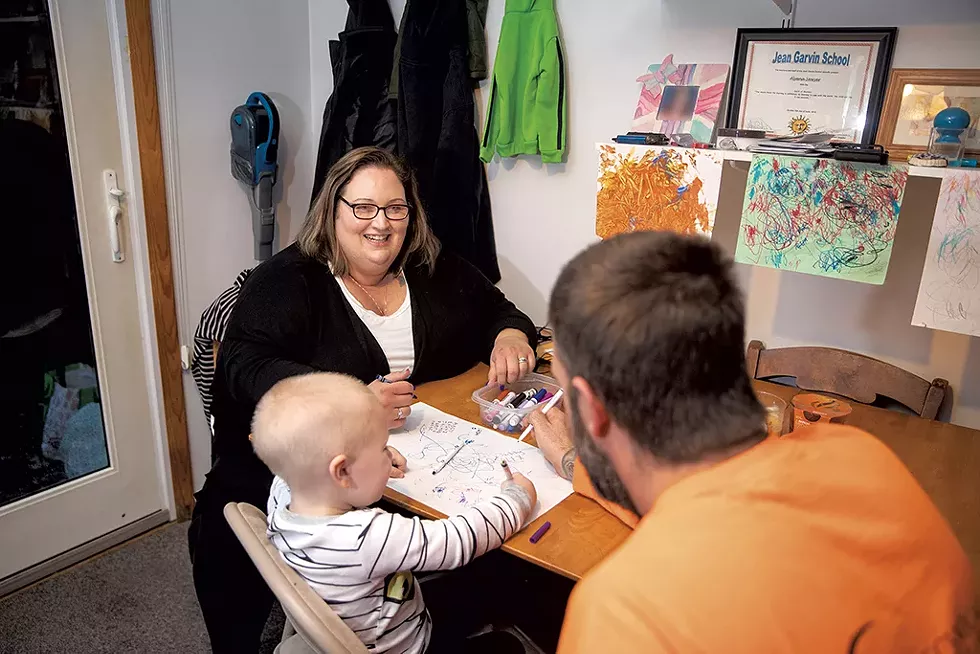 James Buck
Ashley Messier with her youngest son and husband
I met Ashley for the first time on a conference call with the Vermont chapter of the American Civil Liberties Union. We were talking about incarceration in Vermont, and Ashley runs the ACLU's Smart Justice campaign in the state, which focuses on criminal justice reform. When I offhandedly mentioned that I was working on an article about the impact of the opioid crisis on families with children, she said she had lived experience and offered to share her story with me.
"I have to start early," she told me a few days later, "so you understand why my kids were taken from me: I was a child that grew up in a very violent home."
There was an evenness to Ashley's demeanor as she talked about her childhood, almost as if she were describing some other little girl whose father physically abused her mother. "My job was to comfort my mom and clean up the blood," Ashley said. "When I was 7, my father hung himself, the best thing he ever did for me and my mom, unfortunately."
After her dad died, Ashley and her mom lived below the poverty line, relying on public assistance to get by. Ashley struggled in school and had behavioral problems that she knows now were a response to the violence she experienced and resulting posttraumatic stress disorder.
During our many conversations, Ashley attributed making it to where she is now, with a nascent career in social justice, to many things, including a family that didn't give up on her and a resilience born of trauma. She is among the smartest, most articulate people I've met, and it's easy to imagine a different, smoother path — valedictorian of her high school class, Ivy League college, law school — had she not spent her childhood coping with trauma and poverty. As it was, she barely managed to graduate from high school. Soon after, when she was 19, she met Steve, who, she said, "was very nice — until he wasn't."
On the day Ashley learned she was pregnant, Steve beat her until she miscarried. The second time she got pregnant, they married.
"The cycle repeats itself for women," Ashley said, referring to her father's abuse of her mother. "We think, Oh, we can change them if we just love them enough." But Steve didn't change. He continued to physically abuse Ashley, was addicted to alcohol and drugs, and would disappear for weeks at a time. When their daughter was 3 years old, Ashley divorced him.
Soon after, she learned she was pregnant again, this time with twins — an unplanned pregnancy in a relationship that didn't work out. Steve told Ashley he wanted to be with her and their daughter, and that if she took him back he would raise the twins as his own. He'd gotten counseling, and this time, he promised, things would be different.
"So, like an idiot, I let him move back in," Ashley said. Things were different for a while: Steve wasn't violent, and she needed his support during a high-risk pregnancy. Due to complications, she was prescribed low-level oxycodone.
"I wasn't really taking them," she said, "because I wasn't a big fan of meds. But Steve had had a couple of shoulder operations, and he was doing all this stuff for me, so I was giving them to him. I knew nothing about addiction, and I was like, Oh, that's the least I can do."
In the spring of 2008, she delivered full-term twins; soon after, her 12-inch C-section incision split open.
"They were prescribing me ungodly amounts of opiates," she said, which she needed to manage her pain. When a doctor's appointment that she thought would be an hour ended up lasting four, she missed taking her medication. "By the time I got home," she said, "I was in so much pain I was literally shaking and vomiting." When she walked in the door, Steve was snorting a couple of her oxycodone, an opioid-based painkiller, which he had crushed into a powder.
"It works quicker," he explained.
"I was just so desperate, both physically and emotionally at that point," she said. When he said it worked quicker, "I was like, Sign me up. I'll try anything."
Breena Holmes, a pediatrician and the director of maternal and child health for the Vermont Department of Health, told me she talks about opioids "because I know everybody wants to." But she pointed out that "parents in Vermont drink a lot of alcohol" and experience high levels of isolation, violence, depression and desperation related to lack of economic opportunity. "It doesn't mean we shouldn't talk about opiates, but I'd rather talk about root causes," she said. "Why does someone start using opiates?"
Here's why:
"It was like the sun came out and the clouds parted and there were rainbows, unicorns and glitter," Ashley said of snorting oxycodone for the first time. "Instantly all of my physical pain was gone, all of my emotional pain was gone. And it wasn't just the pain of what I was going through in that moment; it was all those years. That trauma and abuse was gone. And that is the day I became an addict."


---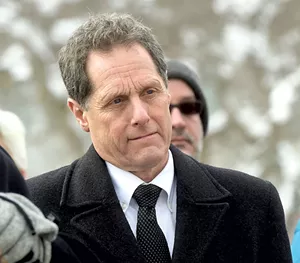 File: Jeb Wallace-brodeur
DCF Commissioner Ken Schatz
I interviewed more than 30 people for this story, including parents, kids, grandparents, exes, foster parents, social workers, child psychologists, lawyers, bureaucrats, people who work for various nonprofits, and members of my own family.
But if this story has a central character, it's not an individual, it's the Family Services Division of Vermont's Department for Children and Families, which seems to view itself as an overburdened, under-resourced superhero whose mission is to protect children.
Many of the people I spoke with see the department quite differently. A grandparent whose grandkids are in DCF custody described it as a dictator wielding its mission as a sword against families. If you question or challenge DCF, he said, "They start swinging wildly. They say, 'We're doing it for the protection of the child.' If you stand in DCF's way, they will lop your head off."
A social services professional called DCF "the big, bad wolf," because of how her clients all live in terror of it.
The perception of DCF as an entity to be feared exists not just among families who interact with the agency, but professionals who witness those interactions in different capacities. In the four previous stories I've reported for this series, no one except the victims of sex trafficking has asked to be quoted anonymously. For this story, multiple people did — including family members with DCF involvement and professionals who work with them.
"I would lose my job," one person said, if I used her name.
Many of the people I interviewed acknowledged that DCF is in an impossible situation: underfunded and overwhelmed with cases.
"People believe in what they're doing," said Ann Culkin, who for 14 years has served as a family support worker through the Defender General's Office. "They're just swamped. Absolutely swamped."
"We are doing our best," said Ken Schatz, the commissioner of DCF, noting that recent increases in the number of children under state supervision are not commensurate with increases in staffing.
Last year DCF requested an additional $2 million from the legislature for its Family Services Division, on top of that division's annual budget appropriation of almost $120 million, so it could hire more caseworkers. It got $1.7 million. "I'm hopeful that will help address some of our workload issues," Schatz said, "and ... improve the perception of how we operate."
By the time DCF arrives at their door, many families are facing problems that began years, if not generations, ago. "We are one section of a continuum starting with prevention," said Christine Johnson, the deputy director of DCF's Family Services Division. "And one of the things I would argue that we're not doing really well in Vermont is supporting, financially and otherwise, the whole prevention system."
There are probably elements of truth in all of the various characterizations of DCF: well-intentioned but overwhelmed superhero, pitiless despot, fairy-tale villain. But the more I learned about the department, the more I was reminded of the Wizard of Oz. If you peek behind the curtain of the great and powerful Department for Children and Families, instead of an individual humbug pulling levers and pushing buttons, you will find a vast warren of cubicles staffed by overworked employees who are surrounded by stacks of manuals and piles of acronyms and lists of procedures, a system so complex and arcane it seems easiest to just let the curtain fall and walk away.
Trying to distinguish the families involved with DCF specifically because of opioid addiction is impossible: DCF doesn't track that data, and opioid use often cannot be extricated from other substance use, poverty, homelessness, lack of transportation, trauma, mental illness, domestic violence and myriad other issues that can co-occur with opioid-use disorder.
It is also impossible to understand the impact of the opioid epidemic on that system. While DCF claims it is overburdened by the opioid crisis, it has no objective data to back this up.
In fact, it has very little data about anything, which the agency itself acknowledges.
"We're using an information technology system that was created in 1982," Johnson told me.
The scant data that DCF does produce are often contradictory — even something as basic and arguably essential as the number of children in custody in a given year may vary across different DCF documents. And in some instances the department changes what data it reports from year to year, which makes it difficult to track anything over time, which in turn makes it difficult to understand what's going on behind the curtain.
One number that has grown is the count of children in DCF custody, which has risen by about 30 percent since 2011. However, the reason for this increase is not clear. DCF often attributes it to the opioid crisis, which undoubtedly has had a substantial impact. But between 2006 and 2011, when most metrics show opioid addiction was growing in the state, the number of children in DCF custody actually declined by around 35 percent, and it is lower now, at what is hopefully the epidemic's peak, than it was in 2006, when opioids were just becoming a problem.
In 2015, the department attempted to quantify the impact of opioids on its caseload by implementing what it calls a "manual informal count." In November of each year, DCF's 12 district directors are asked how many children up to age 5 on their caseload at that moment came into custody due to opioid-abuse issues.
The first year this informal count occurred, district directors reported that 51 percent of those children were in custody due to opioid abuse, a number that is huge. But it's also quite possibly inaccurate, as it is derived from a question that could elicit a subjective response on the part of directors and indicates only that opioid use was a factor, not necessarily the reason the child is in custody. Opioid use, or any other substance or alcohol use, is not itself enough of a reason for DCF to take custody of a child; the department must establish "risk of harm" associated with it.
"For example," Johnson's predecessor, Karen Shea, wrote in an email, "the child may have come into custody due to physical abuse but opioid-use disorder was identified after the child entered custody."
While the number of and reasons for children being in custody are not clear, one thing is: The biggest spike of kids in custody occurred after two young children, Dezirae Sheldon and Peighton Geraw, died within two months of each other at the beginning of 2014. Both children had contact with DCF before their deaths
"After those child tragedies occurred," said DCF's Schatz, "some of the laws were changed to broaden definitions about abuse and neglect, to make sure we were more careful before we reunified families to make sure children were safe."
The year before those deaths, the number of children in DCF custody had increased by 2 percent; in 2014, the year the children died, the number jumped 14 percent; in 2015 it rose 10 percent. That is consistent with what happens nationally when children die in protective custody, according to Larry Crist, a lawyer and executive director of the Vermont Parent Representation Center, a nonprofit advocacy group that works on behalf of parents with DCF involvement: "The pendulum swings hard to taking kids into custody, and then, over time, people realize that was a mistake, and it swings back."

It's seen as a mistake because, as data from other states show, it doesn't result in better outcomes for kids.


---
James Buck
Larry Crist
Soon after Ashley snorted that first pill, Steve became abusive again. When he threw her into a table and broke her back, she was prescribed even more opioid-based painkillers, which she and Steve would crush and snort. When her prescriptions were no longer enough to support their addiction, they started buying pills off the street. As their use intensified, they began injecting the pills, which increased their tolerance, so they needed more and more drugs to keep from going into withdrawal.
"We had people coming in and out of our house," Ashley said, "drug dealers living there on and off and other addicts crashing there." Their daughter was almost 5, old enough to understand what was going on, so Ashley sent her to live with her mother. But she told herself that the twins were too young to be affected.
"You do all the justifications," she said, "like, Oh, I'm only using in the bathroom while they're sleeping."
In December 2009, the police raided her house. Steve had been committing burglaries to support their addiction and was detained; Ashley was released the same day. "But I knew they were going to call DCF," she said, "because they found 756 needles in our house." On Christmas Eve, she was in family court being served with a petition by DCF to take custody of the twins.
"It was a little complicated," she said when I asked her a decade later how she felt when she lost custody. "On one hand I knew that they shouldn't be in my household, that they shouldn't be exposed to this; it's not safe, they deserve better. At the same time, those are your kids. And when you're at that point in your addiction, your kids are the only reason you're even trying to survive it."
But what are the kids surviving? Marilyn Gillis, who volunteers as a court-appointed guardian ad litem, or impartial representative, for kids in DCF custody, emailed me a list of things children she represents had been exposed to as a result of their parents' addiction, from being told to lie for a parent to being aware that a parent is engaging in commercial sex work. Many of the experiences on the list were not specific to opioid-use disorder but some were — seeing a parent inject drugs, fearing that a parent will overdose, drug paraphernalia in the house — and all were things that no child should experience.
When I asked another guardian ad litem, Jacki Murphy, about the impacts she saw on children who were in homes where there was opioid-use disorder, poverty was the first thing she mentioned.
It was a major focus, too, of a 2018 report from Crist's Vermont Parent Representation Center, which offers a detailed and bleak analysis of DCF, as well as suggested improvements. "Opioids have been considered the prime driver in caseload increase and the increase in the number of young children entering state custody," the report notes. "In reality, poverty has been as great a factor as substance abuse, yet we do little to address the fact of poverty (and accompanying homelessness) among families grappling with the child protection system, except to remove their children."
Trine Bech, the center's founder and coauthor of the report, likened what DCF is doing to "modern-day eugenics."
"It's class-based, not race-based," Crist clarified.
(At the time of the report's release, DCF said that it did not agree with "most of the conclusions drawn in the report" but conceded "the child welfare system is overwhelmed and needs to be addressed.")
DCF does not track the income level of parents it is involved with but acknowledges that many of its families experience economic stress. Anecdotally, poverty plays a huge role for people with opioid-use disorder who lose their children or are unable to get them back.
"It's an economic cycle that I just don't know how people can break," Murphy said, and one that works against parents trying to reunite with their children. "I think highly functioning people with every resource would have trouble meeting the schedules required" of parents with DCF involvement.
Murphy and others talked about the barriers parents experience in just getting to DCF for visits with their kids, and the lengths to which parents will go to make those visits happen. Mark Johnson, vice president of Easterseals Vermont, which holds a contract with DCF to provide services related to visitation, told a story of parents without a car who hitchhiked miles across Washington County to treatment, then to DCF for visits and then back home, a commitment he said was "not unusual" among parents he'd worked with.
Even in Chittenden County, my sister had to walk a half mile to the bus stop closest to where she lived in the New North End of Burlington, take an hourlong bus ride to Williston and walk another half mile to the DCF office. If she was more than 15 minutes late, the visit was canceled. And yet she and her partner were so committed to visits that when they didn't show up for one, their social worker sent the police to their house to do a welfare check, thinking they might have OD'd — they had missed the bus.
"DCF actually has to make it feel possible," Ashley said of reunification. Instead, "It's like they're dangling your child on the other side of a cliff, and there's no bridge between you and the other side of the cliff, but they expect you to build a bridge. They give you a paper clip and a stick of gum and a shoestring and they expect you to build a bridge, and when you can't do it, then you're a failure."
What is the biggest barrier for people with opioid-use disorder trying to get their kids back? "Safe and stable housing," said Culkin. "And food." Culkin is one of 12 to 15 independent contractors across the state who are assigned to work with some parents DCF has filed a petition against in family court to remove custody of their kids.
Culkin explained that when children are removed from their parents' custody, DCF develops a "case plan," which includes a bulleted list of requirements parents must meet in order to regain custody, one of which is inevitably "to secure and maintain safe, stable housing."
But parents who receive a housing subsidy from the state are often at risk of losing that assistance when they lose custody of their child. "Many of my families end up homeless because their kids are taken into custody," Culkin told me, creating a new barrier to reunification.
After Ashley lost custody of her twins, her aunt and uncle, who had been a stabilizing force in her own life growing up, became foster parents to the twins while Ashley got on her feet. Her daughter was still with her mom and outside of DCF involvement.
When DCF gave Ashley the option to stay with the twins at Lund, a residential treatment center in Burlington where mothers can live with their young children, she moved in. While Ashley's experience at Lund was generally positive — she was passing the mandated classes, staying sober and parenting well — Lund doesn't allow children over 5, so her daughter couldn't live there. "I felt torn between my kids," she said, and was also "incredibly overwhelmed."
She knew she couldn't live at Lund forever — women who complete the program stay on average between eight and 14 months — and she was a single mom with no education or job, no car, no housing of her own, and a trauma history that spanned her whole life.
"The avenues for recovering your life are not as supportive as people think they are," she said. So in October, five months after being reunited with the twins, she asked her aunt and uncle if they would take them back.
"'But this time they're going to stay for good,'" she told them. When they agreed, she terminated her own parental rights so her aunt and uncle could adopt the kids.
When I asked her why she did this, she said she didn't know what life with a parent with substance-use disorder would mean for her children, and she wanted them to grow up with more than she had. "I made a decision for them to go to people that could give them a life I could not," she told me. "What was I going to give them? Section 8 and Reach Up?"
"But poverty shouldn't be a reason people don't have their kids," I protested, and she agreed.
"There are a lot of reasons mothers shouldn't be without their babies," she said. "This isn't 30 years ago when we didn't know addiction was a disease, not a moral deficiency. This is 2019, and we're still taking children from moms who are struggling with addiction. We're still taking children from moms that are victims of domestic and sexual violence. We're still taking children from moms that can't make ends meet. I understand that they're trying to think about what's best for the kids, but at the same time there's got to be a better way."


---

Weeks into reporting this story, I still didn't understand the current way.
I read reports on DCF's website, studied my sister's DCF case file and interviewed everyone from parents to social workers to lawyers, yet I remained confused about many of the basic steps of the sometimes years-long process that occurs when a family becomes involved with DCF.
I hoped that Brenda Gooley, director of operations for DCF's Family Services Division, would be able to help. Her role, as she described it, is "broad oversight of the functioning of the division," and she's worked at DCF for 23 years.
"'You want to be healthy and well; you want to be a safe parent; you want your child to thrive in your care,'" was how she framed DCF's message to parents. "'We want that, too. We want the exact same things. We want to be on that path together.'"
She said she didn't want to overwhelm me with policies, yet her answers to my questions were often prefaced with phrases like "We have policy to speak to that," followed by references to those policies — "the Risk of Harm Policy," "the Substance Use Disorder Screening and Drug Testing for Caregivers Policy," "the Case Planning Policy," "Family Services Policy 50," "Family Services Policy 52," "a section of our Family Safety Framework called Complicating Factors."
When I wondered aloud to Gale Burford, a University of Vermont emeritus professor of social work, if the DCF system is intentionally confusing, if the acronyms and policies and procedures are being used to obscure something, I expected him to laugh at my foolishness and explain what I was having a hard time understanding. He did not.
"Corporations cover up their nasties by having many, many floors of lawyers," said Burford, who for more than a decade led the UVM program that provides child-welfare training to DCF employees. "In child protection, they have many, many volumes of policies, and only they know how to work them."
Regardless of DCF's motives, if the child protection system is too complicated for a healthy, middle-class woman with a master's degree, her own home and a refrigerator full of food, what is it like for a parent in crisis, someone who grew up in poverty, experienced childhood trauma, didn't graduate from high school and is actively struggling with addiction? How can they possibly navigate the system that is having a direct and often dire impact on their life, and understand their rights as they are defined within its policies?
The answer is, they often can't, and so they rely on their assigned caseworker and, if their case goes to court, their court-appointed lawyer to help.
But these caseworkers and lawyers are overwhelmed. Culkin, the family support worker in the Defender General's Office, corroborated the many stories I heard about parents who didn't meet their lawyer until five minutes before they walked into the courtroom.
According to Crist, the American Bar Association recommends that lawyers carry a caseload of no more than 60 parent-defender cases at any given time. "Contrast this to Vermont's contract public defenders," he said, "who have hundreds and no real supports or oversight."
And while DCF isn't able to track data about much, it knows approximately how many kids are on its caseload and how many caseworkers it employs. Federal guidelines indicate that child welfare caseworkers should carry an average load of 12 families; in Vermont it's 18. Olivia Gaudreau, the caseworker assigned to my sister and nephew, said she had 30 cases at one point.
"We don't have the ability to say we're maxed out, that we can't take any more cases," she told me. "We just have to take them."
This means caseworkers are often "responding to a crisis instead of doing more in-depth social work," according to Gaudreau, social work that she said could prevent crises from arising in the first place — and is essential to helping parents and children reunite.
It also means parents may not be able even to get their assigned worker on the phone. "When we're not responding, it's not because we don't want to," Gaudreau said. "It's because we're responding to the more immediate crisis that day."
"'She doesn't return my phone calls'" is one complaint Easterseals' Johnson hears "a lot. And that breeds suspicion, hurt, everything bad you can think of," he said.
A timely response from their caseworker is crucial for parents: Once their children are taken into custody, a metaphorical clock starts ticking. Federal guidelines designed to prevent children from languishing in DCF custody encourage states to permanently terminate the rights of parents whose kids have been in state custody for 15 of the past 22 months. For children under age 6, the recommendation is that "permanency reviews" begin at three to six months. In Vermont, this age group represents the biggest increase in children coming into the system.
Parents may also have difficulty accessing the services mandated in their case plans. Culkin, who works with families in Chittenden and Addison counties, told me that the department will usually order parents with opioid-use disorder to get substance-abuse and mental-health assessments. In Addison County, the wait list for those assessments can be several months long.
"For parents who are dealing with substance abuse and people who are in recovery, the cogs and wheels just don't turn fast enough," Culkin said.
The courts are backed up as well, and if parents challenge the merits of the case DCF has filed against them, as is their legal right, "often that can be to their detriment," Gaudreau, the DCF caseworker, said. They might wait more than six months just for a hearing, while their child is in foster care and that clock is ticking.


---
James Buck
Ashley Messier's youngest son
When a child is in DCF custody, he or she is on one of two "tracks": reunification, where DCF is working to reunite the family, or adoption, where DCF's plan is to terminate the mom and dad's parental rights so the child can be adopted by another family. These are also the primary mechanisms caseworkers have to remove children from their caseloads — returning kids to their parents or putting them up for adoption.
On either track, what comes first for the child is foster care, which has its own problems. "When DCF places a child with a pre-adoptive foster family, they've set the stage for that family not to cooperate with the biological family," said Crist. In case after case, he said, the foster family "will make it almost impossible for the biological family to maintain a relationship with the child."
Culkin confirmed this, saying she didn't see too many families fostering young children with the goal of reunification.
"They don't say it out loud necessarily," she noted. "It's unspoken."
When DCF took custody of my 6-month-old nephew for the first time, it was because my sister and her partner had both relapsed, though their lives hadn't devolved beyond testing positive for drugs. Yet DCF placed Ayden with a family who later told us they had been led by DCF to believe they would be allowed to adopt him.
Before children can be adopted out of foster care, DCF must obtain a termination of parental rights, or TPR. Between 2010 and 2016, while the number of children in DCF custody grew by 37 percent, the number of TPRs increased by 87 percent — a figure DCF characterized as "a data anomaly." But according to the Vermont Center for Parental Rights report, the Green Mountain State "consistently ranks among the highest in the nation for its rate of terminating parental rights for very young children." In 2016, Vermont terminated the rights of parents to their babies and toddlers at a higher rate than any other state in the nation except Oklahoma.
The federal Adoption and Legal Guardianship Incentive Payments program rewards states for each adoption they make over an established baseline, between $5,000 and $10,000 depending on the child's age. According to the federal Office of the Administration for Children and Families, Vermont didn't receive any incentive money between 2008 and 2013, but it has earned more than a million dollars in incentives in the last five years — $657,000 in fiscal year 2017 alone.
The purpose of these incentives and timeline is to provide children with "permanence."
Sharon Lamb, a child psychologist who has worked evaluating parents and children for the family court system, said that while permanence is especially important for infants who've never lived with their birth parents, for older children, "It depends on the kid, whether they need that permanence." She said it can be traumatic for kids "to go back and forth and not know where they are," but she's also seen kids "who could really benefit from continuing a relationship even if the parent wasn't able to be there for them and take care of them."
Ashley Messier argues that for most children, biological parents are their permanence. "So if you believe in permanency, why are you not doing everything you can to keep that kid where they belong?"
She, and everyone from Lamb to Mark Johnson to Crist to Culkin, noted that these timelines for permanence are incompatible with the timeline for recovery from opioid-use disorder, which on average takes between five and eight years and involves multiple relapses and attempts at treatment.
"As opposed to saying, 'Look, this is an illness, here are the circumstances around it, so let's work with the families to figure this out,' the first move is to remove the kids," said Crist. "There seems to be a total disconnect between the state's approach to opioid addiction as an illness and DCF's approach. They deal with it as a criminal activity that puts kids at risk, as opposed to an illness that kids are exposed to."
In recent years DCF has taken at least one measure to assess people for substance-use disorder and refer them to treatment. As of 2017, DCF, in collaboration with Lund, had placed a case manager in each of its 12 offices who screens parents for substance use, refers them to treatment and tries to help them overcome obstacles to getting it.


---
Courtesy Of Sharon Lamb
Sharon Lamb
As is the case for most people with opioid-use disorder, Ashley's first attempt at recovery was not her last. She was on medication, the most effective treatment for opioid-use disorder, but even then, the rate of relapse is around 50 percent. And recent research indicates that relapse from opioid-use disorder is even higher among people who experienced "adverse childhood experiences," such as poverty and violence, as Ashley did as a kid.
Lamb pointed out that while a decade ago relapse was interpreted as a lack of commitment to recovery, now there is awareness that "relapse is actually part of getting better."
Ashley's first relapse occurred after she gave up the twins. She quickly got sober again, but although she was doing well, when she got pregnant DCF opened a case on her. Ashley had been warned this would happen — DCF "scores" parents based on certain factors they perceive as risks to children. If parents score high enough, the agency will become reinvolved in their lives no matter how long it's been or how well they're doing.
"There's no fresh start," Ashley said.
According to Crist, even when someone who becomes involved with DCF has been in recovery for a decade, the department will include in the affidavit it files with the court to take custody of the person's children that he or she has "a long history of substance abuse."
"It was a long history because it was a long time ago," he noted, "but they don't say that."
One Vermont family filed a case in federal court in August, alleging, among other things, that DCF coerced the mom into taking medication to treat opioid-use disorder, from which she had been in recovery for more than a decade.
In a statement at the time, a DCF spokesperson said that the department disagrees with the facts as described in the complaint, and that it "has appropriate procedures in place consistent with federal and Vermont state law that provides due process in the child abuse/neglect substantiation process." The same laws forbid DCF officials from discussing specific cases.
Ashley was sober and successfully navigated her reinvolvement with DCF, continuing to build a life for herself and her new baby girl, who was born in August 2011. She got an apartment and custody of her oldest daughter back, bought a car, became a certified recovery coach and was hired at the Turning Point Center, started taking college classes, and visited regularly with the twins.
But two and a half years into her second attempt at recovery, Ashley started to struggle, and because of her previous DCF involvement, she was scared to ask for support. "I felt like I had to make everything look really perfect because I was afraid they would take my kids from me again. I didn't feel like I could reach out for help."
According to professionals I spoke with who work with parents with opioid-use disorder and DCF involvement, this fear of asking for help is common, and founded.
"My families have to be on their knees," Culkin told me. "Parents will say, 'I just don't dare have an open, productive dialogue with [DCF] because it's going to be used against me.'"
"Their whole approach ... is very, very punitive," said another social services professional, who didn't want to be identified, "so people are scared to death of DCF, scared so much that they hide things they don't need to hide because they're so scared to make mistakes." And then this person corrected herself; perhaps these parents do need to hide things from DCF.
"It started slowly," Ashley said of her relapse in 2013. She began by misusing the medication she was taking to treat her addiction, injecting instead of taking it orally. Soon she had tried heroin for the first time.
Ashley sent her oldest daughter to live with a neighbor but kept her youngest, then almost 2, with her. She doesn't know why DCF paid her a visit in the summer of 2013, but when they did, she was honest about what was going on. "'I'm shooting dope,'" she told them, and asked for help.
"DCF sort of gave me this guise like, 'Oh, we'll just keep the kids [with your aunt and uncle] while we help you get your life together," and indicated they wouldn't take her children. But, she said, DCF didn't live up to its word and "out of nowhere" filed for custody of her youngest daughter.
"At this point," she said, "I was like, I can't. I just can't. They took my kids from me again. I've repeated the cycle again. And I lost my mind."
When she was doing well, stable and sober, Ashley had positive experiences with a caseworker she said went above and beyond to help her. But those positive experiences were specific to one person inside a larger culture that she and others described as dysfunctional and punitive.
"DCF needs to decide if they're going to foster a culture of transparency and honesty and support," Ashley said, "or if they're going to foster a culture of secrecy and punishment. Because for most people, that's the reality."
When I read this quote to Schatz, the DCF commissioner, his first response was to make sure I understood that there are six divisions within DCF, and that he's not "directly involved in overseeing the day-to-day of Family Services." He did acknowledge that he has "substantial responsibility, including issues related to culture," and said he found the quote from Ashley "distressing to hear." It wasn't how he wanted DCF to be perceived, he told me; its role is to protect the safety of children and help them find their "forever homes."
"I don't think we engage in punishment," he added. Given the agency's role, however, "We understand that we are not going to be the popular party even when we try to support families."


---
"Think of the person who is a piece of you the most," Ashley said to me. "Or even when you lost Maddie. When you lose somebody who is part of your identity, it changes your identity." For children, she said, this person is their parents. She said her twins and youngest daughter all have attachment issues; research has also shown that children who experience early parental loss are more likely to have depression, anxiety, and substance-use disorders as adults.
But kids also suffer trauma when exposed to the things on the list from guardian ad litem Marilyn Gillis, some of which Ashley's children experienced while living with her.
No one, including Ashley, is arguing that children should be with parents who are in the throes of their disease. But if she'd had support, perhaps she could have returned more quickly from that place, in time to reunite with her children.
When I asked what that support would look like, it was clear it was something she had thought about a lot.
The first thing on her list reflected the crucial culture shift many people I spoke with believe is necessary for DCF: "If somebody had said to me, 'Listen, we're going to help you. We're going to help you stay with your kids. We're going to help you bring that kid home, and we're going to do whatever it takes to help you get there.'"
Other ideas ranged from individualized, wraparound support services to addressing the poverty and homelessness families experience to helping find transportation to visits to a peer-advocacy program.
A peer advocate, Ashley said, is someone the many parents who feel like they can't be honest with their DCF caseworker could turn to and say, "Listen, this is what's really going on. Can you help me figure out how to talk to my worker? Can you help me make a plan? What do I need to do?"
After she relapsed and lost custody of her youngest daughter, she began using again in earnest. She moved to the Bronx for a while and transported drugs to Vermont from New York and Philadelphia. Within months she ended up in Detroit, where she was locked in a basement and beaten and raped by drug dealers for four days.
After that, she embarked on what she described as a "death mission" that would last on and off for another year and a half, during which she was sexually assaulted, trafficked and beaten up, and she lost count of how many times she overdosed. She went to jail, was released, got sober, relapsed. During this time, her parental rights to her youngest daughter were permanently terminated, and her oldest spent two years in foster homes and with her father, Steve, before returning to live with Ashley's mom. But Ashley rarely saw any of her kids.
In May 2016, she was reincarcerated for testing positive for drugs; when she was released three months later, she made two promises to herself: She was not going to use again, no matter what, and she was going to do the next right thing, whatever that meant in a given moment.
"And that's how I am where I am today," she told me as we sat on the back deck of the Jericho home she shares with her husband, whom she met three years ago, their 2-year-old son, and her oldest daughter, who is now 15 and finished ninth grade last year on the honor roll. They all regularly see the twins and her younger daughter, who live nearby. Ashley has her job at the ACLU and has been in stable recovery for three years. As we talked, her oldest and youngest children were playing inside and her husband passed through with a platter of steaks for the grill. Above us, a row of fragile saplings grew in the gutter — seeds from a nearby oak tree that had fallen and germinated.
But what was different three years ago, I wanted to know. Why did it work that time when it didn't before, when it doesn't for so many others?
She listed a few things: a stable, loving relationship; her family, who gave her "a thousand chances" and stepped in repeatedly to help her and her kids; a good therapist; a Mercy Connections volunteer who served as her mentor when she was incarcerated and pointed her in the direction of the work she does now.
"All it took for me was a few people who saw that I still had worth and value in this world," she said. "Just a couple people who just love you, with no conditions to it. It doesn't matter if you've done 75 million bad things, they can still see the good in you. And most people don't really get that."
Most people who've had a childhood like Ashley's followed by DCF involvement with their own children also don't get a second chance with their kids, a chance to stop that cycle of poverty and violence and depression and isolation that are prevalent in Vermont families and the "root causes" of why people use everything from alcohol to heroin to cope. If her oldest daughter hadn't stayed with her mom, or her aunt and uncle didn't want Ashley to see her three middle kids, she would have no recourse, no relationship with them. Parents whose kids are adopted by relatives are anecdotally more likely to see their children, but this is not guaranteed, and less than half of adoptions out of DCF are with kin.
"What really bugs me about this system," Sharon Lamb, the psychologist, said, "is that for most cases there isn't anything in between" adoption and reunification. "I just wish there was an alternative, newer arrangement."
It most likely would have been years before my sister Maddie could have successfully parented her son without some form of support, at which point taking him from Maura would have been traumatizing to both her and Ayden. My sisters were pitted against each other in a black-and-white system — one of them was going to get him, and the other was not, which often left Maura feeling like she couldn't support Maddie as she might have otherwise.
"We should just all try to prevent loss," said Lamb, who has written a book about her experience as an evaluator for this system. "We should prevent it for the children, we should prevent it for the birth parents, and we should prevent it for the foster parents who have opened themselves up and are just rooting for that child — the child needs them, too."
One way DCF is trying to keep kids connected with their parents when they're adopted is through post-adoption contact agreements, which are exactly what they sound like: legal contracts where biological and adoptive families agree on contact that will occur after the adoption. The DCF policy on the subject describes agreements that range from contact by mail to one-way contact in which adoptive parents send a school photo to periodic visits.
But according to Lamb, those agreements are "much lighter weight than a child would need."
Another possibility within the existing system is permanent guardianship, where, in the case of my family for example, my sister Maura could have served as Ayden's legal guardian without Maddie having to terminate her parental rights. Guardianship, including visitation, is guided by the courts, not DCF, and can evolve over time. The parent can't petition the court for custody or to end the guardianship but is allowed to visit, know where their child lives and have information about their child. But the DCF policy on the subject discourages guardianship for children under 12.
"When I am clean and sober, I am a great parent," Ashley said, but she acknowledged that her oldest daughter has emotional behavioral issues and PTSD, for which Ashley takes full responsibility. "All of it is related to me and her father, whether it's because of the violence she witnessed, our addiction, being in different homes. I and her father are the reasons that she has the issues she does, 100 percent unequivocally. There's no question. Now it's my job to fix it."