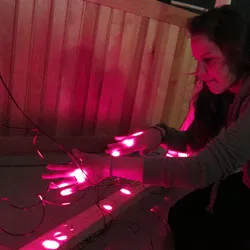 Hannah Waite plays her laser harp
When Hannah Waite was growing up in Skaneateles, N.Y., and taking piano lessons, she never would have guessed that one day she'd be coaxing melodies from lasers. That is, from a laser harp, which Waite — now an almost-22-year-old senior at Middlebury College — has created for her thesis project. And if you think that sounds like a futuristic gadget from Star Wars, you're not alone. Most folks — other than her fellow science-y types and fans of Jean Michel Jarre — are probably unfamiliar with a laser harp, and far fewer have played one. But for this physics and music double major, it made perfect sense to not only make a laser harp but to compose for it. She'll be performing some originals, as well as familiar melodies, Waite says, at a concert next Monday.
Granted, lasers can't make music on their own. Instead, they're used in conjunction with a sophisticated bit of hardware called a MIDI CPU — that's short for Musical Instrument Digital Interface, and it allows a user to record and play back sound on a digital synthesizer. Rather than using a keyboard or actual strings, Waite is affixing laser tubes — each "about the size of a Chapstick," she says — to a board with 23 terminals. When Waite passes her hand between a laser and the photocell in the board, it momentarily blocks the laser's light, which changes the photocell's resistance and triggers the "string." Except with a MIDI, there is no string, and there's not even a note; there is only information sent to the computer.
What Waite triggers with each disrupted laser beam depends on the sounds she has preprogrammed for her compositions — this using the electronic music software Max 5.1. Each one could be anything from a single tone to a drumbeat to a sampled song, even a whole orchestra. "The MIDI gives me a lot of options for each 'string,'" says Waite, "so I can write some complex pieces."
Indeed. The laser harp is a big evolutionary step up from the theremin — another instrument whose sound is generated by a wave of the hand.
An Australian named Geoffrey Rose is generally credited with inventing the laser harp in 1976, but it was Bernard Szajner who, in 1981, built the initial one made famous by Jarre. The French electronic-music pioneer has used it in most of his concerts worldwide, and techies have further improved on the instrument over the years. Another Frenchman, Philippe Guerre, created the first MIDI version. The laser harp can vary size-wise, too, from one that fits in your lap to larger installations used in such venues as the Burning Man festival.
Regardless of size, or even a player's skill, the instrument "has that wow factor," says Waite. "I think it's neat to have the visual and aural senses so connected. This project sort of encompasses some really cool music, some cool physics, and lasers."