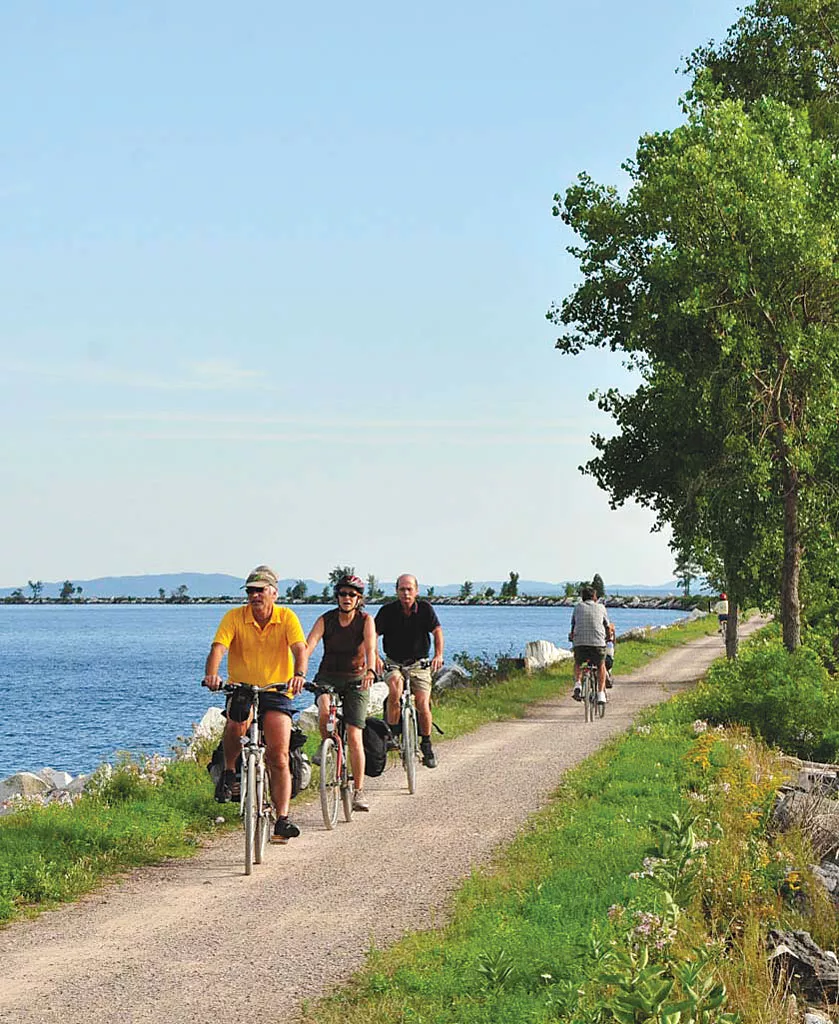 The causeway on the Island Line Trail
Skis and snowboards may be Vermont's best-known modes of getting around, but it's actually bicycles that are moving the state forward — for both visitors and residents. Why? The cycling scene here is one of the most promising in the country, thanks to urban bike lanes, smooth country roads, an active race calendar and new biking companies that are gearing up for commuters and competitors alike.
"Burlington is a good place to ride because of its compact size, its scenic beauty and the awesome community of cyclists who support one another," says Chapin Spencer, the executive director of the nonprofit Local Motion, which is working to make the city an even better place to bike, walk, run and ski. "Burlington has the potential to be an epic place to ride if we could just muster the will to build more on-street facilities and improve the civility among all road users," he adds.
Spencer's point reveals some rough spots in the urban-biking infrastructure: Some bike lanes end abruptly downtown, and the occasional motorist may not take kindly to packs of cyclists.
But in the summertime, few activities are more sublime than pedaling along the Burlington Bike Path with your kids in tow, joining friends for a road ride to, say, the Old Brick Store in Charlotte, or mountain biking at the Catamount Family Center in nearby Williston.
So here are all the resources a rookie rider needs to get going in the Green Mountain State, from where to find the right kind of wheels to where local cyclists take caffeine breaks. Don't forget your helmet!
Urban Tours
Stretching 7.5 miles along Lake Champlain from Oakledge Park to the Winooski River, the Burlington Bike Path is the city's popular recreational corridor. Riders will find a flat, paved trail, six parks, stunning views of the lake and Adirondacks and, at the river, a bridge to the Colchester Bike Path and Causeway, where a bike ferry connects to the Lake Champlain Islands, creating the 12.5-mile Island Line Trail. The ferry operates Friday through Sunday and holidays from June 14 to September 2, 10 a.m. to 6 p.m. Find more information at localmotion.org.
Cycle the City is an easy, self-guided, 10-mile tour that includes some Burlington-area highlights, including the Island Line Trail, the Ethan Allen Homestead, the organic farms of the Winooski River Valley, the University of Vermont, Champlain College, even the house where U.S. president Calvin Coolidge was married. Find maps here!
Trail Biking
Just outside Burlington, the Catamount Outdoor Family Center rents mountain bikes for its 20 miles of multilevel trails, and offers camps and races for kids and adults. 592 Governor Chittenden Road, Williston, 802-879-6001.
While most mountain-biking trails are found outside Chittenden County, the nonprofit Fellowship of the Wheel builds and maintains some singletrack around the city, including at Shelburne Bay, Sunny Hollow Park in Colchester and Mud Pond in Williston.
About 18 miles from Burlington, the Sleepy Hollow Inn has about 12 miles of intermediate and advanced singletrack. Bring your own bike and pay at the self-serve kiosk. $6 adults, $4 kids. 427 Ski Lodge Drive, Huntington, 802-434-2283.
Biking Day Trips
It's worth the 45-minute drive to ride in Stowe, where a 5.3-mile paved bike path runs through the heart of the tony ski town, crossing the West Branch River on nearly a dozen wooden bridges and passing some of the state's best shops and eateries. Numerous mountain-biking trails also wend throughout Stowe, including the Cady Hill Forest and Perry Hill. Find more information here, and rentals at AJ's Ski & Sports, the Nordic Barn, Pinnacle Ski & Sports and Skiershop. Or, just head straight to the Trapp Family Lodge, where the descendants of the famous singing family oversee nearly 30 miles of mountain-biking trails and rent bikes for all ages.
Mountain bikers will also find lift-served trails and rentals at some northern Vermont ski areas, including Sugarbush and Burke Mountain, which has a downhill bike park and is part of the 100-mile network of Kingdom Trails, considered to provide some of the best mountain biking in the U.S.
Races and Events
In addition to the weekly Wednesday-night mountain-bike races at Catamount Outdoor Family Center, cyclists can find competition at the Green Mountain Stage Race over Labor Day weekend, August 31 to September 2; and the Darn Tough Ride, which has four ride options, including a 100-mile "century" around Stowe and Jay Peak on September 1.
Beans for Bikes
Burlington's Maglianero Café stands out among the city's coffee shops for its dedication to all things cycling. Founded by avid cyclist and renowned designer Michael Jager, the spot can be found at the back of Jager Di Paolo Kemp Design, just 200 yards from the Burlington Bike Path on the waterfront. Maglianero claims to fuel a "modern mobility movement" by creating a biker-friendly community space. There's plenty of parking for bikes inside and out, along with a commuter shower and a watering station for dogs. Special blends from Vermont Artisan Coffee & Tea pair with a limited selection of baked goods. 47 Maple Street, Burlington, 802-861-3155.
Local Motion
This advocacy group organizes tours and events, operates a summertime bike ferry to the Lake Champlain Islands, supports a bike-recycling program, and manages the online resource trailfinder.info. At its Trailside Center right on the Burlington Bike Path — open from Memorial Day, May 27, through Columbus Day, October 14 — you can find bike rentals (from $15), snacks, maps, air for bike tires and more. 1 Steele Street, Burlington, 802-861-2700. localmotion.org
Other Bike-Rental Spots
North Star Sports rents bikes (hybrid, road, kids and trailers) for as short as an hour or as long as two weeks. 100 Main Street, Burlington, 802-863-3832.
The Ski Rack rents hybrid, road, kids' and tandem bicycles along with kids' trailers by the hour or day ($15 to $45), and is open at 8 a.m. during the summer, Monday through Saturday. 85 Main Street, Burlington, 802-658-3313/800-882-4530.
Other Bike Shops
The Alpine Shop has a full fleet of bikes for sale, as well as a service shop. 1184 Williston Road, South Burlington, 802-862-2714.
Budnitz Bicycles is a high-end retailer of "the fastest, lightest and most elegant belt drive bikes in the world," boasts the company's website. They're designed in titanium and steel by Kidrobot founder Paul Budnitz, whose work is featured in New York's Museum of Modern Art. Budnitz recently made the Burlington area his home, thanks to its bike-friendly vibe. 47 Maple Street (next to Maglianero Café), Burlington, 802-557-0507.
Earl's Cyclery & Fitness operates Vermont's largest bike swap in May, and stays humming the rest of the season selling every type of bike, from cruiser to BMX, as well as parts, wheels, accessories and more. 2500 Williston Road, South Burlington, 802-864-9197.
The Old Spokes Home sells reconditioned used bikes and vintage bikes, and has a museum that showcases some funky old frames. There's a repair shop, too. 322 North Winooski Avenue, Burlington, 802-863-4475.
Ce qu'il faut savoir sur le cyclisme dans la ville et aux alentours
Le ski et la planche à neige sont peut-être les « modes de déplacement » les plus célèbres du Vermont, mais c'est en fait le vélo qui permet à cet État – et à ses visiteurs et résidents – d'aller de l'avant. Pourquoi? Parce que la scène cycliste de la région est l'une des plus intéressantes au pays, grâce à ses pistes urbaines, à ses belles routes de campagne, à son calendrier de compétition bien rempli et à ses nouvelles boutiques de vélo, qui sont prêtes à répondre aux besoins de tous les cyclistes.
« Burlington est un lieu idéal pour pédaler, indique Chapin Spencer, directeur général de l'organisme sans but lucratif Local Motion, en raison de sa petite taille, de sa beauté pittoresque et de sa formidable communauté de cyclistes, qui n'hésitent pas à s'entraider. » Cette combinaison de facteurs rend la ville encore plus attrayante pour les cyclistes, les randonneurs, les joggeurs et les skieurs. « Burlington pourrait devenir un lieu incontournable du vélo, ajoute-t-il, si nous parvenions à mobiliser la volonté nécessaire pour bâtir davantage d'installations dans les rues de la ville et à améliorer la courtoisie entre les usagers. »
Chapin Spencer révèle en effet quelques lacunes de l'infrastructure cycliste de la ville : des pistes qui s'arrêtent brusquement au centre-ville et quelques automobilistes qui sont dérangés par les groupes de cyclistes.
Mais il reste que l'été, peu d'activités sont plus agréables que de pédaler sur la piste cyclable de Burlington avec les enfants, de se rendre avec des amis jusqu'au Old Brick Store, à Charlotte, ou de faire du vélo de montagne au Catamount Family Center, situé tout près, à Williston.
Voici toutes les ressources dont un cycliste débutant pourrait avoir besoin dans l'État des Montagnes vertes : vous découvrirez entre autres où trouver le type de vélo qu'il vous faut et où les gens du coin s'arrêtent pour prendre le café. À vos casques, prêts, partez!
Excursions urbaines
La piste cyclable de Burlington, qui longe le lac Champlain sur 12 kilomètres entre le parc Oakledge et la rivière Winooski, est le corridor récréatif le plus fréquenté en ville. Les cyclistes circulent sur une piste pavée sur terrain plat, découvrant au passage six parcs et des points de vue spectaculaires sur le lac et les Adirondacks; une fois arrivés à la rivière, ils traversent un pont vers la piste cyclable de Colchester, où un traversier les amène jusqu'aux îles du lac Champlain – c'est l'Island Line Trail, de 20 kilomètres. Le traversier est en service du vendredi au dimanche et les jours fériés, du 14 juin au 2 septembre, de 10 h à 18 h. Pour de plus amples renseignements, consultez localmotion.org.
Cycle the City est une excursion autoguidée facile de 16 kilomètres qui passe par certaines des principales attractions de Burlington, notamment l'Island Line Trail, la ferme familiale d'Ethan Allen, les fermes biologiques de la vallée de la rivière Winooski, l'Université du Vermont, le Collège Champlain et même la maison où s'est marié le président américain Calvin Coolidge. Cartes disponibles à localmotion.org.
Randonnées à vélo
À quelques kilomètres de Burlington, le Catamount Outdoor Family Center loue des vélos de montagne aux cyclistes, qui partent à la découverte de ses 32 kilomètres de pistes de tous les niveaux. Le centre organise également des camps et des compétitions pour enfants et adultes. 592 Governor Chittenden Road, Williston, 802-879-6001. catamountoutdoor.com
Comme la plupart des sentiers de vélo de montagne se trouvent à l'extérieur du comté de Chittenden, l'organisme sans but lucratif Fellowship of the Wheel a décidé d'ouvrir et d'entretenir des pistes autour de la ville, notamment dans la baie de Shelburne, au parc Sunny Hollow (Colchester) et à Mud Pond (Williston). fotwheel.org
À quelque 29 kilomètres de Burlington, le Sleepy Hollow Inn offre environ 19 kilomètres de pistes de niveaux intermédiaire et avancé. Apportez votre vélo et payez votre droit d'entrée au guichet libre-service. 6 $ pour les adultes, 4 $ pour les enfants. 427 Ski Lodge Drive, Huntington, 802-434-2283. skisleepyhollow.com
Excursions d'une journée
Cela vaut la peine de faire 45 minutes de voiture pour se rendre à Stowe, où une piste cyclable pavée de 8,5 kilomètres passe par le cœur de cette chic ville de ski, traversant la rivière West Branch environ une dizaine de fois sur des ponts de bois; vous y croiserez au passage certains des meilleurs restaurants et boutiques du Vermont. De nombreuses pistes de vélo de montagne sillonnent également Stowe, notamment Cady Hill Forest et Perry Hill. Pour de plus amples renseignements, visitez stowemountainbike.com. Pour la location de vélos : AJ's Ski & Sports (stowesports.com), Nordic Barn (nordicbarnvt.com), Pinnacle Ski & Sports (pinnacleskisports.com) et Skiershop (skiershop.com). Vous pouvez aussi vous rendre directement au Trapp Family Lodge, où les descendants de la célèbre famille des chanteurs Trapp vous fourniront de l'information sur les quelque 48 kilomètres de sentiers de vélo de montagne de l'établissement et où vous pourrez louer des vélos pour tous (trappfamily.com).
Les adeptes du vélo de montagne trouveront également des vélos à louer et des pistes avec remontée mécanique à certaines stations de ski du nord du Vermont, notamment Sugarbush (sugarbush.com) et Burke Mountain (skiburke.com), dont le parc de descente fait partie du réseau des Kingdom Trails (kingdomtrails.com). Ce réseau de 160 kilomètres a la réputation d'offrir l'une des meilleures expériences de vélo de montagne aux États-Unis.
Compétitions et autres événements
Outre les courses de vélo de montagne hebdomadaires du mercredi soir, à Catamount Outdoor Family Center, les cyclistes pourront aussi prendre part à la Green Mountain Stage Race le week-end de la fête du Travail, du 31 août au 2 septembre (gmsr.info), et à la Darn Tough Ride, qui comporte quatre options de course, dont un parcours de 160 kilomètres autour de Stowe et de Jay Peak, le 1er septembre (mmwa.org/darntoughride).
Du café pour les cyclistes
Le Maglianero Café se distingue des autres cafés de Burlington par son engouement pour tout ce qui touche le cyclisme. Fondé par Michael Jager, avide cycliste et designer de renom, ce café est situé derrière Jager Di Paola Kemp Design, à moins de 200 mètres de la piste cyclable de Burlington dans le parc Waterfront. Le Maglianero cherche à favoriser un « mouvement de mobilité moderne » en créant un espace communautaire pro-cycliste. Il y a beaucoup de places de stationnement pour les vélos, à l'intérieur et à l'extérieur, de même qu'un abreuvoir pour les chiens et une douche pour leurs maîtres. Venez déguster des mélanges de café spéciaux provenant de Vermont Artisan Coffee & Tea et une sélection limitée de produits de boulangerie-pâtisserie. 47 Maple Street, Burlington, 802-861-3155. maglianero.com
Local Motion
Ce groupe d'action organise des excursions et d'autres événements, il offre aux cyclistes un service de traversier jusqu'aux îles du lac Champlain pendant l'été, il soutient un programme de recyclage de vélos et il gère les ressources en ligne du site trailfinder.info. Son Trailside Center, sur la piste cyclable de Burlington, est ouvert de Memorial Day (27 mai) jusqu'à Columbus Day (14 octobre). Vous y trouverez des vélos à louer (à partir de 15 $), des collations, des cartes, de l'air pour vos pneus et plus encore. 1 Steele Street, Burlington, 802-861-2700. localmotion.org
Autres boutiques de location de vélo
North Star Sports loue des vélos (vélos hybrides, vélos de route, bicyclettes pour enfant et remorques pour vélo) pour une durée pouvant aller d'une heure à deux semaines. 100 Main Street, Burlington, 802-863-3832. northstarsportsvt.com
The Ski Rack loue des vélos hybrides, des vélos de route, des bicyclettes pour enfant, des tandems et des remorques pour enfant, à l'heure ou à la journée (de 15 $ à 45 $); ouvert à compter de 8 h l'été, du lundi au samedi. 85 Main Street, Burlington, 802-658-3313/800-882-4530. skirack.com
Autres boutiques de vélo
La vocation de The Alpine Shop est double : atelier de service et magasin offrant une gamme complète de vélos. 1184 Williston Road, South Burlington, 802-862-2714. alpineshopvt.com
Budnitz Bicycles est un détaillant haut de gamme qui offre les vélos les plus rapides, les plus légers et les plus élégants au monde – à en croire son site Web. Ces vélos en titane et en acier ont été conçus par Paul Budnitz, fondateur de Kidrobot, dont le travail est exposé au Museum of Modern Art, à New York. Budnitz a d'ailleurs récemment élu domicile dans la région de Burlington, dont la réputation de ville de vélo n'est plus à faire. 47 Maple Street (à côté du Maglianero Café), Burlington, 802-557-0507. budnitzbicycles.com
Earl's Cyclery & Fitness organise le plus important échange de vélos au Vermont en mai et, pendant le reste de la saison, vend tous les types de vélos – du Cruiser au BMX – ainsi que des pièces, des roues, des accessoires et plus encore. 2500 Williston Road, South Burlington, 802-864-9197. earlsbikes.com
The Old Spokes Home vend des vélos d'occasion remis à neuf et des vélos rétro, en plus d'abriter un musée de vieux cadres de bicyclette funky et un atelier de réparation. 322 North Winooski Avenue, Burlington, 802-863-4475. oldspokeshome.com
The original print version of this article was headlined "Bicycling Basics"