File: Matthew Thorsen
Burlington Farmers Market
On a sunny Saturday in July, the smell of sausage fills the air. At the Burlington Farmers Market, vendors' stands sprawl across City Hall Park and line St. Paul Street, while bustling crowds fill the spaces in between. Chords of music tinkle from one tent. At another, people shell out for cold-brew coffee.
The extravaganza of growers, crafters, artisan food businesses, jewelers, Popsicle makers and fishermen selling their wares is novel; if it grows, or is made, in Vermont and is in season, you'll probably find it here.
But it wasn't always this way. When farmers markets first popped up around Vermont in the 1970s, they were pretty simple and similar. Most featured a handful of vegetable growers and maybe a baker or two.
In 1977, Alan LePage joined a handful of other growers to form the fledgling Capital City Farmers Market in Montpelier. He realized that most Americans had never heard of, nor seen, an open-air market. "It was very unglamorous," he recalls. At the time, some people even thought that only farmers were allowed to shop at farmers markets.
Over the years, as people became accustomed to them, markets took a foothold and became a celebrated way of purchasing food. In 2010, the number of farmers markets peaked at 87 in Vermont — which has just 251 towns. Since then, the number has declined to the low 70s, with some existing markets struggling while new ones fight to get off of the ground.
Given the uncertain economy and varied ways to access local food, is the farmers-market model becoming passé? Answering that question is tricky, because there isn't one standard model to study. Individual markets — not the Vermont Farmers Market Association (VFMA) or the Agency of Agriculture, Food & Markets — set rules and bylaws, making each one unique.
According to the VFMA website, Vermont markets range from two farmers to dozens of vendors, with seasonal sales spanning $5,000 to more than a million. Thus, while one market might be hugely successful, another, one village over, may be languishing.
Yet common to most markets is the struggle to maintain a delicate balance: If there aren't enough customers, it's not worth a vendor's time to show up. But if not enough vendors attend, customers may stop coming. To make things even more complicated, when a market gets too crowded, some consumers give up on the whole thing, just as farmers and crafters scale up production to meet the perception of higher demand.
On the website of the defunct New North End Farmers Market, there's a plea from the market manager, dated June 6, 2014: "We are off to a slow start. There are fewer vendors than I'd like ... If we are to keep our community market going, we need more people who want to sell ... the past two market days several of you drove into the parking lot ... where the market is. Slowed down to look and then drove off ... I strongly encourage you to step out." Clearly, it wasn't enough.
According to Abbey Willard, local foods administrator at the ag agency, there's a difference between a town deciding that it ought to have a market and a group of farmers deciding that they need a market. "Not every community can sustain a farmers market," she explains. "I think we're finally coming to agreement on the point that you don't want to create a farmers market if it's not going to result in profitable sales for those farms. You're still supporting your neighbors by driving the 10 or 15 miles to the neighboring market on a Saturday morning."
Erin Buckwalter, the Northeast Organic Farming Association of Vermont's market development director, agrees. She notes that farmers need to prioritize markets that will help them make a living. "Some markets are going to close," Buckwalter says. "Others are going to get bigger."
Similar to arguments in favor of school consolidation, Willard and Buckwalter's comments suggest that having fewer markets — and ensuring that the existing ones are robust, plentiful and energized — is better for farmers.
File: Matthew Thorsen
Burlington Farmers Market
How big is too big? It depends on the space available to the market, as well as the particular economics of the region. The Burlington market, which has approximately 90 vendors, has stopped growing. Now that it's no longer expanding, says market manager Chris Wagner, it's time to focus on quality.
Seasoned growers shouldn't rest on their laurels, he says, but rather continually make strides to improve. For those who want to maximize the possibilities offered by the market, Wagner is available to help. "We're trying to cultivate amazing vendors," he explains. "We really want to be a world-class market."
To Wagner, that means a gathering packed with a variety of entertainment, experiences and flavors. He notes that some people spend an entire day at the market, doling out their dollars to a variety of vendors while taking in the scene.
"I love to see the folks who come down early, get their produce, meat and cheese, and put it in the cooler in the car," Wagner says. "Then they come back and they get prepared food and sit on the grass and listen to music. Those core customers are the ones who are sustaining the market." Even out-of-towners, Wagner suggests, are sticking around longer and spending more.
But what looks to one person like a "world-class market" might look like a stressful experience to another, filled with long lines, cumbersome dog leashes and strollers, and tight crowds.
The Montpelier market, ranked — along with Burlington's — as one of the top 100 markets in the U.S., offers lamb, fine cheese, apples with funny European names and LePage's plethora of heirloom varieties. But it doesn't bring in as many visitors or as much money as it once did.
"There are some people who don't want to go to the market because it's too busy," Buckwalter says. "There's a balance to strike between being a festival and being somewhere people want to go and shop."
Compared to Burlington, the Montpelier market is rather sedate, but it's also crammed into a parking lot, with fewer points of entry and egress, which makes it feel constricted and busier than it actually is.
Location, parking, and access to ATM machines and bathrooms have a big impact on the success of a farmers market. "A small city like Montpelier should have a dedicated public square with spaces for the farmers market," LePage says, "to consider the importance of local agriculture as one of its prime missions."
The Montpelier market is also known for contention behind the scenes. "Montpelier is a market that is a bit challenged by different characters; some [are] not forward-thinking about the food system changing," admits Buckwalter. "Some markets are like, 'We've had these rules forever,' and they're not really willing to change, so they're losing out. Markets have to be scrappy and nimble," she adds, "but that can be difficult when people who aren't interested in being scrappy or nimble make the calls."
Wagner says this is not the case in Burlington, which may be part of the reason for its continued success. "I'm so lucky, I've always had an amazing board," he says. "They're really willing to let me grow as a manager."
How does the Burlington board support its market? For one thing, its members are down with the idea that you have to spend money to make money, and they recognize that not everything is the market manager's responsibility. Each week, the market pays a handful of teenagers $25 per hour to help vendors ease into traffic at market's end. They pay artist Jess Graham to make art for ads. Wagner himself earns $27,000 annually in his role as market manager, a job that is more than 40 hours a week in the summer but substantially less in the winter.
At their board meetings, members voluntarily recuse themselves from voting on issues — or the inclusion of new vendors — if they feel they have a conflict of interest that would prevent them from voting for the best interest of the market. At many other markets, this is not the case. "Markets are often governed by the farmers on the board," Buckwalter says. "They're making decisions based on their own best interest." In some cases, they may be afraid to evolve, which Wagner guesses is because "they're all financially and emotionally invested in the success of the market."
Another factor affecting the success of farmers markets is access: As interest in local food has grown, so have the ways customers can obtain them. There are so many quicker, easier and more convenient ways to get local food; even some chain supermarkets are stocking local fruits and veggies. Then there are co-ops, farm stands and CSA shares, some of which aggregate products — such as eggs, cheese and meats — from a variety of vendors. Some even offer drop-off service rather than the potentially time-consuming on-farm pickup.
Sam Smith, a farm business specialist at Burlington's Intervale Center, views markets as an excellent way for growers to meet members of their community and build a base. However, he acknowledges they are time-consuming and exhausting. Fewer of the farmers he advises are including farmers markets in their business models these days, he says. This year, only 15 percent of the enterprises with which Smith works are participating in a market, a significant decline from years past.
Being a vendor can also be a drain on a farm's resources. "The Burlington market is honestly one of the [only] markets where I think the level of sales is enough to justify the amount of time and expense," Smith says. "At most of the markets in the state, the value proposition isn't there."
Bear Roots Farm of South Barre began selling at the Barre and Montpelier markets as it was establishing its new business. "We focused on marketing because we were brand new and nobody knew who we were," says Karin Bellemare, who owns the farm with her husband, Jon Wagner. Now that they're established, she says, the goal has shifted from recognition to revenue, and they only participate in the Burlington market. "It's a very large part of our income now," Bellemare adds. And it's much more cost-effective for the couple to attend a single market together.
Eventually, they may go the way of Mark Fasching and Christa Alexander of Jericho Settlers Farm, which was a staple at the Burlington Farmers Market for six years. Last summer, Fasching and Alexander took a sabbatical from the market and ultimately decided not to return, in order to have more family time on the weekends.
"We made great money there, it was definitely profitable, but we can make this money elsewhere," says Alexander. Namely, in the wholesale business. Although Burlington was the most lucrative of all the markets they've done, it still accounted for less than 10 percent of their total farm revenue.
LePage, on the other hand, relies on his income at the Montpelier market now that the Barre market has collapsed, which he blames in part on a small customer base and the success of the Bear Roots CSA. For four decades, LePage chose to use farmers markets as his primary sales outlet because he loves speaking with customers, offering samples of seasonal produce such as tiny heirloom cantaloupes and peas, and creating displays and informational signs about his unusual varieties. Now, he suspects his future earnings are tenuous. "It's really tough," LePage admits. "My financial situation is pretty dire. I'm making less money than I was 15 years ago."
It seems that farmers markets best serve farmers when selling at markets makes up just a portion of their revenue. And, unless a farmer has been accepted into one of the state's larger markets, the endeavor is best treated as a marketing tool rather than a robust source of income.
As Jericho Settlers Farm and Bear Roots Farm did, regularly reevaluating the farm's business model can be essential to making sustainable business choices. That process can uncover ways for farmers to evolve. These days, that means embracing social media. LePage, who has incorporated Facebook into his marketing efforts, finds it's a good way to drive business to his market stand. Instagram, which focuses on photographs that tell stories, is another popular tool.
Sometimes tech, popular culture, and farmers markets coincide with unexpected results. On a rainy market Sunday in July, baker Ren Weiner of Winooski's Miss Weinerz was worried that the inclement weather would dampen her sales. Partway through the day, the maker of cakes, fermented foods and sourdough doughnuts was already planning to drop her wares off at the Chittenden Emergency Food Shelf. "It was pouring, pouring hard," she recalls. But, surprisingly, she started selling doughnuts. Before long, she'd run out.
Turns out, the uptick in sales was because of Jigglypuff — a pink Pokémon GO character who was "hanging out" near her stand, waiting to be "captured" by smartphone-savvy players. As gamers passed, they purchased doughnuts. "We need more apps that send you to farmers markets," Weiner suggests.
As someone who sources local ingredients for her baked goods and grows some of the ingredients herself, Weiner is conscious that consumers value prepared foods and appreciate knowing where those foods come from. After all, not all pulled-pork sandwiches are created equal. Some begin with a farmer helping a sow give birth to a litter of piglets and end with that very same farmer handing a hot, foil-wrapped bundle to a hungry customer. When a farmer takes her own products and processes them, it's referred to as "value adding." Meat becomes sausage, sausage becomes a breakfast sandwich and, theoretically, the farm makes more money.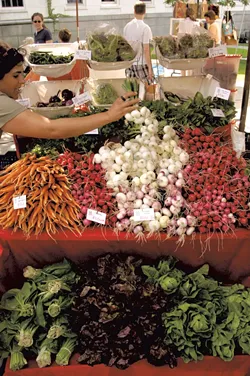 File: Matthew Thorsen
Burlington Farmers Market
At another stand, that sandwich might be a whole different animal: meat from Costco, fluffy white bread, pickles from a jar. The price will be different, too. And there's also a middle ground. Some prepared-food vendors don't grow their own products but do source from friends and neighbors. These items might even be the most delicious, particularly when the vendor is a professional cook.
Some people wonder if prepared-foods sellers who don't use local ingredients — and are therefore not supporting local farms — should be allowed at farmers markets. But in areas where people have less disposable income, the opportunity to purchase less expensive food may be essential to attracting them to the market. In Chittenden County, many of the food businesses that rely on non-local ingredients are owned by New Americans and provide them both an income and a means of sharing their culture.
At the Burlington Farmers Market, Wagner isn't inclined to limit participation to booths that use local ingredients. But he is striving to increase transparency. Ultimately, he says, "Somebody has to give first. The consumer has to make it clear that they want better options, or the prepared food vendor has to make that change and suck up the higher costs."
An increased appreciation for, and fetishization of, local food has made some markets feel more rarified — a fact that can make farmers and customers uncomfortable. The perception that farmers markets are places where rich people go to buy fancy cheeses, nibble on cakes and sip honeyed gin may well be accurate. At the same time, Willard, from the Agency of Agriculture, believes it's beneficial for all Vermonters to have access to the market experience: to get cooking suggestions, share recipes, support one another and form connections with community members.
"[Markets] represent a place where people in the community go to support local farmers and feel like part of something," Willard suggests.
With help from NOFA-Vermont and the Vermont Farmers Market Association, the ag agency has been working on programs to increase access to fresh, local food. One of its efforts was to equip a majority of Vermont's markets with card readers that accept SNAP benefits, doling out wooden tokens that can be used to purchase produce, meat, eggs and other agricultural products. And a new program called Crop Cash, implemented in 2015 at many of the state's markets, gives those with SNAP benefits an extra $10 to spend while they're there.
Still, Willard says, the ambiance at certain markets — particularly ones where prepared-food sales outpace those of produce — can be a deterrent to families with lower incomes. "If the market doesn't feel like their community, they struggle to bring their kids there," she says.
Other issues include stalls where prices aren't clearly listed. When this is the case, people on tight budgets can't calculate costs before going up to pay. Wagner has noticed this barrier at the Burlington Farmers Market. "Some displays are beautiful but are kind of intimidating," he suggests. "Vendors need to decide, 'Can we alter the display to make it a little more comfortable, to make it easier for people?'"
What would make things easier? How can we improve? These are questions that farmers market boards and individual vendors grapple with as they reconsider nearly every aspect of the market model. Although many farmers are resigned to markets being less moneymaker and more marketing tool, it would be better if they were both. For the farmers markets of Vermont to be sustainable, and lucrative, most of them will need to change.
Overall, it is the consumers — those who have the least at stake and so much to gain — who have the most power over the fate of farmers markets. Consumers decide whether to show up with cash in hand, ready to shell out for their weekly supply of local goods, or merely hang out eating dumplings or cookies made with nonlocal ingredients. They're the ones who may not show up when it's raining ... unless there's a Pokémon to find.
Disclosure: The author has in the past vended at the Burlington Winter Famers Market and Capital City Farmers Market.