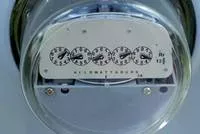 BURLINGTON — The last few weeks have been a rollercoaster ride for Beth Sachs and Blair Hamilton, co-founders of the Vermont Energy Investment Corporation (VEIC), a national leader in promoting energy efficiency and renewable technologies. For the first time ever, the private nonprofit organization got written up in both The New York Times and the Boston Globe. Last week, the American Council for an Energy-Efficient Economy ranked Vermont number one for its energy-efficiency policies, largely due to the efforts of VEIC's Efficiency Vermont program. Two days later, Governor Jim Douglas vetoed H.520, a comprehensive climate-change bill that would have greatly expanded Efficiency Vermont's mission to cover all fuels, not just electricity.
Sachs and Hamilton believe it was the devastation from Hurricane Katrina that hammered home the dire consequences of global climate change and the urgency of VEIC's mission to reduce the social, economic and environmental costs of energy consumption. "Blair and I have worked together in this field for 35 years," she says. "And this is the most seriously people have ever taken the threat to the environment."
Not surprisingly, VEIC is growing, big time. As the organization celebrates its 20th anniversary this year, utility companies, businesses, municipalities and the general public are finally getting the message that the oft-maligned field of energy conservation is the wave of the future.
In the next year, VEIC plans to expand its staff from 110 employees to about 150, taking over additional office space at its South Champlain Street headquarters in Burlington and spreading a message of smart energy consumption from the Hamptons to Hanoi.
At least some of that growth, explains Hamilton, VEIC's policy director, is the result of state legislation that passed last year, which raised the cap on how much Vermont ratepayers will invest in energy efficiency — from $17.5 million to $30.75 million by 2008. And as Hamilton emphasizes, Vermont's electricity ratepayers aren't "funding" energy efficiency so much as "investing" in it.
The difference, he explains, is more than mere semantics. When a utility builds a power plant, "They're spending ratepayer funds to meet our electrical needs — in utility speak, that's 'resource acquisition,'" Hamilton explains. That's what Efficiency Vermont is doing, too.
As the nation's first energy-efficiency "utility," Efficiency Vermont is occasionally scrutinized, and criticized, for its growth. But, unlike with some government contracts, there are serious financial consequences if the organization fails to deliver the goods. By December 2008, Efficiency Vermont has a goal of reducing Vermont's peak summer and peak winter demand by 40 megawatts each, out of a statewide total of about 1000 megawatts. That's roughly the output of the McNeil Generating Plant.
One way of accomplishing that goal, Hamilton explains, will be to target four geographic regions in the state where rising electricity demand is putting undue stress on the power grid. Those regions include northern Chittenden County, the St. Albans area, the Newport/Derby region along Route 5, and the so-called "southern loop," which encompasses Manchester, Stratton and north Bennington.
What Efficiency Vermont hopes to accomplish, Hamilton says, is to stabilize and possibly even reduce electricity demand in those regions through aggressive efficiency efforts that can defer or possibly even avoid the need for building new power lines, transformers and substations.
"It's a little bit of an experiment," Hamilton explains. "This is a whole new thing that's never been done before in the country. Vermont is, again, getting out front."