Courtesy of Vermont Comedy Club
Vermont Comedy Club lounge
When Vermont Comedy Club opened with a series of sold-out shows last week, most of the patrons were there for giggles, not dinner. But nothing gets the laughter flowing like a nip of booze, and married owners Nathan Hartswick and Natalie Miller would have been foolish to open without a well-stocked bar.
Also, nothing is funny when you're feeling hunger pangs. So the club needed food, too — small snacks to complement the drinks and keep patrons happy while they take in the laugh parade.
Hartswick and Miller hired longtime Skinny Pancake bartender and manager Peyton White to man the food and beverage program. Their menu consultants are Kortnee Bush and Narin Phanthakhot of Butch + Babe's, the Burlington restaurant that has become a neighborhood favorite since opening last winter.
The resulting menu offers simple finger foods and bar snacks priced from $5 to $12. "The idea is [to offer] fun, shareable food you can eat with your hands in the dark, which is not too messy or noisy," Hartswick says.
That means easy-to-eat snacks such as Chicago-style hot dogs topped with mustard, onions and relish; skewered bits of spiced pork or fresh veggies with peanut sauce; and pretzels — sweet or savory — served with chocolate, cheese or caramel sauce. Other sweets include a frozen chocolate-covered banana and no-bake cookie balls.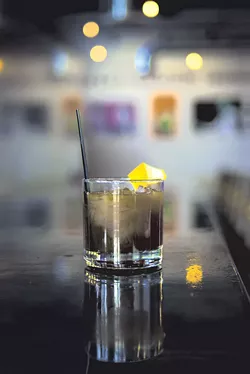 Courtesy Of Vermont Comedy Club
Vermont Comedy Club's Coddington
For drinks, White's menu offers specialty cocktails named for the club's Kickstarter benefactors, including a cosmopolitan update dubbed Sweet 'n Lowe. Ray's Mic Mash is made with house-infused hibiscus rum, lime juice and Rookie's Ginger Beer. A twist on the manhattan featuring Earl Grey-infused rye, sweet vermouth and Angostura bitters is called Coddington, after someone's cat. "We keep joking that this is a drink named for a cat named for a galaxy," Hartswick says, referring to the cat's cosmic namesake, Coddington's Nebula.
The bar also offers a handful of wines by the bottle and on draft, and eight (mostly local) beers on tap. Current picks include suds from Queen City Brewery, Switchback Brewing, Fiddlehead Brewing, 14th Star Brewing and Citizen Cider.
While Hartswick welcomes guests to hang in the lounge before the show, he notes that cocktail servers and food runners start delivering snacks and beverages table side once the fun begins.