Welcome to Vermont! Now what do you do? Probably pick up a local publication such as this one and try to figure out what's going on. Good thinking. And you can find plenty more things to do in the calendars of BTV's weekly sister paper, Seven Days, available free on racks throughout the airport and around the state. It can be overwhelming to sort out the options, and not every activity can be found on a calendar — think leaf peeping. That's why we're sharing our top-10 list with you here. It doesn't include everything Vermonters try to squeeze in before the snow flies, but it's a fine sample. Now, go out there and do what the natives do.
1. South End Art Hop
Original artwork is everywhere, all year round, in Burlington's galleries, restaurants, coffee shops and other venues. But this annual fest, put on by the South End Arts and Business Association, is the city's biggest event devoted to visual arts. From Main Street south to the Burton Snowboards headquarters on Industrial Parkway, the post-industrial Pine Street corridor is bustling on Friday and Saturday: Thousands of visitors come out for the exhibitions, open studios, outdoor sculptures, musical performances, standup comedy, art market and kids' activities. On Saturday night the Hop steps out with "Strut," a fashion show featuring Vermont designers. More activities on Sunday encourage locals and visitors alike to make a weekend of it.
South End Art Hop, September 6-8. Info, 802-859-9222.
2. Haunted Forest
Halloween is a big deal in Vermont, as the number of costumed revelers roaming downtown on October 31 attests. But while the grown-ups can be a bit gory, there are more family-friendly ways to get a little spooked, and a perennial favorite is the Haunted Forest. At Williston's Catamount Family Center, mysterious guides lead visitors through dark woods, illuminated by a thousand glowing jack-o'-lanterns. Along the way are deliciously frightful Halloween-themed theatrical performances. Non-scary matinee shows cater to wee ones. Warm clothes and sturdy boots advised.
3. Pumpkin anything
Aside from Halloween, nothing says fall like pumpkins. Finding your own fleshy orange gourd is rewarding, whether you pick one out of a field or at the farmers market. And then there are the prize-winning whoppers at county fairs, courtesy of the Vermont Giant Pumpkin Growers. But we don't just carve our pumpkins into jack-o'-lanterns or bake them into pies. Some of us like to get all medieval and catapult them through the air — or watch others do so — at the Vermont Pumpkin Chuckin' Festival. Yes, really. You can enter an appropriate age division to participate, but be advised you'll have to help build your own trebuchet.
Vermont Pumpkin Chuckin' Festival, September 29, 11 a.m.–4 p.m., at Stoweflake Resort in Stowe. Info, 603-630-4800.
4. Vermont International Film Festival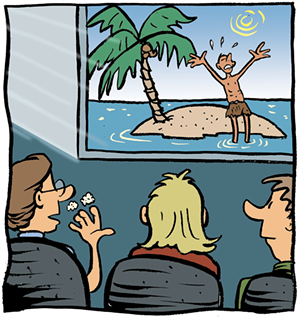 Like to sit in a darkened room and become enlightened? If you're a fan of cinema — particularly of documentaries that examine the complexities of human life — plan a visit to Burlington during the annual Vermont International Film Festival. The lineup of specific films was not chosen as of BTV press time, but the thematic categories for the 2013 fest are: "Artists in Action," "Food & Film," "Sport & Film," "Water" and "Identity." VTIFF will spotlight films considered outstanding examples of work by independent filmmakers worldwide, "Best of Fest" films that have been festival winners elsewhere and a Bollywood movie that pays tribute to the 100th anniversary of that Indian genre.
Vermont International Film Festival, October 11 to 20 in Burlington; various locations.
5. Harvest Festivals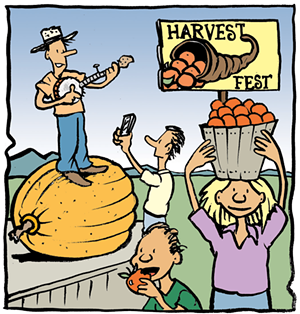 Where to begin? You could ask a local where to celebrate the summer's bounty and changing of the seasons, because all Vermonters have their favorite fests. But a quintessential Vermont experience can be found in the Addison County town of Bristol, just a half-hour drive from Burlington. Nestled at the foot of Mount Abraham, the town boasts a classic New England Main Street filled with small shops and eateries. On September 28, the Bristol Harvest Festival will fill the town green with more than 70 crafters and food vendors. Grown-ups can judge the apple pie contest, listen to bandstand music and browse a police-property sale, while the kiddies can enjoy pony rides, a petting zoo and face painting.
Bristol Harvest Festival, Saturday, September 28, 10 a.m.–4 p.m., on the Bristol Town Green. Info, 802-388-7951, ext. 1.
6. Leaf peeping
Even if it's your first visit to Vermont, you already know about the state's famous foliage — when the Green Mountains turn a breathtaking red, gold and yellow. There's scarcely any place you can go that isn't pretty, particularly between the end of September and mid-October, but if you want to time your trip for optimal color, check out the online guide foliage-vermont.com. It offers weather reports, foliage tracking and maps, not to mention dozens of foliage festivals taking place all over the state. Have you arrived too early or too late? Never mind; the site has pictures from past leafy loveliness, too. And there's always next year!
7. Tunbridge World's Fair
The state's quirkiest "harvest festival" is about an hour and 15 minutes south of Burlington by car, but it's well worth the trip. Despite its grand name, the event is in tiny Tunbridge, Vt. — population 1309 — and has been an annual event since 1867. Except for 1918, when a flu epidemic struck, and during World War II. The many agricultural offerings include horse pulls, an oxen costume class, a goat show and a competitive swine race. If farm animals are not your thing, the fair is packed with exhibits, kids' activities, live music, magic shows, Flying Frisbee dogs, and something called Basketball Wizardry. Oh, and lots of food. This is agrarian Americana at its best.
Tunbridge World's FairThursday through Sunday, September 12-15, at 1 Fairground Lane in Tunbridge.
8. Oktoberfest
We can't let a season go by without beer, especially fall. Harpoon Brewery down in Windsor, Vt., puts on a doozy of a fest, on October 13, complete with a foot race to work up an appetite — and thirst (harpoonbrewery.com). More accessible from Burlington is the Stowe Oktoberfest, where you'll find a giant tent turned into a Bavarian village for the weekend. There's music, from rock and roll to oom-pah bands, German food, a silent auction, a grand parade, and even kinderplatz, aka activities for the kiddies. Oh, and lots of brews. Of course, you can find loads of acclaimed Vermont artisanal beers at any bar or restaurant throughout the state, anytime. But there's something, apparently, about October...
9. The Cabot sock sale
What is it about socks? Find out why some Vermonters will get up before dawn and drive miles to stand in line for good deals at Cabot Hosiery Mills' annual sale in Northfield. Sure, its Darn Tough line is "the best sock ever," according to one Burlington retailer — even the U.S. Army buys them. And the company's other varieties of dress and sport socks come in zillions of patterns and colors. But it may be hard to understand the appeal of this sale, held over two weekends in November, unless you're among the hundreds of folks digging through piles in a good-natured frenzy. Just think of socks as rock stars.
Cabot Hosiery Mills Annual Sock Sale, Northfield, November 9 & 10, 16 & 17, 8:30 a.m.–4:30 p.m. Info, 802-485-6066.
10. Thanksgiving
Other than July Fourth, Thanksgiving is the most American of holidays (OK, Canadians have one, too, on October 14). It's a time — the fourth Thursday in November — when most people are sitting down at home with family or friends for a sumptuous meal. But if you're traveling, don't worry. Plenty of Burlington-area restaurants will be happy to stuff you with turkey, mashed potatoes, gravy, vegetables and desserts, so you can fall into a "food coma" like the rest of us. Television football watching is optional. And by the way, many retail stores are closed during the day, but some open late to get a head start on "Black Friday," aka the first official day of the Christmas shopping season.
Thanksgiving this year is on Thursday, November 28.
Quoi faire cet automne à Burlington
Bienvenue au Vermont! Vous vous demandez maintenant ce que vous allez faire? Le mieux est sans doute de prendre une publication locale comme celle-ci et de voir quelles activités sont prévues. C'est une bonne idée, en effet. Vous pouvez aussi trouver toutes sortes de choses à faire dans les calendriers de Seven Days, l'hebdomadaire cousin de BTV, que vous trouverez partout dans l'aéroport et ailleurs dans l'État du Vermont; c'est un journal gratuit. Le choix est vaste – et difficile! – et les activités ne se retrouvent pas toutes au calendrier (p. ex., admirer les couleurs d'automne). Voici donc une petite liste des 10 choses à faire pendant votre séjour ici. Cette liste ne comprend pas tout ce que les Vermontois essaient de faire avant que la neige tombe, mais c'est un bon échantillon. Allez-y, suivez l'exemple des gens du coin.
1. Le South End Art Hop
On trouve des œuvres d'art originales partout, toute l'année, dans les galeries, les restaurants et les cafés de Burlington, mais ce festival annuel, organisé par la South End Arts and Business Association, est le plus grand événement en ville consacré aux arts visuels. De Main Street, au sud, jusqu'au siège social de Burton Snowboards, sur Industrial Parkway, le corridor post-industriel de Pine Street est très animé les vendredis et samedis. En effet, des milliers de visiteurs déambulent pour voir les expositions, les ateliers ouverts, les sculptures en plein air, les prestations musicales, les numéros d'humour, le marché d'art et les jeux pour enfants. Le samedi soir, place au « Strut », un défilé de mode mettant en vedette les designers du Vermont. De plus, d'autres activités sont prévues le dimanche. C'est donc à un week-end bien chargé que sont conviés les gens du coin et les visiteurs!
Le South End Art Hop 6 au 8 septembre. Info : 802-859-9222.
2. La forêt hantée
Au Vermont, on fête l'Halloween en grand, comme en témoignent les nombreuses personnes costumées qui circulent au centre-ville le 31 octobre. Si les adultes ont tendance à arborer un look plutôt sanglant, il existe d'autres façons – plus familiales – de se donner une bonne frousse. Pourquoi ne pas visiter la forêt hantée? Un classique! Au Williston's Catamount Family Center, de mystérieux guides dirigent les visiteurs à travers une forêt sombre, à la lueur de mille citrouilles illuminées. Le parcours est ponctué de représentations théâtrales à donner la chair de poule, mais des circuits aucunement effrayants sont offerts aux enfants en matinée.
3. Des citrouilles partout
À part l'Halloween, rien n'évoque plus l'automne que les citrouilles. Au champ ou au marché, choisir son propre potiron orange bien charnu est un incontournable. Sans oublier le traditionnel concours de la plus grosse citrouille, présenté par les cultivateurs de citrouilles géantes du Vermont. Ici, les citrouilles ne servent pas qu'à faire des lanternes ou des tartes. Certains préfèrent les catapulter dans les airs à la mode médiévale – ou simplement assister au spectacle – au Vermont Pumpkin Chuckin' Festival. Oui, vous avez bien lu! Vous pouvez vous inscrire dans votre catégorie d'âge, mais sachez que vous devrez participer à la construction de votre propre trébuchet!
Vermont Pumpkin Chuckin' Festival, le 29 septembre de 11 h à 16 h au Stoweflake Resort, à Stowe. Info : 603-630-4800.
4. Le Vermont International Film Festival
Vous aimez vous asseoir dans les salles obscures et vous laisser emporter? Si vous êtes un fan de cinéma, particulièrement des documentaires qui explorent la complexité de la vie humaine, ne manquez pas de visiter Burlington lors de l'annuel Vermont International Film Festival. Le programme précis n'était pas encore arrêté au moment de mettre sous presse, mais les grands thèmes du festival de 2013 sont les suivants : « Artistes en action », « Alimentation et cinéma », « Sport et cinéma », « Eau » et « Identité ». Le VTIFF mettra en lumière, dans la catégorie « Best of Fest », des œuvres exceptionnelles de réalisateurs indépendants de partout dans le monde qui ont récolté des prix dans le cadre d'autres festivals, ainsi qu'un film de Bollywood soulignant le centenaire de ce genre indien particulier.
Vermont International Film Festival, du 11 au 20 octobre à Burlington; plusieurs salles.
5. Les fêtes des moissons.
Par où commencer? Vous pourriez demander à un habitant du coin où célébrer les récoltes estivales et le changement des saisons, car tous les Vermontois ont leur fête préférée. Mais pour vivre une expérience typique du Vermont, rendez-vous à Bristol, dans le comté d'Addison, à seulement une demi-heure de Burlington en voiture. Nichée au pied du mont Abraham, la ville possède une rue principale bordée de petites boutiques et de restaurants de style Nouvelle-Angleterre classique. Le 28 septembre, le Bristol Harvest Festival, avec plus de 70 artisans et restaurateurs venus pour l'occasion, prendront d'assaut le parc Town Green. Les adultes pourront participer au concours de la meilleure tarte aux pommes, écouter l'orchestre sous le pavillon et prendre part à une vente aux enchères, tandis que les enfants pourront faire des tours de poney, visiter la mini-ferme et se faire maquiller.
Bristol Harvest Festival, le samedi 28 septembre de 10 h à 16 h, au parc Town Green de Bristol. Info : 802-388-7951 (poste 1).
6. Admirer les couleurs d'automne
Nul besoin d'avoir déjà visité le Vermont pour savoir que l'État est réputé pour son feuillage automnal. En effet, à l'automne, les montagnes vertes se parent de saisissantes teintes de rouge, d'or et de jaune. Vous ne saurez plus où donner de la tête! Le paysage est particulièrement beau entre la fin de septembre et la mi-octobre. Si vous souhaitez réserver votre séjour à cette période, consultez le guide en ligne à foliage-vermont.com. Vous y trouverez des bulletins météo, un suivi de l'évolution des couleurs, des cartes ainsi qu'un compte rendu des dizaines de festivals consacrés aux couleurs d'automne qui ont lieu dans tout l'État. Vous êtes arrivé trop tôt ou trop tard? Pas de souci! Le site propose de magnifiques photos. Et puis, vous pourrez toujours vous reprendre l'année prochaine!
7. La Tunbridge World's Fair
Le « festival des récoltes » le plus original de l'État a lieu à environ une heure et quart en voiture au sud de Burlington – un détour largement justifié. Cet événement « mondial » se tient au Vermont, dans la petite municipalité de Tunbridge, qui compte 1 309 habitants. Il a lieu tous les ans depuis 1867, sauf 1918, année où une épidémie de grippe a frappé la région, et durant la Deuxième Guerre mondiale. Au menu de cette foire agricole : tire de chevaux, bœufs déguisés, exposition de chèvres et course de porcs. Si les animaux de ferme ne vous intéressent pas particulièrement, d'autres options s'offrent à vous : expositions, activités pour les enfants, concerts, spectacles de magie – vous pourrez même voir des chiens qui jouent au frisbee et assister à un événement nommé « Basketball Wizardry » – sans oublier tout ce qu'il y a à manger. Le meilleur de l'Amérique rurale, quoi!
La Tunbridge World's Fair aura lieu du jeudi 12 au dimanche 15 septembre, au 1, Fairground Lane, à Tunbridge.
8. L'Oktoberfest
Que serait une saison – particulièrement l'automne – sans bière? Le 13 octobre, à Windsor, la Harpoon Brewery organise un festival mémorable. Au programme : une course à pied pour creuser l'appétit et exciter la soif des participants! (harpoonbrewery.com). À l'Oktoberfest de Stowe, plus facile d'accès à partir de Burlington, une tente géante est transformée en village bavarois le temps d'un week-end. Musique allant du rock-and-roll aux flonflons bavarois, mets allemands, encan silencieux, grande parade, kinderplatz (activités pour les enfants) et bière à profusion : rien n'est laissé au hasard! Bien sûr, vous trouverez à tout moment de l'année de nombreuses bières artisanales locales très réputées dans n'importe quel bar ou restaurant de l'État, mais en octobre... avouez que c'est encore mieux!
Oktoberfest de Stowe, du 4 au 6 octobre, Stowe Events Field.
9. La vente de chaussettes de Cabot
Qu'est-ce que cette folie des chaussettes? Découvrez pourquoi certains Vermontois sont prêts à se lever aux aurores, à rouler des kilomètres en voiture et à faire la queue pour profiter des bonnes affaires à la vente annuelle de Cabot Hosiery Mills, à Northfield. Les chaussettes « Darn Tough » de l'entreprise sont considérées comme les meilleures (« the best sock ever ») par un détaillant de Burlington. Même l'armée américaine se les arrache! Les autres gammes de chaussettes de l'entreprise – habillées ou sport – sont offertes dans une multitude de motifs et de couleurs. Si vous avez du mal à comprendre l'attrait de cette vente, qui s'échelonne sur deux week-ends en novembre, joignez-vous aux centaines de personnes qui vont fouiller à cœur joie dans les piles de chaussettes. Vous comprendrez!
Vente annuelle de chaussettes de Cabot Hosiery Mills, Northfield, les 9 et 10 novembre ainsi que les 16 et 17 novembre, de 8 h 30 à 16 h 30. Info : 802-485-6066.
10. L'Action de grâces.
Outre le 4 juillet, l'Action de grâces est la plus américaine des fêtes (bon, d'accord, on souligne également cette fête au Canada, le 14 octobre). En ce quatrième jeudi de novembre, la plupart des gens sont à la maison, entourés de leurs proches et de leurs amis à l'occasion d'un somptueux repas. Mais si vous êtes en voyage, ne vous en faites pas. Nombre de restaurants dans la région de Burlington se feront un plaisir de vous gaver de dinde, de patates pilées, de sauce, de légumes et de dessert. Vous ne tarderez pas à sombrer dans un « coma alimentaire », tout comme nous! Regarder le football à la télé est une activité optionnelle. En passant, de nombreux commerces sont fermés pendant la journée, mais certains ouvrent plus tard pour marquer le début du « Vendredi noir », soit la première journée officielle de la saison du magasinage de Noël.
Cette année, l'Action de grâces tombe le jeudi 28 novembre.
The original print version of this article was headlined "The Top 10 List"