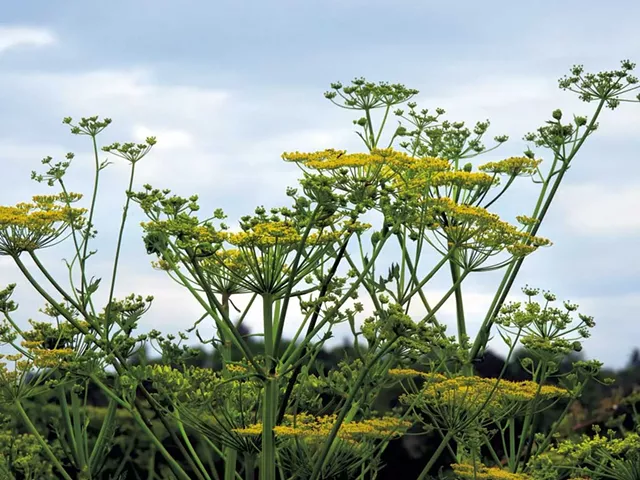 Dreamstime
Wild parsnip
Drive the roads of Vermont from early spring through late summer, and you'll probably notice an abundance of yellow-flowered weeds growing as tall as five feet. Commonly known as wild parsnip or poison parsnip, Pastinaca sativa is an invasive, free-range version of the root veggie that's sold at farmers markets and in grocery stores.
A native of Eurasia, the plant was originally brought to North America as a root crop but has proliferated in the wild in the last decade, taking over uncultivated fields, pastures and roadsides. Though it doesn't do well in shady forests or well-tended yards, wild parsnip is found throughout New England, as well as in much of the U.S. and Canada; it's abundant in 10 of Vermont's 14 counties.
Wild parsnip resembles wild carrot, aka Queen Anne's lace, whose rosette flowers are white. But don't go snipping it for wedding bouquets or centerpieces unless you're looking to re-create a scene from the 1979 sci-fi flick Alien. Snapping a stem of this corrosive invasive releases its phytophotosensitive sap. If it gets on your skin and is exposed to sunlight, it can cause painful rashes, blisters and even second-degree chemical burns within 48 hours.
Last month, Charlotte Murphy of Essex became the national poster child — er, adult — for poison parsnip prevention after she posted gruesome images of her blister-covered legs on Facebook. The Associated Press picked up her story and spread it as far and wide as the invasive itself.
Murphy isn't the only Vermonter to suffer a plant scalding this year. Between June 3 and July 18, Vermont's emergency departments and urgent-care facilities treated at least nine other patients for poison-parsnip-related injuries, according to data from the Electronic Surveillance System for the Early Notification of Community-Based Epidemics. Though burns may not quite be at epidemic levels, the plant is enough of a danger that the Vermont Department of Health now issues an annual public safety advisory.
What's being done to stop or slow the proliferation of this pastoral predator? Does it have any natural enemies? Can we sic goats or other livestock on it? Or must we resign ourselves to sending kids out to play in hazmat suits from May through October? WTF?
Alas, it appears there's no silver bullet for besting this biennial bloomer. Elizabeth Spinney, invasive plant coordinator at the Vermont Department of Forests, Parks and Recreation, wrote via email that the Agency of Natural Resources is working closely with other state agencies to manage all invasives on state-run land. However, she admitted that eradicating poison parsnip is complex and costly and "may not be achievable."
Now there's an understatement. Just consider what the Vermont Agency of Transportation would have to do to eliminate the plant solely along its highways. According to public outreach manager Jacqueline DeMent, VTrans has approximately 18,000 mowable acres in its highway rights-of-way. To mow all 18,000 just once a year would cost approximately $110 per acre, or roughly $2 million. To exterminate all, or even most, of the poison parsnip would require six mowings annually at a cost of $12 million.
And such a strategy assumes VTrans workers could snip all the parsnip before it flowers — unlikely, DeMent noted. In the process of trying, their mowers would likely pick up and spread other invasive species, including wild chervil, Japanese knotweed and common reed.
Feeling the burn yet? Hang on, it gets worse. Mowing too early disrupts nesting songbirds, DeMent continued, and mowing too often upsets the ecological balance of native plants and pollinators such as bees and butterflies. Moreover, creating lush, green lawns along highways invites deer to graze there, increasing the potential for collisions with vehicles.
Chemical pesticides, you say? Sorry, that's also a no-go. While VTrans' pesticide permit allows for limited spraying around guardrails, signposts and other critical locations, it specifically prohibits spraying for the control or eradication of invasive species, especially near wetlands and riparian areas. Plus, who really wants more chemical pesticides in the environment?
"It's mighty frustrating," DeMent said. "Our maintenance forces are out in it every day, and over the past few years, we've seen two or three pretty bad burns from it. It's nasty stuff."
Alas, our four-legged friends won't be of much help on this front, either. Unless they're famished, cows, goats and other livestock won't eat wild parsnip because it's poisonous to them, too. As for natural enemies, the Nature Conservancy's Global Invasive Species Team reports that a critter called the parsnip webworm can damage individual plants, but it hasn't proven effective for widespread eradication. Ditto for trying to pummel the parsnip through controlled burns, as the plant quickly resprouts afterward.
So what does work? The most effective, albeit backbreaking, method is good old-fashioned weeding. According to Spinney, "Hand pulling can be done any time of year without snow cover — it is a biennial that can persist in rosette form for one to two years, meaning it can overwinter before flowering," she wrote. "There is also a tool called the 'parsnip predator,' which is a modified shovel, which is sometimes used on small patches."
Several Vermont towns, including Huntington and Lincoln, have recruited teams of volunteers to head out at dusk and yank up the wild parsnip, presumably while covered in gloves, pants and long sleeves. A new Green Up Day tradition, perhaps?