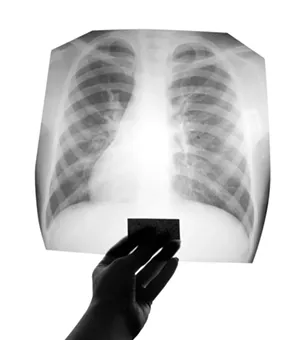 I've never thought of myself as an older dad, though if there's a clinical definition, I certainly qualify. Unlike the average American male, who becomes a first-time father at age 25, I was nearly 44 when my daughter, Manya, was born, and 46 when my son, Ezra, arrived.
That's considerably younger than comedian Steve Martin, who had his first child at 67, and the late actor Tony Randall, who first became a dad at an improbable 76.
Still, I'm no Millennial, either, which was obvious as I hobbled into a busy ER on the day after Christmas. Nothing gets a fortysomething to the front of the line more quickly than chest pains and difficulty breathing.
I landed there after a cabin-fever-relieving trip to the playground. My wife, Stacy, and I couldn't find an organized event or activity to wear out our two sugar-addled preschoolers. We settled on a short drive to Charlotte Beach, where the kids could throw rocks into Lake Champlain, then cross the road and visit the playground. Surely a few hours on the jungle gym in subfreezing weather would prompt a nap.
Stacy and I are committed to raising "free-range kids," shorthand for describing adventurous, independent and resilient children. Our thinking is that kids who are allowed to take risks, fall down, skin their knees, and occasionally get lost and find their way home are far less likely to grow up to be whiny, paranoid and clueless adults.
So when 2-year-old Ezra headed for the ice-covered mud puddles, stomping them into potentially lethal shards of ice, Stacy joined him.
Meanwhile, I took Manya, 5, to the jungle gym, where she kicked off her boots and scampered up the ladder in her socks. I bit my tongue to avoid barking the most universally ignored word in every parent's vernacular — "Careful!" — and instead, watched her from the ground.
She seemed to be doing just fine, so I tried swinging hand over hand across the monkey bars, as I'd done countless times as a kid. Dangling there, feeling muscles stretch that hadn't been stretched in years, I secretly longed to be more like my friends in Texas, Jules and Hans Dersch. Jules is a family physician and Hans an Olympic gold-medal-winning swimmer. When she's not seeing patients and he's not coaching future Olympians, they spend much of their free time doing gymnastics — specifically, acrobatic routines on the trapeze, including one they installed in their home.
Unfortunately, I don't have my friends' stamina or upper-body strength. So, when Manya scampered out of my reach, my free-range philosophy was tested: Do I let her keep climbing or yell for her to get down? I chose what seemed like a reasonable compromise: I climbed onto a couple of wooden beams below her to spot her, like a gymnastics coach, in case she slipped.
She didn't. I did.
I stepped where there was nothing to step on, fell between the beams of the play structure, bounced off a steel wheel and hit the ground four feet below. Thankfully, Manya didn't see it happen.
Lying there, trying unsuccessfully to breathe, I instantly flashed back to the first time I ever had the wind knocked out of me. I was Manya's age and had just learned to hang upside down from the monkey bars. I spent many more years climbing on jungle gyms, but I never fell again. Until now.
I was lucky. I made it home with two fractured ribs but avoided a collapsed lung, a ruptured spleen, and a head or neck injury. For weeks after, "daddy's broken ribs" became my kids' default explanation for even the smallest things I couldn't do for them: give them baths (I couldn't bend over), read them stories in bed (I couldn't lie flat on my back) and change Ezra's diaper (I couldn't lift him up).
As I sat in a leather recliner — which became my bed for more than a week — I replayed the accident in my head. What had been my critical mistake? It hadn't been letting my daughter climb the jungle gym without shoes on. Nor was it my decision to spot her, which seemed reasonable.
My blunder occurred to me while I was watching the almost daily videos that Jules and Hans post of themselves on Facebook. Swinging like the Flying Wallendas, they looked happy, nimble and as fearless as children.
I was never an Olympic swimmer like Hans nor a cheerleader like Jules. But perhaps I should have spent less time in front of my computer and more time climbing on playgrounds. I still might have fallen, but perhaps I would have stuck the landing.
Now that my ribs are nearly healed, I can pick up my kids again. But as their free range keeps growing, I need to work harder to keep up. Time to hit the jungle gym.
The original print version of this article was headlined "Daddy Down"