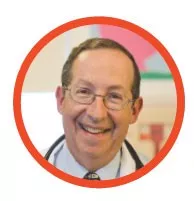 Elevated BMI tends to increase a child's risk for heart disease, stroke and diabetes as they get older.
Parents often see their children in the best possible light. A recent study of more than 3,000 overweight or obese children found that nearly 95 percent of their parents describe their kids' weight as "just right."
While such findings, published in the June edition of the journal Childhood Obesity, might be good news for those kids' self-esteem, they're alarming to public health advocates struggling to combat a national epidemic of childhood obesity.
This month, Dr. Lewis First, head of pediatrics at the University of Vermont Children's Hospital, explains why a child's body mass index matters — and what parents can do to improve it.
KIDS VT: What is body mass index?
LEWIS FIRST: Body mass index, or BMI, is a calculation that uses your child's height and weight to estimate their body fat. It's a way to determine whether they're accumulating excess pounds due to fat that could become a problem later in life.
KVT: When do pediatricians typically start measuring BMI?
LF: The American Academy of Pediatrics and the U.S. Centers for Disease Control and Prevention do not recommend calculating this number before age 2. Because the amount of fat that children carry changes by age and gender until they become young adults, we tend to track that number on a growth curve similar to tracking their height and weight. And, unlike adults who have finished growing, where we can look at a single number, with kids we watch the trend line over time to decide if we need to address it.
KVT: Why are BMI trends so important?
LF: If a child's BMI stays elevated, we know it tends to increase the child's risk for heart disease, stroke and diabetes as they get older. So, if we can reverse that trend early on, we can put kids at less risk for significant health problems that are associated with being overweight or obese. Once we see elevated BMI numbers, we begin to ask questions such as: What do other family members look like in terms of their shape and size? How often does the child exercise? What does his or her diet consist of? We might take additional measurements, such as a skin fold thickness test, to confirm that the increase is due to fat. We also look at family history, diet and other indicators.
KVT: When are BMI numbers considered elevated?
LF: Any child who is between the 85th and 95th percentile, we consider to be overweight. If a child is above the 95th percentile for BMI, we consider that obese. However, parents should be very careful not to use those words with their kids.
KVT: Why?
LF: The goal is to help kids develop good self-esteem by calling attention to what they do well and not what they look like on the outside in terms of their body shape. With good self-esteem, children and teens are more willing and motivated to work on their weight issues than if they're told repeatedly, "You're fat." A better idea is to say, "You're really working hard on your basketball skills and it shows. Would you like to work on getting into even better shape, which may make you even faster on the court?"
KVT: Can other factors besides weight gain elevate BMI?
LF: Yes. If you have a child with a lot of muscle and not a lot of excess fat, their BMI can also be elevated. So, it's possible that a middle-school child who's a superb athlete could have an elevated body mass index but it's mostly muscle mass. But that's a rarity in kids.
KVT: Why do some parents not recognize that their child's BMI is high?
LF: There are several reasons. It may be that parents have a level of denial about their own weight. Because more kids than ever before qualify as overweight or obese, some parents don't know what an overweight child really looks like. Some parents believe that everything will get better in regard to excess fat once their child hits puberty, and, sadly, that is not what often happens.
KVT: What tips can you offer for lowering a child's BMI?
LF: I advocate using the 5-4-3-2-1-0 formula. Each day the entire family should aim for consuming at least five servings of fruit and vegetables, four servings of water, three servings of low-fat dairy products, two hours or less of screen time, one hour or more of exercise and zero sugar-sweetened beverages. That tends to be a good formula for families to work together to move the BMI curve in a healthier direction.
Interview compiled and condensed by Ken Picard