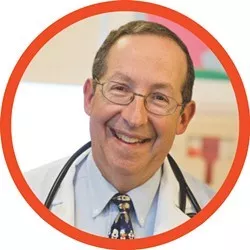 Not long ago, many pediatricians were skeptical, and even dismissive, of any form of treatment not covered in medical school. But doctors have begun to broaden their thinking as more evidence-based studies reveal the effectiveness of nonconventional and non-Western therapies.
Last month, the American Academy of Pediatrics published a report that examined the effectiveness of various natural remedies and mind-body therapies when they're used in conjunction with mainstream medical care. The report found that one in every three adults, and one in 10 children, use some form of complementary nonconventional therapy — such as massage, meditation, acupuncture or herbal supplements — to treat medical ailments.
We talked to Dr. Lewis First, head of pediatrics at University of Vermont Children's Hospital, about the report's key findings, and his advice to parents interested in nonconventional therapies.
KIDS VT: What are some examples of complementary therapies that have been shown to be effective in children?
LEWIS FIRST: Let's start with natural products. We've found, for example, that fish oil taken by pregnant mothers may help in the brain development of the baby, and may also help children with attention deficit/hyperactivity disorder (ADHD) when used in conjunction with conventional medications or behavioral strategies. Probiotics — or foods and dietary supplements that contain beneficial microorganisms — have been shown to shorten the duration of some infectious cases of diarrhea in children and may also help relieve some abdominal pain. Probiotics have also been helpful in the neonatal intensive care unit in reducing and possibly preventing serious intestinal complications that can occur in premature babies.
KVT: How do complementary therapies differ from alternative therapies?
LF: Alternative therapies are used instead of conventional care and are not integrated into conventional medicine, while complementary therapies are.
KVT: What are the risks associated with alternative therapies?
LF: Some alternative therapies can delay evidence-based conventional care that can effectively treat a serious medical problem. For example, if someone opts for a mind-body alternative treatment for a child with cancer and ignores the appropriate use of chemotherapy, surgery or radiation that can successfully treat the tumor, that's something we'd like to prevent. As pediatricians, we want to integrate complementary therapies into conventional therapies in ways that provide a patient-centered approach in an evidence-based fashion that does not harm the child. When you use one at the expense of the other, you're doing a disservice to both the child and the parent.
KVT: Just because something is natural doesn't mean it's safe, correct?
LF: Correct. We know that some herbal products can make problems worse when taken in conjunction with certain prescription medications. Taking St. John's Wort while you're also taking a prescription antidepressant can actually make you more depressed. This is not to say that parents shouldn't use natural remedies at all on their children. But it's good to talk to your pediatrician or other child health care provider to ensure that the combination of the natural product with a conventional medication will be beneficial and safe. Parents should also keep in mind that the U.S. Food and Drug Administration classifies herbal remedies as foods and not drugs. So when you buy these products, there is no guarantee of their purity, potency, safety or effectiveness.
KVT: What about mind-body therapies?
LF: The good news is, mind-body therapies are generally safe, particularly when used to address issues such as pain and anxiety. Biofeedback — or the use of electronic monitors or sensors to help people regulate certain bodily functions — has been shown to be very helpful in teaching kids with asthma how to control their breathing. It's also useful in relieving headaches, reducing bedwetting and reining in impulsive behavior. Guided imagery, a form of meditation, can help kids reduce stress, treat recurrent abdominal pain and even manage obesity. Yoga has been shown to be effective for treating stress and pain, as has acupuncture. While we may not know exactly why acupuncture works, we do know that if it's done by a trained practitioner, it can be effective in treating bedwetting, tic disorders, headaches, migraines and even some aspects of cerebral palsy. And, for kids who are afraid of needles, acupressure can work, too.
KVT: What about hypnosis?
LF: Hypnosis has been used successfully to help children deal with bedwetting, irritable bowel syndrome, anxiety, depression, post-traumatic stress disorder and even the pain associated with some medical procedures.
KVT: What's the takeaway for parents and caregivers?
LF: Our biggest concern is that parents are afraid to talk or ask about these therapies with their doctors and health care providers. As pediatricians, we are willing to share what we know with parents and together make sure those therapies are always in the best interests of the child. We want to respect where families are at, ask about the therapies they're using or considering, and then learn about them together.