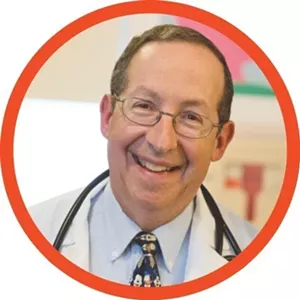 The coronavirus pandemic has disrupted the lives of everyone, including children. Vermont's mental health professionals have seen higher-than-normal numbers of kids experiencing anxiety brought on by the "Stay Home, Stay Safe" order, school closures, canceled extracurricular activities, and curtailed visits with family and friends.
Thankfully, parents can play an active role in reducing their kids' anxiety, beginning by reassuring them that they live in a very safe place. According to the Vermont Department of Health, the number of youth under the age of 20 who have contracted COVID-19 remains low, and no Vermont children or teens have died from the virus.
Still, if children seem unusually anxious for a prolonged period, there are things parents can do to help. Dr. Lewis First, chief of pediatrics at the University of Vermont Children's Hospital, shares his expert advice for managing anxiety in kids.
KIDS VT: What is anxiety?
DR. LEWIS FIRST: Anxiety is a normal emotion we all experience at one point or another as part of our natural fight-or-flight response. Having a little stress or anxiety about something new, different or challenging is normal and prepares us to be sharper and more alert to respond. For a child, it may be a big test or athletic competition. But anxiety can become a problem when a child faces a sudden, prolonged crisis — which makes COVID-19 the perfect scenario for causing stress and anxiety. While their stress may not indicate a classic anxiety disorder, it can reach the upper limits of what a child is emotionally able to handle.
KVT: What signs should parents watch for?
LF: Anxiety becomes a concern when a child experiences a persistence of symptoms associated with this condition. Kids may have physiological complaints such as headaches, stomachaches or loss of appetite. Some kids become irritable or agitated. They may become restless, easily fatigued, have trouble concentrating or difficulty sleeping. Some become disruptive or even withdraw from their parents as a way to cope.
KVT: Does anxiety look different depending upon the child's age?
LF: Kids of all ages, even babies, can show signs of stress or anxiety, which they can sense from their parents' unease or experience when they're around people they don't know. Babies, toddlers and preschoolers may seem clingier, cry more, get upset easily and not want to do things that they previously enjoyed. Older schoolchildren and early adolescents may exhibit more negativity. They may complain of shortness of breath, shakiness, clamminess, a racing heart and feelings of doom, which are all classic signs of a panic attack.
KVT: When should parents be concerned about a child's anxiety?
LF: First, parents should realize that the vast majority of children who are showing signs of stress right now are not having classic anxiety disorders. To make such a diagnosis, we need to see at least one sign of excessive anxiety occurring more days than not for at least six months, and we haven't been dealing with COVID-19 for that long yet.
KVT: What can parents do to help?
LF: Kids tend to stress when they sense that their parents are worried. I know it's hard right now, but parents need to remain calm and manage their own stress as best they can. This is a great opportunity for families to recognize that, even while isolated or as we slowly get out in public more often, this is a special time together. Parents should build in time to be with their child where it's not about talking at them but really listening to them. With an older child or teenager, sometimes a parent expressing their own concerns will open the door to them feeling it's OK to vent their own feelings. Parents can ask a child if there's something they saw or heard about the coronavirus that worries them, then educate them about what is fact versus fiction. Parents can also reassure their children that scientists and medical professionals around the world are working every day to find new medicines and vaccines that will make this virus go away.
KVT: What can kids do themselves?
LF: Children can be made to feel like they're part of the solution by practicing physical distancing, good handwashing hygiene and staying home when necessary. Parents should focus on all the positive things their kids are doing. Limit children's exposure to the news or, with an older child, watch it together as a family so that you can discuss what's going on. One of the most important things you can do to reduce anxiety is create predictability. Uncertainty breeds anxiety and fear, so parents should create a schedule that is predictable yet flexible and includes plenty of group playtime. Communicate with family, friends, teachers and coaches by phone or videoconference. And parents should not loosen the rules too much on healthy behaviors such as consistent bedtimes, good diet and daily exercise.
KVT: What if kids are still struggling with daily anxiety?
LF: If children just aren't sleeping well most or all nights, are anxious most of the time, or continue to show the signs and symptoms we've discussed, then it's time to talk to a health care professional. They can recommend treatments such as cognitive-behavioral therapy and even medication. A counselor or therapist can be very helpful in teaching a child coping mechanisms such as taking slow, deep breaths; counting backward from 100; and having a safe space to go to in their minds and/or in their homes. Increased anxiety in adults can lead to physical or emotional abuse, so parents need to manage their own stress levels, too.