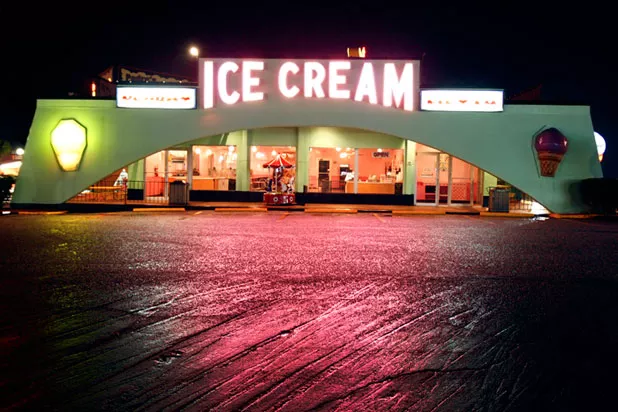 "No Screaming" by Raychel Severance
The unusual and possibly invented second word in the provocative title of the Borough Gallery's new show, "Entropic Restructed," may mean something different to each of its 10 artists. According to a press release, the exhibition is "focused on manifestations of deterioration and transformation." Since "entropic" evokes the deterioration part, perhaps "restructed" refers to transformation. The paintings, drawings, sculptures, photography and assemblages here connect at least tangentially to the stated theme.
Roadside attractions captured the attention of photographers Raychel Severance and Diane Gabriel. Severance's "No Screaming" is a 24-by-36-inch digital print of an ice cream Valhalla as seen at night. The façade of the neon-bathed structure is a broad arch, and the bulbs in a normally illuminated, supersized ice cream cone at right appear to have burned out. But the vanilla cone on the other side gleams brightly, a beacon to weary travelers. Damp tire tracks in the foreground parking lot reflect a rubified luminosity that complements the oddly hued, seaweed-green building.
Gabriel discovered and documented a somewhat racist billboard in "Indian Trading Post, Oklahoma 2010" during a long drive to Santa Fe, N.M. Some of the images from that trip were taken with a cellphone camera, and the trading post billboard was shot from within the moving car. The big, kitschy Indian-chief painting, surrounded by wires and street lights, looks shabby in the daylight.
Shawna Cross' painting "Breath Like Train Tracks" is a 46-by-26-inch abstraction rendered in earth tones. Cross varies her paint handling like a pianist varies dynamics. As a classical musician might move from forte to pianissimo and back, Cross employed impasto paint in the upper reaches of the canvas and thin paint, like stain painting, in the lower left. Dark values punctuate light areas, while light values likewise break through darker patches of paint.
James Juron presents the most dramatic paintings in the exhibit, yet they are also problematic ones. Though unquestionably a strong and talented artist, Juron seems not to have discovered his own voice. His smeary, distorted figures and images of carcasses aren't just influenced by the 20th-century British painter Francis Bacon (1909-92); they are entirely derivative. Indeed, Juron's 84-by-54-inch "Figure with Carcass" seems like an undiscovered Bacon. It's a man beside a carcass on a meat hook, portrayed in an abstract space. Juron's 60-by-40-inch "Deer Hunter" is marginally more original. It examines a local subject, and the figures of a man and a hanging deer are a bit more concrete than those usually seen in the late British painter's work. The best artists constantly search and evolve, and these Bacon-esque studies will most likely lead Juron to more innovative work down the road.
Michael Heeney's assemblage "Untitled II" is an ink-jet photo transfer that has been mounted on found wood with a diverse range of materials, including joint compound and polyurethane. The 20-by-10-inch work is an image of two old heart-shaped padlocks on the weathered board. The slightly smaller "Heart Shaped Lock" is a picture of just one lock collaged onto an antique wooden tray. It looks like an ancient mechanized valentine.
"Manning," by Eleanor Darling Brennesholtz, is a curious sculpture made from slices of tree trunk, rope and crochet work. On top of two stacked pieces of partially debarked wood sits a coil of rope woven into a basket. Pale blue yarn crocheted into a thinner rope tumbles off the construction. The disparate materials harmonize into an organic whole; it's quite a successful, inventive piece. Color and form are subtle, and the implied narrative content is mysterious.
The first law of thermodynamics states that energy is neither created nor destroyed, and the second law says entropy must increase in a closed system. "Entropic restruction" isn't mentioned in either. So, since it's not against any laws, artists are apparently free to "restruct" the universe however they please — and to decide for themselves what the word actually means.