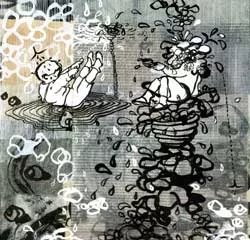 "The Limits of Desire" by Sumru Tekin
The "secrets" referenced in the title "Secret Stories" may be simply narratives bundled less than obviously in the works featured in the current exhibit at Stowe's West Branch Gallery & Sculpture Park. It's certainly no secret that the drawings and paintings were made by masterful technicians: Sumru Tekin and Giovanna Cecchetti. Their main link may be that virtuosity. Both artists focus on understated hues and layers of mark making, which contribute to the sense of mystery in their compositions.
Tekin was born in Turkey, and that country's troubled World War I-era history provides the conceptual basis for her current work. She obliquely approaches conflicting family stories about the Armenian genocide and explores how "malleable" the past can be.
The recurring images buried in Tekin's 16 works on paper were gleaned from folk tales and 19th-century Turkish reading primers. Most of her mixed-media drawings are 12 by 12 inches, relating narratives that are obscure — at least until one reads her artist's statement. Ultimately, what makes a piece like "The Limits of Desire" interesting is the formal strength of Tekin's picture making. Enigmatic figures — a boy falling in a puddle; a child with the head obscured by cartoonish splashes and drops — are drawn over gray and beige layers of text and rhythmic patterns. Lines like the weave of textiles are frequent foundational elements in Tekin's works. In "Spiraling" and "Forgetting," large areas of white negative space appear to have been created by erasing something in a deeper layer; thus the viewer can never be wholly privy to the artist's concerns, literally or figuratively. In "Like Writing in Water," the white silhouette of a boy who seems to have vanished becomes a symbol of displacement.
Cecchetti's concerns are of a different nature. "What is indisputable in this recent group of paintings," she writes in her artist's statement, "is the influence of the Peruvian Amazon where I explored various plant medicines indigenous to the jungle." Anyone who saw the painter's "Guided by Runes" series at West Branch in early 2007 will notice that Cecchetti's current canvasses restate many of her earlier technical concerns. But that's not a problem; like the older paintings, these current ones are strong and engaging. Each is a rich tapestry of dots, staccato lines and small, repeating shapes.
"Gracias Madre/Gracias Padre" is an 18-by-32-inch diptych that stresses dualities: not only the mother and father of the title, but also day and night. Cecchetti created steamy — perhaps jungle-like — atmospherics on both panels. Pale values dominate the left half. Layers of white on white and elegant vertical "chains" dangle in the picture plane. The right panel is tenebrous, and the chainlike lines are black. So are many details such as effervescent circles and lozenge shapes, yet their immersion in varied backgrounds keeps them distinct.
The 40-by-36-inch "Untitled Medicine/Dirt/Scent" has interesting greens, earth tones and a restrained use of black. Lines like sticks or reeds interweave with verticals and horizontals. Cecchetti's tiny circles and dots are like lightning bugs dancing over a dusky field. Larger dots appear in the foreground, while others become incrementally smaller as they sink into space.
The act of creating visual art is usually a private affair, making the artist's activity seem secretive. Studio work isn't alchemy, and the ingredients that go into a finished piece are easily understood. Yet, even with a lengthy artist's statement, the full story behind an artist's narrative may remain in that secret space evoked by this show's title.