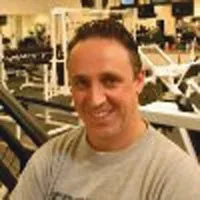 Dave Meek, personal trainer at the Edge
Children: sons Alexander, 8, and Thomas, 4
My first job was a "paper round." It was an evening paper in England, where I grew up, so I'd finish school, go home and head to the news agent's at, like, 3:30 and pick up my bag full of papers. I'd have certain houses to deliver to, on my bike. I did that for maybe three years — I think I was maybe 13 to 16. Once I'd done it for a couple of years, I switched to mornings because the morning paper round paid more. I think it taught me a little self-discipline, because I had to get up in the morning, and there were people relying on me.
It'll be different for Alex and Tom. They don't do that around here — the guy who delivers papers drives along in his car. I don't think they would even hire a kid that age. Why that is, I don't know; it's not like it's a difficult job. I don't know what they'd do for a job. My wife, Melanie, says Alex is going to be a lifeguard. He can already swim like a fish.
I bought records with my money, like vinyls. Isn't that crazy? I've probably got three or four hundred vinyls back in England. Will I let Alex buy music? You know what? It's his money; he can spend it how he wants to.
Matt Dodds, owner of Brandthropology
Children: son, Forrest, 15; daughter, Amelia, 13
My first job was as a book packer. A neighbor down the street had an operation where he got remainder books and would send them down to regular buyers, like libraries. He would store them in his barn, and when the order came in, my brother and other kids around, we'd all pack them. I remember I really liked the idea that I could make money. That was quite empowering.
My kids both have things happening this summer. My daughter just started working at Windswept Farm. She's a nutter for the horses. Gonzo's, an indoor golf place, wants my son to take kids around on a golf cart. Steve Gonzolvez, who runs Gonzo's Indoor Golf, also runs a junior golf clinic in the summer. He's just asked my son to help him out. Because kids are swinging clubs around each other, he needs help keeping them safe. It's nice to see that he would trust Forrest. I think Forrest likes the idea of working with kids — which he's always been great with — but also in getting in some free rounds of golf over the summer. Beats packing books!
I can't say that we've instilled business sense in the kids, per se. But they've had a front-row seat on our growing a small, mom-and-pop business over the past 10 years. It's not a 9-to-5 kind of job. It takes a lot of our weekends. My wife Anne and I never liked leaving the kids alone, so we've packed them up to go to the office, and they've earned some jingle if they help us out. I guess we've tried to keep a sense of responsibility in the mix.
Travis Perry, Vermont Student Assistance Corporation customer assistance
Child: son, Declan, 19 months
My first real job was at a farm and garden store. I grew up in the Northeast Kingdom, and it was in Newport. I was working in the warehouse and garden area of the Agway. It was actually not a bad job. It was my first time dealing with all sorts of people. I remember it being a lot harder than I expected. I wasn't used to moving around 50-pound bags of grain. I think I made maybe $5 an hour, which I thought was good. I did it during my school breaks and all summer long for five years.
I'm sure it's going to be different for my son. It's still going to be learning how to deal with all sorts of people, having a boss, having to be on time, to be responsible. I think that's not going to change. It might be different in how it's executed. He may not be lifting big bags of grain; he may be doing something a little more technical, something more with computers. But the basic aspects of it will still be the same. Which is why I would encourage him whenever he feels ready to start getting a job.
Mark Larson, commissioner of the Department of Vermont Health Access
Child: daughter, Mariah, 8
My first job was working at the Burger King in the town where I grew up. I worked there for a little over a year. I think I walked away feeling like I had accomplished something. I learned a lot about working, the importance of showing up for work on time, following through on things and being flexible.
My second job was working for a landscaper. It was quite nice to be able to switch to something where I could work outside, and I made better money. It was the start of learning about what I looked for in a job, beyond a paycheck.
I think one interesting dynamic is wondering how it would be different for a girl as opposed to a boy. I think there are different options available for work. For example, how many girls end up with their first job being babysitting?
We don't know what to expect from her first work. We already talk about what she wants to do when she grows up. We try to encourage her to think about things she would be interested in or things that she would do well. Which, so far, is being a firefighter, a teacher or a doctor. I could see her doing something like a camp counselor a lifeguard or something where there's some aspect of helping or taking care of people.
Interviews compiled by Kate Laddison