Courtesy Of frugalwoods.com
Nate and Elizabeth Thames with their daughter
Elizabeth and Nate Thames were 32 years old when they threw it all away and moved to Vermont. The couple, each of whom worked for nonprofits, scrimped and saved for a few years in preparation for their escape from Cambridge, Mass. The couple's plan is described in supreme detail in Elizabeth's recently published book, Meet the Frugalwoods: Achieving Financial Independence Through Simple Living. She is also the author of a blog, Frugalwoods, that is thorough, interactive and informative.
To save money for their move, the Thameses — aka Mrs. and Mr. Frugalwoods — examined expenses and reduced costs in seemingly every aspect of their lives. They made their own seltzer water for an annual savings of $470. When Elizabeth volunteered at a yoga studio in exchange for classes, the savings amounted to $3,456 a year. The couple furnished their four-bedroom house near Inman Square with used furniture and painted their kitchen cabinets themselves. Elizabeth wore used maternity clothes when she was pregnant with their first child and gathered secondhand baby gear.
By saving as much as 80 percent of their annual income, according to Elizabeth's book, their plan for a country life was realized. In May 2016, the Frugalwoods and their infant daughter, dubbed Babywoods, moved to Vershire, where they bought a house and 66 acres for $389,000, according to town records. The family arrived with a pair of used cars — purchased with cash for a combined $21,000 — and with rental income from their Cambridge home of $4,400 a month, according to Elizabeth's book and blog.
They also came with jobs, at least one of which is high paying.
Heavy as it is on numbers, the book omits income information. But online tax filings for ActBlue, the nonprofit that employs Nate, indicate he made $246,485 in 2016. Even without Elizabeth's earnings as a writer or the couple's rental income, this income places the Thameses at the high end of Vershire incomes: Six of the town's 295 households earn $200,000 or more, according to the American Community Survey, an initiative of the U.S. Census Bureau. The town's median income is about $56,000.
Elizabeth, who is forthright in her writing about her privileges, said her family made a determination not to share its income or net worth in her book or blog.
"The book is a memoir," Elizabeth said by telephone. "I think when you write a memoir, all you can really represent is your own experience."
But, she added, any reader, regardless of their particular circumstance, can think about how they use their time and money. She suggests they ask, "Have I prioritized the way I use those two resources?"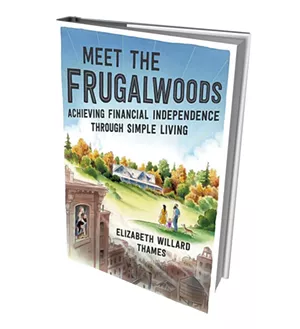 Meet the Frugalwoods: Achieving Financial Independence Through Simple Living by Elizabeth Willard Thames, Harper Business, 256 pages, $22.99 hardcover.
The book has received substantial press attention, including pieces on National Public Radio and "The Today Show," as well as articles in U.S. and British newspapers. Some reviewers have questioned Elizabeth's transparency in describing how she and her husband were able to make their move to Vermont.
"I am not usually nosy about other people's money, but if you are going to use your own financial situation as an example, then you need to sacrifice some privacy," wrote Laurie Hertzel, reviewing the book in Minnesota's Star Tribune.
But Elizabeth has her defenders, including dedicated readers of her blog. A number of blog fans reviewed her book on the website Goodreads, noting that they were delighted to read a more personal account from Elizabeth.
"I enjoy the Frugalwoods blog so much that I was thrilled to find out there would be a book! I even paid for it!" one reviewer wrote. In her book, Elizabeth advises readers to borrow it from the library rather than purchase it.
For me, the book was my introduction to Mrs. Frugalwoods, whose thrifty lifestyle, I learned, began more than a decade ago on the streets of Brooklyn. I picked up some savings tips from her book and found myself reminiscing about my good old days in Cambridge, where the Frugalwoods and I happened to live a few blocks — and a few decades — apart.
How's this for my frugality? I still eat off the plates from the Inman Square restaurant where I cooked 35 years ago. I carried home eggplant Parm and spanakopita on the dishes and never returned them.
Here are net gains from my read of Meet the Frugalwoods, including a few of my own winners.
1. Money Matters. However...
The study of personal finances, especially someone else's, is an acquired taste. I'm working on it.
2. Cord-Cutting Pros and Cons
According to the book, I'd be up $91,000 if I didn't watch TV. This projection is based on Mrs. Frugalwoods' calculation of the money that would accrue by investing $75 a month — an average estimated cable bill — every month for 30 years.
But TV was free when I started watching, and "The Mod Squad" was on. Plus, I would've missed Kansas (the Frugalwoods' alma mater) beat Duke in OT to advance to last weekend's NCAA men's basketball Final Four.
(And no, I didn't watch the game as a lead-in to the Stormy Daniels interview on "60 Minutes." In fact, I would pay $91,000 to spare the world from imagining the porn star spanking the president.)
3. America, Land of the Free(bies)
A money-saving strategy that worked for Mrs. Frugalwoods was giving up her Dunkin' Donuts iced tea break at work. But, unlike several independent local cafés, Dunkin' Donuts doesn't offer free samples. If you stop for coffee at the right places, you could wind up saving money by snagging a muffin sample or brownie bite.
Tops on the list for freebies with my coffee is probably Great Harvest Bread on Pine Street in Burlington, where offerings include a thick slice of warm cinnamon-swirl bread. Help yourself to butter. (No coffee, but nearby Dedalus Wine Shop, Market & Wine Bar offers free cheese samples.) For an annual thrill, check out the free honey cake and apples on Rosh Hashanah at Zabby & Elf's Stone Soup in downtown Burlington.
4. Location, Location, Location
I, too, lived near Inman Square for a while — back in the early 1980s. For accounting purposes, I probably never should've moved. We paid $185 a month for a big two-bedroom, rent-controlled apartment. We found scrap wood in the neighborhood wasteland — since taken over by the Massachusetts Institute of Technology — and built a kitchen table.
Fun was free at the basketball court across the street. It was only slightly more expensive at Inn-Square Men's Bar (Ladies Invited), which had regular 25 cent drafts. I played on the bar's softball team. One game, as I stood up and brushed dirt off my leg after sliding into third, a spectator called to me: "Slide! Slide right over my face." That's got to be worth a million dollars.
5. Beware the Brits
Exercise caution when presenting your work in a British newspaper, because Brits can be snarky social critics. One Guardian reader commented online: "Don't be mad at them for marketing their life and paying a good pr and publisher. Be mad at the Guardian for promoting such dross."
On the other hand, you'll score British-style props: "Good for them, and more power to anyone who wants to step away from our hideous consumer 'culture,'" wrote another. "We do something close to this up in North Yorks," the reader continued. "We are lucky though. You need enough cash, or security of some form, set aside as an emergency. This couple probably had well-paying jobs before they set out. We had a family homestead that's been with us since the Jacobites."
6. Aim for Accuracy
The all-caps bold text on the front flap of Meet the Frugalwoods (which actually should be Frugalwoodses) announces that the Thameses "embraced extreme frugality in order to create a more meaningful, purpose-driven life and retire to a homestead in the woods at age thirty-two." But neither she nor her husband is actually retired, Elizabeth told me. "We are financially independent," she said. "For us, it means that we are able to choose to work on projects that are meaningful to us."
7. Give Up the Glamour
Mrs. Frugalwoods discovered that she saved money and time in the city by not wearing makeup. Welcome to Vermont!