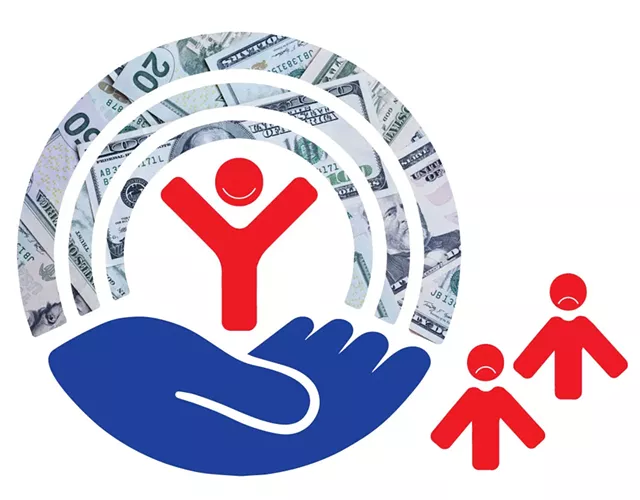 It took a group of volunteers at least half a dozen two-hour meetings over the course of the winter to vet 109 applicants seeking funds from the United Way of Northwest Vermont.
They fully expected a record number, said Alan Tinkler, one of 22 community members involved in the selection process. It was the first year that the granting organization allowed any nonprofit — not just previous recipients — to apply for a portion of the $1.5 million up for grabs.
The result? When the United Way board chose from its recommendations and announced its final selections on May 22, some organizations got a lot less funding than they'd received in prior years. Others got first-time checks.
Rita Markley, executive director of the Committee on Temporary Shelter, took to social media to lament that COTS had received about a third of her $90,400 request, calling it "the worst possible news."
Kelly Dougherty, executive director of Steps to End Domestic Violence, said she was considering closing the nonprofit's shelter for victims of domestic violence; the loss of the $100,000 — 10 percent of the organization's budget — her organization had been receiving since 1982 "will involve scaling back services," she said.
Jesse Bridges, CEO of the United Way of Northwest Vermont, said the changes were necessary and had been years in the making. Fewer dollars and greater competition have disrupted what was once the area's arbiter of community philanthropy.
"The role of funders, the role of philanthropy, the role of how we address the most pressing needs" are all in flux, Bridges said. The way to stay relevant is by "making sure that we're doing things in an inclusive way and in an innovative way."
The precursor to the United Way, the Community Chest, was founded in Burlington in 1942 and quickly became a stable funding source for local nonprofits, as well as a tried-and-true method for benefactors to give to reputable charities. The organization selected the lucky grantees, which came to rely on its annual funding. Local businesses let the United Way come in and pitch their employees, many of whom became regular donors via their weekly paychecks.
Those payroll deductions, long the United Way's bread and butter, have been declining nationally for more than 20 years, according to the New York Times.
That trend has played out locally, too. Vermont's IBM plant used to raise nearly $1 million annually from its employees, the majority of which went to the United Way of Chittenden County, according to Martha Maksym, who served as the organization's executive director from 2011 to 2016. When GlobalFoundries bought IBM in 2015, its corporate office halted the practice.
Maksym said that today's donors are more likely to give directly to charities or to individual GoFundMe accounts rather than allow the United Way to decide where to spend the cash. Nonprofits have proliferated, creating more competition for limited philanthropic dollars.
United Way of Chittenden County contributions peaked in the early 2000s at around $4 million a year. In the years since, the nonprofit has regularly fallen short of fundraising goals each fall, with totals typically ranging between $3.5 million and $3.8 million, according to Maksym.
Including federal grants and program fees, the United Way of Chittenden County reported $5.1 million in total revenue to the Internal Revenue Service in 2010. By 2015, total revenue had dropped to about $3.9 million.
To more directly address local needs, the organization decided in 2015 to differentiate its funding priorities from the national mission — "education, income and health" — and instead pick a specific focus. It spent months surveying the public before eventually settling on five new priorities: advancing employment; reducing substance abuse; supporting families; promoting mental health; and meeting basic needs such as housing, food, transportation and health care.
Tinkler recalled a meeting at Trader Duke's in South Burlington that drew more than 100 people. Many of them wanted the United Way to do more to address Vermont's opiate abuse problem.
Those discussions showed that the community, including the United Way, "can identify and then act to support those priorities," Tinkler said.
In 2016, the United Way that served Franklin and Grand Isle counties merged with the much larger Chittenden County organization to form the United Way of Northwest Vermont. That same year, Maksym stepped down to become Gov. Phil Scott's deputy secretary of the state's Agency of Human Services.
Bridges took over as CEO in May 2017.
He seemed like someone who "would be open to innovation around fundraising, around appealing to the broader audience," said board member Margaret Bozik, associate manager of asset management at Champlain Housing Trust. Bridges, the former director of Burlington's Parks, Recreation & Waterfront Department, is 37.
But after a year on the job, Bridges said he's found it challenging to describe what, exactly, the United Way does in a way that's concise and resonates with donors.
The organization operates its own programs, such as Working Bridges, which help low-wage workers show up to and keep their jobs, and RSVP, which connects retired residents with volunteer opportunities.
United Way of Northwest Vermont also serves as a clearinghouse for nonprofits across the three counties, directing volunteers, distributing information and grants, and helping other organizations work collaboratively to fundraise. It employs 24 staffers.
Before Bridges took over, new organizations could apply for funding once every decade or so. That simplified decision making. "You're always going to get funding if you're the only ones applying," Bridges pointed out dryly. Allowing others to access the grants increased "equity and inclusivity," he said.
This year, the United Way of Northwest Vermont gave cash to a number of entities that had never been recognized before: mentoring organizations in the three counties it serves and a wide range of opiate programs.
"We're trying to go upstream, to provide community-based support services," Bridges said, and that includes efforts by volunteers, not just professionals. Funding once appropriated annually is now guaranteed for three years — a change the United Way of Northwest Vermont implemented in 2014.
Bridges is also working to extend the organization's reach beyond the aging philanthropic stalwarts, said Joel Poquette, a 24-year-old St. Albans real estate agent and the local United Way's youngest board member.
During last year's fund drive, Bridges used social media to encourage fundraising and helped launch promotional videos focused on individuals who have benefited from United Way dollars, Poquette said. Bridges has been "a big pusher for change," he said.
On June 13, the United Way will launch a local chapter of Emerging Leaders United, a networking, volunteering and fundraising program for young professionals. The initiative provides millennials who aren't giving via payroll deduction an opportunity "to still have that impact, without just throwing money at a problem," Poquette said.
That's not to say the community's old guard is uninvolved. The United Way's 29-member board includes representatives from large employers such as Seventh Generation, Saint Michael's College, the University of Vermont Medical Center and Vermont Gas.
And some local businesses remain committed to United Way fund drives. Employees at Burlington-based Coldwell Banker Hickok & Boardman Realty's three companies raised $135,000 last year — a record, said Sybil Keefe, marketing vice president for the company.
For decades the company has held a weeklong giving extravaganza, Keefe said, making it fun and competitive for employees. Last year's event incorporated games, a chili cook-off and a food truck. Employees can give via payroll deduction or donate directly to the United Way or some other nonprofit that is not on its grantee list.
"It's part of the company's culture," Keefe said.
Expanding the United Way's philanthropic embrace has been a more complicated endeavor.
The Sara Holbrook Community Center has received United Way funds since the 1940s, said executive director Leisa Pollander. That's why she was shocked to hear the organization wouldn't receive $66,000 in grants for two summer programs for low-income kids.
"It feels like we're put in a position of being pitted against each other," Pollander said of the United Way's new, more competitive approach to nonprofit funding. A few organizations have petitioned the City of Burlington to replace the lost United Way funds with taxpayer dollars in the upcoming budget cycle.
Such pushback is inevitable, said Patrick Tufts, president and CEO of the Granite United Way, which includes Windsor County and five others in New Hampshire.
About five years ago, his organization also established new funding priorities and opened up the application process.
"We got beat up a little bit, I'll be honest," said Tufts. He spent months visiting and speaking with the leaders of every nonprofit his organization supported financially.
But the increased accountability and innovation actually attracted donors, he said. Since implementing the changes, the Granite United Way has had four consecutive record-breaking fundraising campaigns.
Rob Meehan, director of the Chittenden Emergency Food Shelf, believes the same thing could happen in Vermont, which is now served by six United Way chapters. His nonprofit received $40,000 this year, less than half of what it has gotten in the past. Instead of complaining, Meehan said he would use the loss as an opportunity to look more critically at how the food pantry can operate more efficiently.
The challenge "goes beyond one cycle of funding," he said. "We as a community need to figure out better ways to work together."