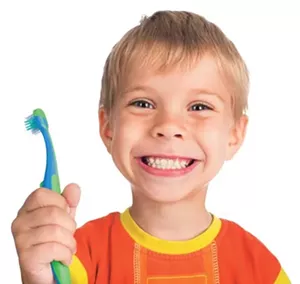 You can't see baby teeth at birth — or even after the first few months of life. But that doesn't mean parents should ignore oral hygiene in the first year of life. Medical experts now say that good oral health and regular visits to the dentist are just as important for babies, and their moms, as routine trips to the doctor. Dr. Lewis First, chief of pediatrics at Vermont Children's Hospital at Fletcher Allen Health Care, concurs, and offers more info about dental care.
KIDS VT: How early should parents be thinking about dental care for their kids?
LEWIS FIRST: Believe it or not, moms should start thinking about it even before they give birth. The most common chronic children's disease in this country is tooth decay. About 40 to 50 percent of children have this problem by the time they reach kindergarten. It's five times more common than asthma and seven times more common than allergies. Tooth decay in moms can lead not only to tooth decay in their babies; it introduces the same germs that a mother may have in her mouth into her baby's mouth and possibly into the baby's blood system.
KVT: Moms can actually give their babies tooth decay?
LF: Yes. Babies are in very close contact to their mom's mouth. Of all the germs we carry in our mouth — and we all do — some are more prone to cause tooth decay. So all pregnant moms should receive good oral health care during their pregnancies. Some germs can even precipitate preterm or early births.
KVT: How early should parents start cleaning their baby's teeth and gums?
LF: The American Dental Association and American Academy of Pediatrics recommend that every day, even before there's a tooth there, parents take a wet washcloth and run it over the baby's gums. That's all they need to do.
KVT: When do babies' first teeth erupt?
LF: Usually at about six months of age is when the first teeth break through, generally the lower incisors, or two middle ones on the bottom. From that point on, all parents need to do is use the soft washcloth once or twice a day. Once babies have a few teeth in there, you can start using a soft-bristle toothbrush twice a day to keep babies' teeth clean. They should not be using fluoride toothpaste.
KVT: Why shouldn't kids use fluoride toothpaste before age 2?
LF: Because of the risk of eating it. In one sense, fluoride is our friend, but like vitamins, too much fluoride is not necessarily in the best interest of the child. If kids swallow too much fluoride toothpaste, they can get fluorosis, which is white spots and occasionally dark spots on the teeth. That's cosmetic and can be corrected when the kids get older. We also know that water fluoridation reduces the risk of tooth decay by 20 to 40 percent. So parents need to find out whether their water is fluoridated and how much.
KVT: At what age should a child start going to the dentist?
LF: We recommend within the first six months after a tooth breaks through or, at the latest, one year of age. This is done for two reasons: one, to make sure that problems are not brewing that have been missed, which can be looked at and identified before they truly cause problems in the mouth. The second is to teach proper mouth hygiene. It's important that families use the dentist not just for toothaches but in order to learn how to brush and floss and what kind of toothpaste to use and how much.
KVT: Talk about milk-bottle cavities.
LF: When babies sit with sugar on the end of a nipple on the teeth in the front of their mouth, usually saliva washes that away. But when we sleep, our mouths don't make a lot of saliva. So basically you have applied sugar to the surface of their teeth, where bacteria live. Bacteria feed off the sugar and metabolize it into acids. The acids break down the enamel of the teeth, and that leads to tooth decay. Even babies who fall asleep on mom's breast nipple with breast milk in their mouth are at risk of bottle cavities. So when the baby is 1 year old, the first thing you can do is wean from bottle to cup. You can still breast-feed. But if you give a bottle at night, it shouldn't contain any sugar.
KVT: What about giving toddlers a sippy cup of juice to drink during the day?
LF: It's not a good idea, not only from the standpoint of tooth decay but also from the standpoint of overall sugar content and body weight. You shouldn't overdo the juices. You don't want to increase their risk of becoming overweight or obese.
KVT: How soon should children be brushing for themselves?
LF: Believe it or not, kids don't have the motor coordination and ability to do this well until they're school age. It's important that teeth get brushed: tops, bottoms, insides and outsides. So it's a good idea for parents to supervise, but make it fun. Make sure kids over two years of age are brushing with a pea-size amount of fluoridated toothpaste, which is OK as long as they do not swallow the toothpaste, or use it in too large an amount, or more than two to three times a day.