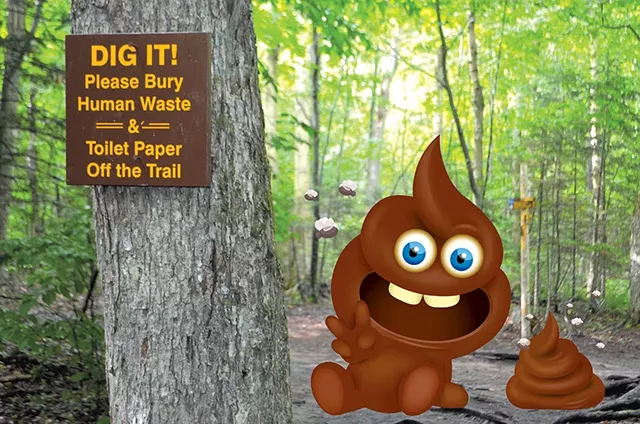 Hikers to the summit of the tallest peak in the Green Mountain State know how it feels to hold their own on Mount Mansfield's "nose." Across Lake Champlain, though, trail users are holding their own noses. That's because they're encountering a lot of crap.
Literally. It seems that quite a few people who hike in the High Peaks have no clue how to properly do No. 2. What to do with the poop, in fact, has become the No. 1 issue for stewardship of the Adirondacks. The Ausable River Association, the Adirondack Mountain Club and the Adirondack 46ers have banded together to banish the brown stuff.
"With the number of people climbing Mount Marcy and some of the other, most popular peaks," says Neil Woodworth, executive director of the Adirondack Mountain Club, "we were finding toilet paper blooms and just piles of human waste."
A decade or so ago, Adirondack scat belonged primarily to animals — bears, rabbits, moose, foxes and coyotes. Identifying the droppings is part of being out in nature. In the past few years, however, the number of hikers in the High Peaks has grown, and the talk has turned to human turds.
In "The Art of the Adirondack Dump," an article published by the Adirondack Almanack in 2012, Dan Crane offers entertaining and informative instructions for pooping in the woods.
"Imagine hiking for hours, and the nearest thing passing for a restroom is miles away," he writes. "And then you feel it. Some call it the spike. Others the turtlehead." The gopher, the prairie dog — you get the picture. Crane goes on to explain how to do a doo-doo "very carefully and as quickly as possible." That includes digging a cathole (see sidebar) if no toilets are nearby or taking your business back home with you.
Somehow, this message has failed to reach the masses of mountaineers hitting the trails every summer, even though it's an increasingly popular topic on the ADKHighPeaks forum. In July 2016, one poster provided advice for hiking Mount Marcy at night, writing, "Leave nothing behind!!! And don't poop on the summit!"
"The increase in usage has come with problems associated with hikers not adhering to the 'leave no trace' principles, by doing things such as hiking in large groups and leaving behind garbage," writes Mike Lynch in an August 2016 issue of the Adirondack Almanack. "There have been numerous reports of hikers defecating too close to trails and directly on them."
Indeed, mountain advocates are overflowing with stories of disgusting discoveries. "Staff come upon people in the midst of pooping on the trails," says Julia Goren, education director for the Adirondack Mountain Club. "We're seeing a lot more people on the trails, and so we see more waste."
When club director Woodworth and his wife put in a box privy at a busy trail junction on National Trails Day, he says, people were asking to use it even before they had finished digging the 3.5-foot privy hole. "That's how much need there is," he says.
So what's the problem with pooping? "I think it's a combination of lack of knowledge about what to do and why, as well as being uncomfortable stepping off trail," says Brendan Wiltse, science and stewardship director for the Ausable River Association. "For most first-time hikers, they probably didn't plan ahead for going to the bathroom. They likely don't have a trowel and haven't thought through what to do if that need arises."
The gross-out factor hasn't deterred either defecation or droves of new hikers, says Brian Hoody, president of the Adirondack 46ers. "Trail usage is definitely up, but human waste doesn't seem to be stopping the usage."
The effects of excrement stretch beyond the stink. Goren outlines the four main reasons why disposing of waste properly is so important: to minimize the contamination of water, to minimize the contact with animals and insects, to minimize the social impact, and to maximize decomposition.
Contact with animals and insects is a problem because "nobody wants a pet dog to go eat human waste and then come home and lick you," says Goren. "You don't want a fly that lands on your sandwich to have just been on poop." Human waste carries illness-causing pathogens that can be broken down only at a depth of six to eight inches in the soil. Feces stays "biologically hot" for 18 weeks, so trail users can get sick long after they've left the 'Daks.
In 2015, Goren and others from the Adirondack Mountain Club filmed a tutorial on what to do when you've got to go; the YouTube video begins with the familiar call of the loon, and then gets into the call of nature. "The best time to address resource-impact issues with people is before they arrive," Goren says.
The Ausable River Association, meanwhile, has partnered with several local businesses to create the Porta-John Program, which brings more outhouses to busy trailheads such as Cascade Mountain and Roaring Brook Falls. The 46ers, reports Hoody, have instituted a trailhead steward program at the Cascade Mountain trailhead to help educate hikers. "Getting out on social media more has also helped to get the word out," he says.
"People are starting to get the message," says Goren. "Poop on the trail is not exactly what you want to be known for."
The Scoop on Poop
The best way to go to "the bathroom" in the woods is to start by looking for an actual bathroom. As Julia Goren explains in the Adirondack Mountain Club's YouTube video "Dispose of Your Poop Properly," you may find outhouses, which are the best option.
No Porta-Potties, privies or other facilities in sight? Dig a cathole. Find a spot at least 150 feet (about 70 paces) from a trail or any water source, and use a trowel to dig a hole six to eight inches deep and as wide as a coffee can. Excrete away, either in the hole or beside it, using twigs to move the fecal matter and a stick to break it up. Mix in leaves and dirt and cover the whole shebang with more twigs, leaves and dirt.
Or carry out your waste and toilet paper in a plastic or Ziploc bag.
For more tips on how to squat in the woods, using tricks with names like the "isometric," the "tree hugger," the "hang glider" and more, see "Dispose of Your Poop Properly" on YouTube.