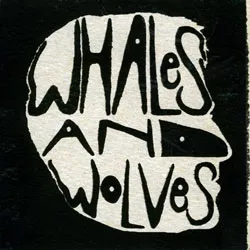 (Self-released, CD)
OK, indie kids. Can we please do something about the recent trend of animal-themed band names? Sure, it was kinda cool at first. You'd see groups with names such as Wolf Parade, Band of Horses or Grizzly Bear and think, "Hmm … I bet that's just the sort of Pitchforkian goodness I'm told I'm into right now." But it's reached the point of oversaturation bordering on trite. I know, it's a superficial request. And I don't expect y'all to change your names for li'l ol' me. But it's increasingly difficult to keep you straight. All of which leads me to Whales and Wolves.
I know what you're thinking. Oh, yeah. I know that band. Didn't they just play at Metronome? Nope. That was Or, the Whale. Oh, right. They're the band that just played Higher Ground. Wrong again. We are Wolves, from Québec. But I understand your frustration.
Whales and Wolves is a relatively new entrant into the Burlington fold, originally hailing from Petersborough, N.H. As their name suggests, you could lump them into the ever-nebulous "indie" genus — species: "indie-folk." But the duo's debut effort, Green and Grey, while bearing some predictable traits of a new band — and those of many an indie-folk band, generally — offers glimpses of legitimate potential and even the hope for an eventual Darwinian evolution.
The curtain lifts on "What Is Wrong." Chirping birds greet vocalist/keyboardist Niyko Beguin, who delivers a solemn melodic soliloquy, eventually met by a stream of running acoustic guitar and rippling electric piano. The song lacks a clear payoff, building in intensity over several minutes with no real release, save for a brief curveball ending. It is frustrating as a stand-alone piece. But it works well as an intro to the remainder of the album — at least theoretically. The problem is, once the disc hits that atmospheric plateau it, well, plateaus.
As a songwriting tandem, Beguin and guitarist Ethan McBrien have a deft touch and an instinct for provocative melodies and changes, as evidenced on cuts such as "Eye to Eye," "Are You Thinking" and the title track. Furthermore, they complement each other vocally, often delivering gorgeous harmony and counterpoint. However, whether a product of limiting minimal instrumentation or simply unadventurous arrangement, Green and Grey fairly lulls the listener into unconsciousness. There is precious little dynamic contrast between songs — or even within songs, for that matter. With little else to lean on sonically, both Beguin's piano and McBrien's guitar are often busy to the point of distraction.
Ultimately, Green and Grey might work best if viewed as a demo. Whales and Wolves do present some compelling skeletons. But for those expecting fully realized songs, the material here will feel incomplete.