If you believe that a flourishing independent press is essential to a functioning democracy, you may be a little nervous these days. More than a dozen newspaper companies have filed for bankruptcy in the last year and a half.
Last week, MediaNews Group, which owns 54 daily newspapers, including the Bennington Banner and the Brattleboro Reformer, joined the ranks. Spokespeople for MediaNews insist the filing is a restructuring of debt and won't affect newspaper operations. Even so, the announcement is a sobering reminder that the combination of declining advertising revenues, fewer subscribers and competition from online news sources continues to challenge the traditional newspaper business model.
The result? Less information where citizens have traditionally sought it.
Vermont's major dailies have shed newsroom jobs in recent years. The Barre-Montpelier Times Argus and Rutland Herald discontinued their Sunday magazine in 2008. The Associated Press has simultaneously scaled back its Vermont coverage. Traditional broadcast media is competing with new delivery models for viewership and dollars, too
But, as they say, crisis creates opportunities. Established media outlets such as Vermont Public Radio and Seven Days have expanded their statewide news coverage.
Concurrently, a fledgling nonprofit is forming to fill the void left by the decline in numbers of dedicated beat journalists. The Vermont Journalism Trust is the brainchild of a group led by retired businessman and consultant, VPR commentator Bill Schubart. He says its mission is to fund in-depth investigative stories: "not necessarily turning up crime and stuff like that," Schubart explains, "but really getting into a subject and making it comprehensible to the readers."
The VJT is a work in progress. It hasn't started fundraising and is still waiting for its federal 501(c)(3) status, but it has named a board of directors, including Schubart, former newspaper editors Steve Terry and Bill Porter, Vermont Public Television host Fran Stoddard and VPR board member Sam Chauncey. Others, including myself and Seven Days publisher Paula Routly, provided input and feedback during the planning process.
How will the VJT function? That was the topic of discussion at a daylong conference two weeks ago in Grafton that lured publishers and editors from almost every major news outlet in the state. Schubart says it's not clear yet, but the current goal is for VJT to commission four to six stories or "lines of inquiry" over the next year or so, using funding from foundations. Those stories would then be distributed through existing Vermont media.
The founders of VJT aren't the only ones experimenting. All across the country, entrepreneurs, political activists and journalists are inventing new ways to report and deliver the news. We decided to profile five online-only news and opinion operations in Vermont that are worth watching.
(Anne Galloway - Photo Credit: Jeb Wallace-Brodeur)
Anne Galloway was already toying with the idea of starting a website when she lost her editor job at the Barre-Montpelier Times Argus last January. "I got really frustrated with our inability to produce enterprise stories," Galloway says, "because we just didn't have the staff anymore ... When I got laid off, I thought, Well, this is it; I've got to make it happen. It's time."
Galloway went on to create what she describes as a public-radio-like nonprofit that aims to "enhance democracy through in-depth, interactive journalism." Since its August debut, Vermont Digger has raised roughly $25,000 in grants, individual donations and a business sponsorship. Galloway has used the money to "dig" into issues involving the state budget and, most notably, private health services at Vermont prisons. Last month, Seven Days republished one of her pieces, which exposed the Chinese origins of organic foods at local natural food stores.
At Vermont Digger, Galloway's overhead costs are minimal — she works from her house in East Hardwick and publishes on a website built in Wordpress, a low-cost platform. The only expense is the time it takes to produce journalism. Right now, that amounts to about 70 to 80 hours a week for Galloway, who commutes almost daily to the Statehouse in Montpelier. "I pull an all-nighter at least once every 10 days," she says. "I'm obsessed."
Galloway is quick to point out that she's not working alone; she relies on a network of volunteers who have helped design the site and write grants. She has a board of directors and some paid and unpaid freelancers who contribute content. Most importantly, she has an editor, Nick Monsarrat, a retired veteran of the Burlington Free Press and the Rutland Herald.
"Without all this help, there's just no way," Galloway says.
And her site traffic is growing. Website analytics indicate she's getting about 18,000 hits a month from 5000 unique readers. Galloway is actively using email, Facebook and Twitter to spread the word. "We've really picked up since I started covering the legislature," she says.
Galloway comes across as quiet, even shy, but she's got ambitious plans. She hopes to raise $250,000 to hire four or five reporters, as well as to pay freelancers. "If I had the money right now," she muses, "I would hire someone to pull all the pieces together on Vermont Yankee, for example." Galloway is applying for a grant to enhance the interactivity of her site by enabling crowdsourcing, and she's begun collaborating with journalism students at St. Michael's College, Johnson State and Lyndon State.
"I really feel failure is not an option," she says. "Journalism is what I do, and it's great to have this opportunity."
(Jon Margolis interviewing Rep. David Zuckerman - Photo Credit: Jeb Wallace-Brodeur)
If you miss the days when salty newspaper columnists conducted barstool research, check out Vermont News Guy. The creator of the website, Jon Margolis, is both witty and wise, and he's not afraid to share his opinions.
The 69-year-old Barton resident is a veteran newspaperman. He spent 24 years with the Chicago Tribune, most of it as the chief political correspondent in Washington, D.C. Before that, the New Jersey native worked as the Albany bureau chief for Newsday, and he did stints at the Concord Monitor, Miami Herald and Bergen Record in Hackensack, N.J. He got his start as a copy boy for the New York Daily Mirror.
When Margolis took a buyout from the Tribune in 1995, he his wife retired to Vermont. He freelanced for the Sunday Magazine of the Rutland Herald and Sunday Times Argus before it folded, and has written for Seven Days.
In December 2008, Margolis launched a website to produce in-depth public affairs stories. He thinks that kind of journalism is lacking in Vermont, for two reasons: budget cuts at newspapers; and what he calls a Gannettized, "he-said-she-said" journalistic culture that gives equal weight to opposing viewpoints, regardless of whether they're true.
Margolis' dispatches typically cover politics, education, energy policy and business. A recent post parsing the governor's budget address begins, "Does Vermont coddle the middle class? Governor Douglas thinks so, and he may have a point."
Margolis puts up three new posts a week. He started out doing five but cut back because, he says, producing more means "being almost as superficial as the stuff you're trying to supplement."
Margolis writes from home, but, during the legislative session, he's been trying to get to Montpelier twice a week. "If you wanna know what's going on in the legislature, you've gotta be there," he says. "You've gotta talk to people. You have to run into people in the corridors and have a cup of coffee with them."
Margolis hasn't made much money from his website; he doesn't sell ads or seek grants. The Stowe Reporter pays him a small fee to link to his site, but most of his earnings come from donations. An appeal to his several hundred subscribers a few months ago netted about $1500, including a $10 bill from one woman who wrote, "I earn $10 an hour. Enclosed is a pre-tax hour of my income."
That's heartening, but not exactly sustainable. "I got enough so that I'm sort of breaking even, kind of," Margolis says. "If you're not a really good accountant, I'm breaking even. If you're a really good accountant, and you assign me my labor at minimum wage, I'm not breaking even."
Margolis isn't in it for the money. "I more wanted to be a catalyst," he says. He wanted to prove he could do it and learn a few new tricks in the process — like tweeting, which he does regularly.
He says he's committed to keeping up his pace through the November election. After that, who knows? Margolis recently agreed to contribute a story to Vermont Digger. "I would like to be part of a larger, statewide, in-depth journalistic news operation," he says. "There's a limit to how much one person can do."
(Alden Pellett - Photo Credit: Matthew Thorsen)
Alden Pellett registered the domain vermontdailynews.com 10 years ago. "I saw the industry clearly declining," explains the 47-year-old photojournalist. He launched his for-profit website, Vermont Daily News, last summer with the hope of making it a daily local news hub.
Like Galloway and Margolis, Pellett is no stranger to journalism. He grew up in Charlotte, not far from his current home in Hinesburg; worked for the Burlington Free Press as a staff photographer from 1994 to 1997 and freelanced for the AP for 10 years. His work has appeared in the Boston Globe, the New York Times, the L.A. Times, Time and Newsweek. He's written a few stories, too.
"I was getting less freelance work; newspapers were going out of business," Pellett explains. "I think a number of people in this area were wondering what we were going to do if the Free Press went under."
Pellett describes his website as "part investigator and part cheerleader." On a given day it might feature a report on the governor's budget address alongside a profile of a Milton construction firm.
But, though the clean design and outstanding photos distinguish Vermont Daily News from the rest of the pack, journalism-wise, the content is thin.
Pellett does attend events, such as the funeral of a soldier last summer in St. Johnsbury. And he has done some in-depth reporting — he points to a story he wrote on December 30 about new lead limits for plumbing supplies that went into effect on January 1. "I didn't see that anywhere else," he says.
But he admits that most of the stories on his site consist of rewritten press releases. "I usually try to follow up with a phone call," he offers.
Pellett is overextended because he's essentially operating on his own, with help from a few occasional freelancers, and he's attempting to cover news, weather, sports and "home, farm & garden" for the entire state. "That's one of the biggest frustrations: I can't be in so many places," he says. "I can't go to St. Albans at 7 in the morning and White River Junction at 7 o'clock at night."
In addition to writing, editing and taking photos, Pellett is putting up flyers and signs by the side of the road to advertise his site. He's got two people selling ads, but he does a bit of that, too. Raising money, it appears, has been a challenge. Pellett has an actual newsroom — a one-room office on Burlington's Main Street overlooking the fire station and the Mid-Town Motel — but it's eerily quiet and squeaky clean on a recent weekday afternoon.
Pellett won't reveal how much he's invested personally in Vermont Daily News or how much he's making on advertising, but concedes he's not turning a profit. "At some point here I'm going to decide whether it's going to continue or not," he says.
Asked why Vermonters need his site, he responds, "I don't think that they do, necessarily. But I hope that they do."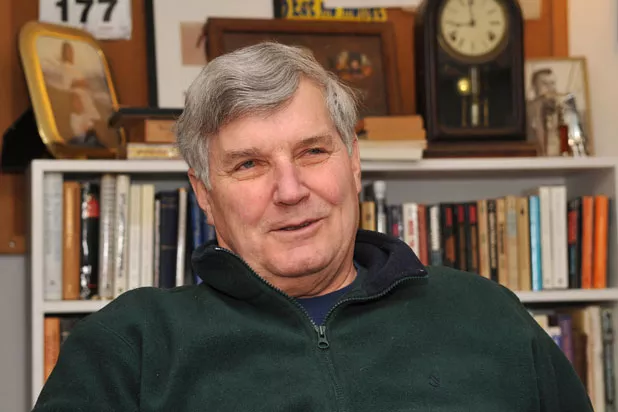 (Geoffrey Norman - Photo Credit: Lee Krohn)
Geoffrey Norman's website is filling a niche not usually associated with Vermont. Over the past three years, his group blog has become a vibrant and reliable outlet for the state's conservative voices.
"We seem to have gotten some real traction now," Norman, an Alabama native, remarks in a southern drawl. Norman has been a guest on "Vermont This Week," a roundtable on VPT. Earlier this month, when WCAX needed a conservative perspective on education funding, a camera crew drove two hours to Dorset to interview Norman for a 90-second spot.
Norman's been in Vermont for more than 30 years; he and his wife moved from Manhattan to raise their family here in the late 1970s. In the city, Norman was an editor at Esquire magazine, before that at Playboy, in Chicago, where he excerpted the first Woodward and Bernstein book. He also published parts of Norman Mailer's The Fight, about the "rumble in the jungle" between Muhammad Ali and George Foreman.
"Mailer and I spent about a month together back and forth between Chicago and New York excerpting his book for our magazine," recalls Norman. "It was great fun. I had a ball."
Since moving to Vermont, Norman has freelanced for a variety of publications and written 17 books, both fiction and nonfiction. He didn't start paying attention to Vermont politics until his property taxes tripled in 2006. "The fiscally conservative side of the argument in Vermont was not being made very well anywhere," he recalls, "so I said, 'Maybe we'll do this.'"
He established Vermont Tiger as a nonprofit and struck up a partnership with University of Vermont economics professor Art Woolf. They launched the site in January 2007. "For many days," Norman recalls, "it would be, I'd post in the morning, and Art would write me about how good he thought it was. And he'd post in the afternoon, I'd write to him about how good it was. And there were days when we'd get 20 or 30 hits. But then, you know, things began to pick up." Last month, Norman reports, Tiger had nearly 30,000 page views. More than 500 people subscribe to its posts via email.
As the site's readership grew, so did Norman's commitment. "Used to be, I would steal time to do this," he says. "But now I'm spending three or four hours a day on it." He's made an effort to be at the Statehouse during the legislative session.
Vermont Tiger has other contributors, most of them unpaid. One is Emerson Lynn, publisher of the St. Albans Messenger. Hugh Kemper, a retiree from the financial sector who lives in Londonderry, analyzes education funding. State treasurer Jeb Spaulding, a Democrat, has written for the site.
Vermont Tiger also sponsors symposia: There have been two so far, and Norman is planning a third in April. He reports that Tiger has raised about $20,000 each year in donations and grant funding from conservative foundations, most of which is used to pay for the events. The site doesn't run ads.
Nor does it commission much original reporting ... yet. "I would say that what I'm doin' for the state right now is what the Wall Street Journal editorial page is," Norman explains. "What I'd love to do is be able to add the Wall Street Journal's news-gathering operation to that. But that hasn't happened, and may not ever happen."
It's definitely a possibility, though. Norman says he's getting serious about developing a business plan. "I kind of think right now the climate is good for us to find some contributors and some investors and to use that to try to expand into revenue-producing areas," he says. "Maybe even some print. It hasn't been entirely thought out, but we have talks about it all the time."
(John Odum - Photo Credit: Jeb Wallace-Brodeur)
If Vermont Tiger likens itself to the Wall Street Journal editorial page, Green Mountain Daily is "the kidney of the Democratic Party." Founder John Odum describes his website as a kind of liberal communal water cooler.
GMD is a group effort modeled on the national political blog Daily Kos. The content consists of articles by "front pagers" — the authors whose work appears in the main column of the site. Odum is one of these contributors, some of whom identify themselves; others use pseudonyms. Anyone can write a "diary" that will appear in the right-hand column. And any of the 15 people who have administrative privileges at GMD can elevate a diary to the main column of the site.
Recent GMD headlines include "Rutland Herald/Times Argus still spinning the budget issue for the Governor" and "Progressives in the House wising up?" There's also a post offering live coverage of Democrat Doug Racine's gubernatorial campaign kickoff.
Odum founded the site in February 2006 as a vehicle for political activism. The 41-year-old Montpelier resident has worked as an organizer for progressive causes for most of his professional life; he's currently the associate director for membership and development at the Vermont Natural Resources Council. "My goals were 'Let's have an effect on the policy, and let's have an effect on the electoral process,'" he recalls. "'Let's get more people involved. Let's be that kind of engine.' I think on those terms, it's been successful."
Odum reports that GMD gets roughly 800 unique visitors a day, or about 5500 readers each week. Several of the Democratic candidates for governor have posted appeals to the site, hoping to win support from the GMD readership. In fact, Odum has launched a fundraising drive with a goal of raising $100,000 for the eventual nominee. The Vermont political media are clearly reading GMD, too; reporters often pick up tips that appear on the site.
While Odum adamantly denies he's a journalist, GMD does occasionally break news. Last October, for example, Odum was contacted by a source at Fletcher Allen Health Care concerned about directives from hospital administrators regarding H1N1 precautions. Odum subsequently went live with a post titled "Fletcher Allen breaking pandemic prevention protocols." At the beginning of the post, Odum writes, "With months to prepare, you would think that FAHC would be ready for its H1N1 patients. Let's just say they are off to a really bad start."
But Odum didn't contact anyone at Fletcher Allen before publishing his allegations. Not surprisingly, its public relations department responded, and Odum had to update his post four times, qualifying his original report. Didn't he have an obligation to let FAHC respond in the first place, especially given the seriousness of the charge?
"This is where you get into the difference between being a reporter and water-cooler conversation," says Odum. "It didn't feel like an investigative reporting moment. It felt like a gadfly moment. It felt like 'Time to be an irritant.' ... That's where it becomes almost more like advocacy work, I suppose."
Odum says he doesn't have any concrete plans to expand GMD's mission to include more original reporting. And he's not pushing to make the site more profitable. GMD sells ads through a blogging ad network, but Odum says it makes barely enough money each year to pay for a delivery of fuel oil to his house. He keeps the cash; none of the other contributors are paid. A progressive political action committee called BlogPAC covers the blog's web-hosting fees.
Will GMD ever become more than just a place for like-minded activists to share the latest buzz? "One day I like the idea of it getting bigger and bigger and bigger," says Odum, "and another day I feel more my blog roots, like, 'Who cares if it gets bigger?' ... It's certainly got enough of a branding identification now that if I wanted to, I might be able to take the plunge and professionalize it. But it's the kind of thing I would never take the plunge on, given that I have a family. Maybe if I was still 20 years old, and I could live in a box on cat food for a month, I wouldn't sweat it."