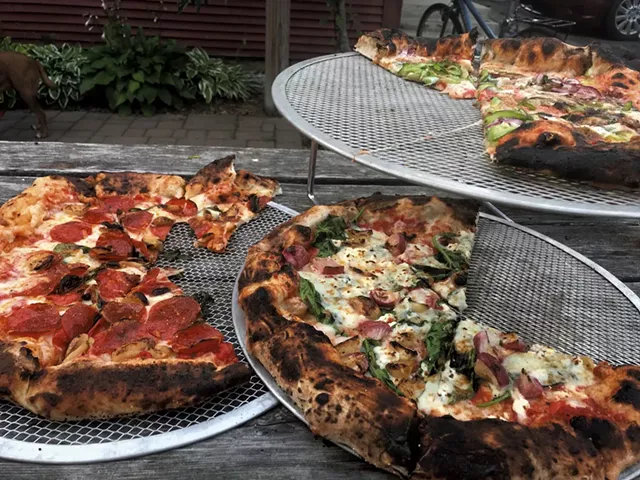 Sally Pollak
Pizza at Dogwood Bread in Wadhams, N.Y.
Keri Fair was working as a data analyst in Loudoun County, Va., a dozen years ago when she called the owner of a bakery in Wadhams, N.Y., to ask if he liked his bread oven.
"Yes, I do like it," Phil Merrick answered. "Would you like to buy it?"
Fair was a seasonal customer at Merrick's Bread & Coffee, a bakery and café, and she was thinking of starting a similar business in Virginia. As it happened, the day she called to inquire about the brick oven was the day Merrick put his business on the market.
"It was a magical moment," recalled Merrick, who is now co-owner of August First Bakery in Burlington. "It came together really fast."
Fair, now 47, abandoned her plan for a café in Virginia and moved to Wadhams, where she's owned and operated Dogwood Bread for 12 years. The café serves pastries and bagels at breakfast, and sandwiches, soups and salads at lunch.
Dogwood kept many of the offerings started by Merrick — big, chewy chocolate-chip cookies, an assortment of breads baked daily, coffee beans roasted in a wood-fired oven and housemade granola baked in the same oven.
Fair has added things, too, including a dining room with a wall decoration — an Agway sign — that recalls an earlier incarnation of the space. She expanded pizza night, which happened five or six times a year at Merrick's, to once or twice a week, depending on the season. In the summer, Dogwood bakes and serves pizza on Wednesday and Friday evenings starting at 4:30.
"On pizza nights, we're cranking," Fair said. "It's pretty constant."
Sally Pollak
Keri Fair
The pizza brings an influx of people to Wadhams, a hamlet of about 50 households within the town of Westport. The little cluster of homes and a library that make up Wadhams is en route to the New York State Thruway from the Essex, N.Y., ferry landing. And it's part of a larger community in the Adirondacks — including Essex and Willsboro — whose population swells in the summer with second-home owners, vacationers and daytrippers.
Fair herself discovered the area as a summer person. She remembers paddling the Boquet River in a canoe when her son, now 18, was less than a year old. She would stop at Merrick's to buy a loaf of bread.
"I've been coming here since my kids were babies, and I fell in love with the area," Fair said, explaining her decision to relocate from Virginia. "I wanted my kids to be able to have that sense of rural community."
On pizza night, Dogwood draws local customers as well as diners from Lake Placid and other parts of the Adirondack Park, Fair said. Vermonters cross the lake on the ferry with their bikes and cycle the nine or so miles to Wadhams, she added.
On a recent Wednesday night, I crossed the lake with one cousin to meet another for pizza at Dogwood. We were lucky to snag one of the picnic tables out front, where we started our meal with salads and Switchback Brewing beers. The salads tasted of the best of summer — a jumble of farm-fresh greens topped with locally grown vegetables and crumbled feta. The vinaigrette was served on the side.
Before we'd finished our salads, our pies were delivered to the table, baked to blistery beauty in the wood-fired oven that burns at about 900 degrees. Dogwood likes to change up the names of its pizzas, often riffing on staffers' inside jokes, Fair said. So it was that we ate pizzas called Clara With the Pizza Cutter in the Walk-In, and Jonathan With the Bread Knife in the Proof Room.
If the names of these pizzas — a play on the board game Clue — don't make clear what's on them, here's the inside scoop: Clara was generously covered with slices of pepperoni, flavored with basil and cloves of roasted garlic. Jonathan was a delicious veggie pie with spinach, roasted garlic and radish, and feta cheese.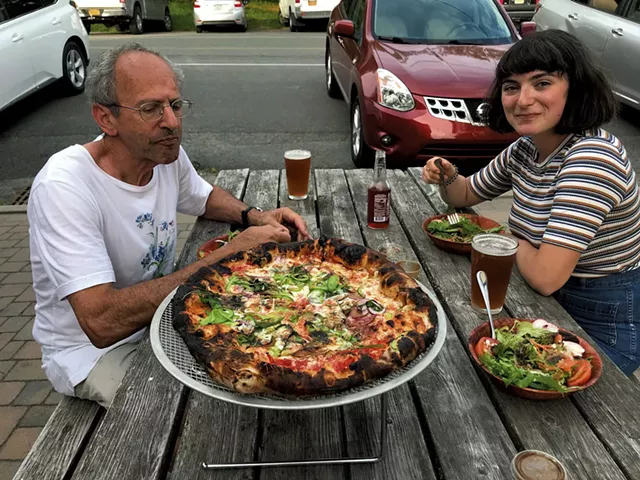 Sally Pollak
David Goldwasser and Lucy Weiss at Dogwood Bread
The Clue theme continued when Dogwood made a custom pie to celebrate a couple that was getting married: Nancy and Monica With Wedding Rings in the Foyer. The special pie was topped with pepperoni and pineapple, favorite ingredients of the betrothed, Fair said.
I returned to Dogwood a week ago for lunch, when I enjoyed a bowl of beef chili, a salad and slices of baguette. I picked up a few items to bring home: a frozen pizza shell, a bag of granola and some cookies.
I also bought some vegetables from nearby Tangleroot Farm, which sets up a small farmstand with an honor box outside Dogwood. And I chatted with three cello students who are spending the summer at Meadowmount School of Music in Lewis, near Westport.
The young women — who said they escape Meadowmount for Dogwood — told me they're trying to ration their pizza-night indulgence, from two times a week to one.
"We have pizza so much," said cellist Bella Lorenzo-Giguere. "It's really good."
Last week, Merrick said by phone that he thought the bakery he founded almost 17 years ago in Wadhams brought "quality" food to the area.
"We came into town, and we said, 'We're going to make the best bread you can buy in New York State, maybe the world,'" he said. "And when we make pizza, it's going to be the best anywhere. Our constant focus on quality was refreshing."
Today, many residents in the area have grown up accustomed to the notion "that you can go someplace and get real food," Merrick noted. "It's a well-established part of the community."
When Merrick hikes in the Adirondacks, he stops at Dogwood for a breakfast sandwich and a loaf of bread.
"They do a great job there, and especially the way they've improved the property," he said. "When they bought it, they really amped it up."