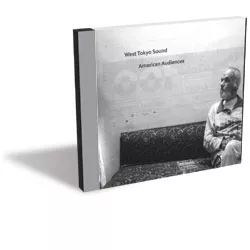 (Self-released, CD)
The offbeat musings of West Tokyo Sound read like a found journal. There's heartache and hope, secrets and non sequiturs, and a landscape of melodrama. Don't let the name fool you. Despite an occasional residency in Japan's capital, singer-songwriter Matthew Thoren conveys none of that city's urbane exoticism. Instead, his lo-fi ramblings evoke the awkward, quirky narrative of an American abroad. Born of northern seclusion and fits of travel, the duo's debut, American Audiences, has all the peculiar appeal of Kimya Dawson. It is childlike and inscrutable; a twee bit of anti-folk whose provenance is our very own St. Albans.
Husked in three-chord indie guitar, American Audiences might be catchy. But tracks like "Año Bisiesto" suffocate under Thoren's insistent pace and bizarre lyrics: "We didn't go to Miraflores / there was a cockroach in her pants" jokes the Vermonter obliquely. Even the treacly "Bluebirds" is a twist too scattershot to enjoy; poppy but forgettable, like a summer paperback.
Foiling Thoren's urgency is the hypnotic Stephanie Miletic, whose viola caresses throughout Audiences. The Ontario native — and National Youth Orchestra of Canada alum — paints serene backdrops over which Thoren splatters poetry like Pollock. The two make strange bedfellows: Thoren the queer hipster and Miletic his caught songbird. At their best, they recall Belle and Sebastian. The aptly named "Spare Champagne" is gray and bubbly; a quiet stab at emotional imagery that's still sweet enough to seduce.
"Everybody's Spinning" finds Thoren toying with barbs and balloons in equal measure: "You don't like guitars or the time that I'm with you / when I go away you cry and I become confused," he rhymes, before finishing: "You sound like a piano falling down the steps." It's spiteful, if playfully disguised. But, too often, content is betrayed for cadence. Each track leans on Thoren's uninspired strumming, and what should be a romance between stringed instruments grows taxing. When production values dip on "The Pilot and the Stewardess," only Miletic's naked viola rescues the effort. Unhindered, she winds around Thoren's remote chatter like a cobra.
Colorful numbers such as the Iberian "Maria Caxuxa" would be better if Thoren showed lyrical restraint. Instead, eccentric thoughts tumble out like marbles. Only on "Banco Ambrosiano" does the experiment work. Barflies shout in the background, evoking an open-mic atmosphere, and one can almost smell Guinness spilling on the café floor. Miletic even takes a few solos, a reprieve from Thoren's vocal stream of consciousness. If they bring more cohesion to their tales, West Tokyo Sound promise a nerdy narrative niche. As it stands, American Audiences feels capricious, a clumsy catharsis that's lost in translation.