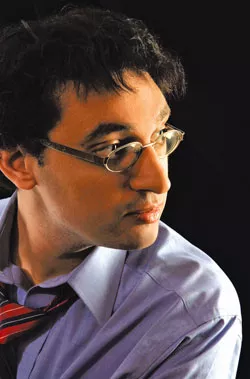 The last concert in a season's series might stand out because, well, it's the last. But for the Capital City Concerts' finale, titled "Beethoven and Splashes of the Exotic," founder/director Karen Kevra has planned a real doozy. "We're going out with a bang," she declares.
First of all, the stellar Borromeo String Quartet, which the Boston Globe calls "simply the best there is on the planet," is on the bill, and that alone, says Kevra, "is pretty special." But there's another reason to anticipate — and attend — CCC's concert this Saturday in Montpelier: Borromeo will be performing a brief work by Mohammed Fairouz, a New York City-based Arab American composer.
"This 25-year-old sensation is already one of the most frequently performed composers of his generation," Kevra says. Fairouz's website lists 58 pieces he's written since 2002, for instruments, voice or electronica. Some of the works are quite short, but he's also composed an 80-minute, three-act opera, Sumeida's Song, which is set in Egypt; his 70-minute Third Symphony for chorus and orchestra, "Poems and Prayers," considers solutions for peace in the Middle East and includes text in Aramaic, Arabic and Hebrew.
In Montpelier, Borromeo will perform Fairouz's 10-minute "Lamentation and Satire," a dark, stirring and eloquent piece for string quartet described by Kevra as "reflecting on the upsetting nature and cataclysmic events in the Middle East." It's important to note the two-part work was written in 2008, and is not a reaction to the mass demonstrations for democracy rocking parts of the region in recent weeks. 2008 was the same year Fairouz was given a citation from the United Arab Emirates in Washington, D.C., for outstanding achievement in artistry and scholarship. It is among many awards and accolades the young composer has garnered to date.
The Western-trained Fairouz — he's studied in London, Paris and the U.S. — is on the faculty of Northeastern University in Boston. He has also worked with Musicians for Harmony, a New York-based nonprofit founded after 9/11 whose mission is to "promote peace among nations" through music. Though many of his compositions are not threaded with particular meaning, Fairouz's cross-cultural consciousness — which includes fluency in ancient artistic forms — gives him a unique and potent voice in the world of contemporary classical music.
Fairouz will attend the capital-city performance and be available for a post-show Q&A. There should be plenty to talk about.
But what about the Ludwig van, you may wonder? Yes, the concert also offers a pair of Beethoven pieces that Kevra calls "the meat and potatoes of string quartets" (B flat Major, Op. 18, no. 6 and F Major, Op. 135). "That makes everybody happy," she adds. And as Kevra, 47, is a Grammy-nominated flutist — she studied under the late master Louis Moyse — it's not surprising that the program will include pieces for her instrument. Kevra selected works that she calls "spicy" and "sultry": Argentinean composer Alberto Ginastera's "Impresiones de la Puna" for flute and string quartet, and the Asian-influenced "Bergère Captive" and "Jade" by the French composer Pierre-Octave Ferroud.
Kevra notes that it's not easy to find chamber music that includes flute, much less works with "an overt Middle Eastern quality." As her mother's side of the family hailed from Cairo and Beirut, "I grew up strongly identified with that culture," she says. "Especially food, but also the music."
That ancestry is something she has in common with Mohammed Fairouz. And, as it happens, he may just be the person to realize Kevra's dream. She's been looking for someone to write a particular Middle Eastern-themed work — including flute, of course — and her expectations of its sounds are explicit: "I want heart on sleeve, I want 1001 Arabian nights, I want the professional mourners who show up at funerals," she enthuses. "And I want festivals and the market place." When Kevra got in touch with Borromeo about a year ago concerning this week's concert, "they asked if I'd include Fairouz," she recalls. "I checked out his website and said, 'This is the guy!'"
Kevra has been in talks with Fairouz, but concedes there is first the issue of mustering funds for a commission. "At this point it's not a done deal," she says. But she sounds optimistic anyway: "Mohammed is drawn to song," Kevra observes. "It's another sort of synchronicity between us." When the piece is composed, she'll dedicate it to her mother, who died in December.
As if running the 11-year-old Capital City Concerts, teaching private flute students and shuttling between Vermont and Boston for other work weren't enough, Karen Kevra has taken on yet another role: "I've just been hired as the 2011 artistic director of Summer Music From Greensboro," she reports, describing the Northeast Kingdom town as a "summer enclave of alums from Princeton University." The seasonal series has been going on for 30 years, bringing chamber music concerts to a Greensboro church for five Tuesdays in July and August. No wonder the SMFG website calls Kevra an "impresario" with "a far-flung reputation." And, with the Vermont Mozart Festival now history, she suggests, "there's certainly room for other programs."