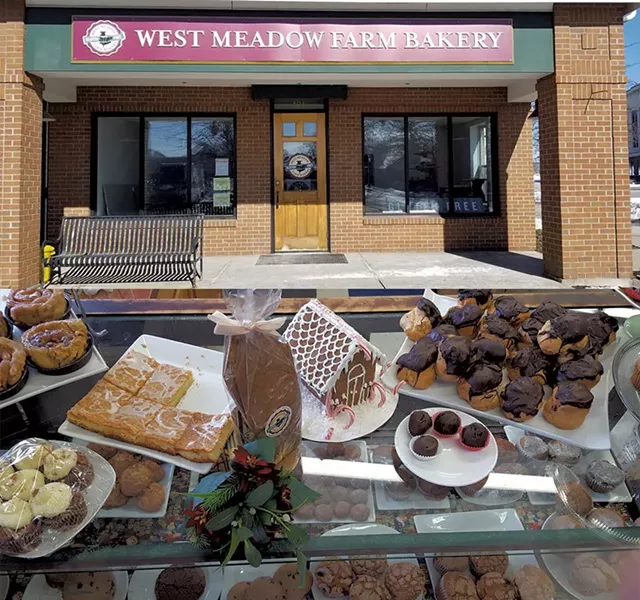 Courtesy Of West Meadow Farm Bakery
Pastry case at West Meadow Farm Bakery
New location, still no gluten. After 10 years of turning out gluten-free sweets and pizza dough near Five Corners in Essex Junction, West Meadow Farm Bakery is moving across town to 4 Carmichael Street.
With its ample parking and customer-friendly location near the Essex outlets and cinema, the new space — most recently home to My Little Cupcake, which closed in that location last year — will allow the from-scratch bakery to expand its retail biz, said owner Lois Blaisdell.
"We'll have seating for our customers, so they can come and have a treat and a beverage, and it'll be really nice," the baker said. The new bakeshop will offer coffee and tea along with Blaisdell's ever-evolving line of cookies, bars, cakes, sticky buns, pies and other treats.
Blaisdell started West Meadow from her home in 2003, then moved to 34 Park Street in Essex Junction in 2009. The bakery supplies gluten-free pizza crusts to restaurants such as American Flatbread Burlington Hearth, Pizzeria Verità and Mimmo's Pizzeria & Restaurant, along with breads and sweets to local retailers.
The bakery reopened for production in its new location earlier this week, and Blaisdell said she expects to have her pastry cases loaded and ready to welcome in-house customers by this Saturday, March 9. Once open, West Meadow Farm Bakery will keep daytime hours Monday through Saturday.