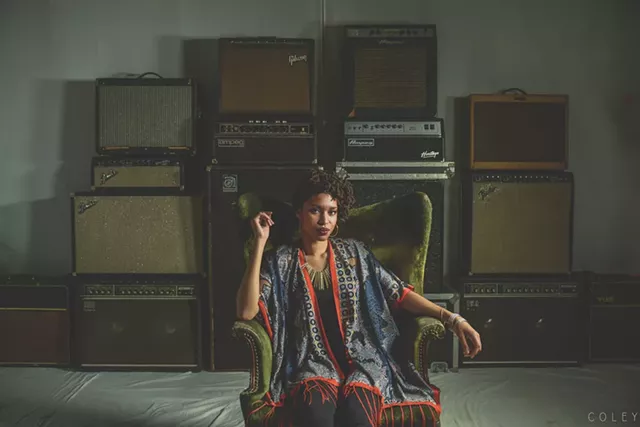 Courtesy Of Coley Krystyna
West End Blend's Erica Bryan
Born during a Halloween basement party in 2012, funk ensemble West End Blend of Hartford, Conn., have been more or less in flux since their inception. Formerly a massive ensemble of nearly 20 people, including a rapper and a larger horn section, the group has scaled down to a more manageable eight-piece. And its music has gotten tighter, more dynamic and streamlined in the process. The "blend" of soul and funk, as it were, is becoming fully emulsified. The 2017 EP Attitude showcases the octet's current lineup and sound.
Much like Burlington's Kat Wright & the Indomitable Soul Band (now called simply Kat Wright), West End Blend was established at a weekly jam in Hartford. The group — composed mostly of students from the University of Hartford's music conservatory, the Hartt School — played a jukebox selection of funk hits. But as the residency progressed, the bandmates began exploring original songwriting. Now it's the bulk of their repertoire.
Utterly infectious and known for getting crowds on their feet and onto the dance floor, West End Blend have become a staple of both the jam and funk scenes in the region. They perform on Saturday, July 28, as part of Twiddle's Tumble Down music festival at Burlington's Waterfront Park.
Seven Days caught up with front woman Erica Bryan by phone.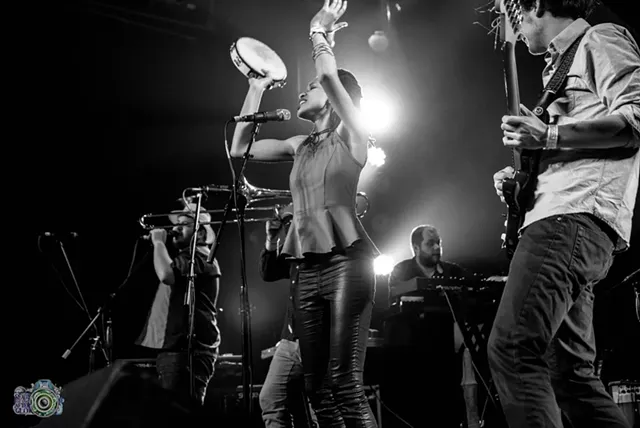 Courtesy Of Ready For The Afterglow
West End Blend
SEVEN DAYS: Early on in West End Blend's lifetime, you told the Hartford Courant, "I really didn't know much about how to present this music in this way, for a live setting. That was something I had to learn." How do you relate to that statement now?
ERICA BRYAN: Yeah, I do remember saying that — and how I felt at the time. I came from a classically trained vocal background. I hadn't been much of a front woman in the live setting with high-intensity funk music until West End Blend. So, when I was asked to do this, it was a little outside of my comfort zone. It was interesting to [become] an MC, a leader [and], in some ways, the face of it. I have to look like I've been doing this forever.
Generally speaking, it became easier and easier over time. My thing, growing up: I was always the one who danced. Every performance setting that I was in — even when I was probably not supposed to — I was dancing while I was singing. This music that we perform seems to fit that personality. So it came a little bit more naturally than I expected.
SD: What did you imagine you'd be doing after graduating from the Hartt School?
EB: When I first started school, I hoped I'd be performing music after it all was said and done. But I don't know if I had a specific plan that was much like this. I had an idea in my head that I was going to be forming some kind of jazz combo, [doing] occasional regional gigs. But never did I expect, in my sophomore year when West End Blend started, that it would turn into something by the time I graduated.
SD: I understand the band just recorded a live album.
EB: Yeah! It was just this past weekend over at our home away from home. It's this place called the Waterhole in Saranac Lake, N.Y. Everybody up there just gets down and parties. We have so much music that hasn't been recorded but we've been performing live for a while now. It's so hard for us to get together and do a full studio recording. It just made sense to do it [there].
SD: Will we be able to hear it by the end of the year?
EB: Stay tuned.
SD: I read that you shared a stage with Charles Bradley before he passed away last year. Were you able to interact with him at all?
EB: Yes. That was probably one of the most special moments of my career. I don't think I even fully realized it at the time. We got this crazy opportunity to perform right before him. He was as vibrant in person as you'd think he would be. Knowing the pain that he was probably in, it was unbelievable that he was still willing to come and talk to people afterwards. He was so kind. He took a picture with each of us. Signed a CD. All the typical fangirl/fanboy things. He told me — and I'm trying to remember exactly how he said it — he really loved my voice. He said something like, "You got it." And that was just pretty unreal.
SD: I'm sure you know that you're one of only a few women playing Tumble Down. Given that West End Blend works the male-dominated jam circuit, I imagine this isn't your first time being one of the few. Without casting judgment on why that might be, I wonder how that makes you feel.
EB: I think, when that was pointed out to me, I [felt] a combination of pride and a little extra confidence — but also a little bit of pressure. I don't want to think of myself in any way as an ambassador of an entire group of people. [But] most of the time, it doesn't really cross my mind — possibly because it's so prevalent.
I think it is an honor to be able to share that space with artists like Hayley Jane and the Primates. Hayley Jane is always this magnanimous, vibrant force of positive change and very feminist. When I get onstage, all I know is that, if women and girls who go to this festival have been seeing a lot of male front people, and they see me, I hope there's a light bulb that goes on.
SD: I don't want to put words in your mouth, but I imagine the same can be said for jam audiences and people of color onstage.
EB: Mm-hmm. Even more so. That actually is something I think about possibly even more than just being a front woman in the jam scene. [I'm] a black front woman in the jam and funk scene. There are some [others]. Erica Falls [of] Galactic, and Chaka Khan, if you want to think of another generation of incredible artists who I deeply admire. I just want to see more of it. I want somebody to come to this festival and say, "Hey, this is something different that I haven't seen yet."
SD: What do you think about all-women festivals? I imagine some might think they're essential, but I've heard others say that all-women festivals turn "women-fronted" or "women-centric" into a de facto genre, which some view as even more marginalizing.
EB: To just have a space where you're not being judged as a woman — it's the same as any sort of pride parade or thing that elevates any sort of group of people. It's not about you as the majority feeling oppressed by this thing that you think marginalizes that group of people. It's about them having a place to express themselves freely. To feel represented is invaluable.