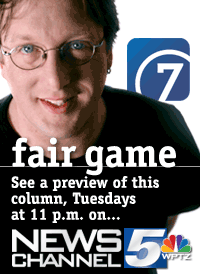 The clock is ticking on Burlington Telecom and Vermont Yankee — two utilities that have more in common than not: They've tainted the waters around them, have become political albatrosses, and are under criminal investigation for misleading regulators.
I'm sure that officials at both companies look at the other and say to themselves, Boy, I'm glad I'm not them.
Earlier this year, Gov. Jim Douglas and Lt. Gov. Brian Dubie called "time out!" to give VY's out-of-state owner, Entergy, a chance to repair its image, rebuild trust and clean up thousands of gallons of tritium that had leaked into the groundwater. Shortly afterward, Senate President Pro Tem Peter Shumlin orchestrated a vote that effectively denies VY a license to operate beyond 2012. Attorney General Bill Sorrell had already launched a probe into whether Entergy had lied to regulators. Thousands of documents later, that review is still ongoing.
Since Shumlin defeated Dubie in the race for governor, he's the one Entergy will have to deal with in January when it pleads for its life.
Communications between them have thus far been terse. When Yankee announced it was suspending further cleanup of tritium-soaked soil around the plant, Shumlin sent a letter that said, essentially, "Suck it up." As in, suction tritium from the groundwater. Shumlin is scheduled to tour the plant this week.
Burlington Telecom got a "time out," too — from the Burlington City Council. The elected officials who oversee the Queen City had created a "blue ribbon" panel to investigate BT's operations. They'd also given BT the OK to stop making payments on its $33.5 million lease and strike a new deal with its financier, CitiCapital.
Those talks didn't go so well. Last month the city terminated its lease with CitiCapital and is awaiting the repo man. BT customers better hide their remote controls.
Now the city council is reportedly "angry" — outraged, even — that a new state report confirms what they've known for more than a year: BT is deeper in debt than previously thought, and its chances for independent survival are slim to none.
Folks, this is what passes for leadership in the state's largest city. Sigh.
The question is: Will BT or Vermont Yankee be around in 2012?
Burlington Mayor Bob Kiss isn't likely to survive an election, or even a primary, in 2012. Whether BT can find a new telecom sugar daddy or strategic partner remains to be seen. Kiss claims the utility has suitors.
One company rumored to be interested in VY is Exelon, one of the nation's largest nuclear power companies. Last week, Exelon made an unusual decision to close down its Oyster Creek nuclear power plant in New Jersey. They're calling it quits in 2019 — 10 years shy of the scheduled expiration date.
Why quit when you've got time on the clock?
Simple: Exelon doesn't want to spend upward of $800 million on required environmental fixes to the plant, saying the cost would exceed what it can make back in power sales.
The same calculation might cause VY to rethink staying in operation until 2032, even if it could.
According to a new legislative report by Arnie and Maggie Gundersen of Fairewinds Associates, VY's condenser — a key component that turns highly radioactive steam back into water to be recirculated into the reactor — needs to be replaced before 2016. That part alone costs $200 million.
Also, before its license expires in early 2012, Vermont Yankee will have to spend $50 million to refuel the plant. Other repairs — to leaky pipes, for example — could cost many millions more.
Bob Stannard, a lobbyist for the antinuclear Citizens Awareness Network, sums it up like this: "When it boils down to being a good neighbor and doing the right thing or making money and hitting the road, in the case of the nuclear power industry, it's 'See ya!'"
Mistakes Were Made
Late last week, the Department of Public Service released a long-awaited financial review of Burlington Telecom, alleging that BT's problems began at least seven months before Mayor Bob Kiss and Chief Administrative Officer Jonathan Leopold took office.
You mean they inherited a stinker from Mayor Peter Clavelle? Say it ain't so.
The report also calls into question many of former BT general manager Tim Nulty's projections. Coincidentally, Nulty is part of the Reboot Burlington Telecom group that wants to buy BT on the cheap.
The report, from Minnesota-based Larkin and Associates, took longer than expected because one of the investigators became seriously ill. In all, the report cost the city of Burlington $85,000, state officials told "Fair Game." Another expense to add to BT's tab.
Most of the other findings in the report have already been discovered: BT made poor spending and management decisions throughout its history; its books were in such disarray that it may have paid more than twice the going rate for installation of its fiber-to-the-home network.
The city-council-appointed Blue Ribbon Committee came to similar conclusions earlier this year.
In addition, the report alleges that city officials withheld key documents from the city council and the city's board of finance to ensure that only a "rosy" picture was presented to the public and councilors.
Leopold remembers it differently: He presented "Fair Game" with minutes from a late November 2007 city council meeting, during which he explained to councilors that BT would run out of money in March 2008.
In the spring of 2008, the finance board got a follow-up analysis of BT that included the good, the bad, and the ugly.
The city council would love to distance itself from Kiss and Leopold, but it can't afford to let the state get what it wants — to privatize BT. Without some ownership leverage, argues Councilor Kurt Wright (R-Ward 4), it may be difficult for the city to guarantee BT repays taxpayers the $17 million it "borrowed" from them.
City officials don't want to put a price tag on the potential cost to taxpayers. But Leopold did just that in a letter to Moody's, the credit-rating agency. He proposed three cents on the tax rate would raise $1.2 million annually to help pay off a 20-year bond.
Nice stocking stuffer.
Open and Shut?
Vermont's new public-safety commissioner used to be the state's attorney charged with investigating Burlington Telecom. When Gov.-elect Peter Shumlin appointed Keith Flynn, a Republican from Orleans County, to the post, folks in the Queen City wondered how it would impact his ongoing probe into BT's potential criminal action.
Flynn turned the case over to Chittenden County State's Attorney T.J. Donovan.
Donovan said the review shouldn't take long to complete, but he didn't supply a firm deadline.
"The facts are the facts, and we'll certainly do some more interviews," he said.
More interviews? Does that mean city officials have already been interviewed? Donovan wouldn't say, but if I were a city official, I wouldn't do too much traveling in the next few months.
"We will most likely ask to interview some city officials," said Donovan. As to the federal investigators working on a similar inquiry, Donovan said his office will reach out to them, but noted they are working from a different set of laws.
"When I make my decision on this case, I will make the decision publicly and transparently," Donovan said. "I think clarity and closure are important in this case, because it's gone on far too long."
The Energizer Bernie
As I predicted last week, Bernie's Senate-floor filibuster launched a 2012 presidential petition from fans on the political left.
For almost nine straight hours, U.S. Sen. Bernie Sanders railed about capitalism and class warfare. For Vermonters, it was a stroll down Memory Lane: 30-plus years of Sanders' class-war rhetoric compressed into eight-and-a-half hours.
Sanders captured the world's attention, that's for sure. But in the end, his filibuster became a fili-bust: The bill he was trying to stop passed.
"I'm disappointed, but not surprised," Sanders told "Fair Game." "I think we're through with filibusters for awhile. I think I made my statement."
The socialist may have made a little coin off the speech, too. On the day he pontificated before a largely empty Senate chamber, Sanders' 2012 reelection committee sent out a well-timed plea seeking campaign contributions.
"At this point, because I have spent my time and energy working on the major issues facing our country and not on fundraising, my numbers are weak," Sanders wrote in the fundraising email. An empty campaign coffer could encourage GOP challengers. "If I can show strong numbers on this first FEC report, there is a very real possibility that the strongest of my potential challengers will choose not to run."
Bernie's biggest worry is outgoing Gov. Jim Douglas, whom President Barack Obama enlisted to help garner support for the tax-cut deal.
Douglas balked at challenging Sanders in 2006, when the national GOP begged him to run. I don't see him making a run in two years, either. The only pol making serious noise about taking on Bernie is Auditor Tom Salmon, who chided Sanders on his Facebook page after Friday's filibuster: "I am sure there will be an honest, candid, thoughtful and unemotional (analytical) conversation with Senator Sanders about how socialism and capitalism struggle to produce results for Americans."
Media Notes
Longtime news editor and former gubernatorial spokeswoman Sue Allen left journalism last year to head up Renewable Energy Vermont. Now she's back in the game — sorta — acting as a special assistant to Gov.-elect Peter Shumlin, focusing on communications. She was a longtime spokeswoman for Gov. Howard Dean. Shumlin chose WCAX-TV's Statehouse reporter Bianca Slota to be his press secretary
Slota took over Montpelier coverage for Kristin Carlson, who coanchors the station's 5:30 p.m. show. News director Anson Tebbetts tells "Fair Game" that he and Carlson will be covering Montpelier together.
I wonder if this pair will ruffle Shumlin's feathers the way they did during the last few weeks of the gubernatorial campaign, airing thinly sourced stories that called into question the Democrat's patriotism and honesty.
Perhaps having a former staffer on the inside will keep WGOP-TV from making a comeback. Perhaps.