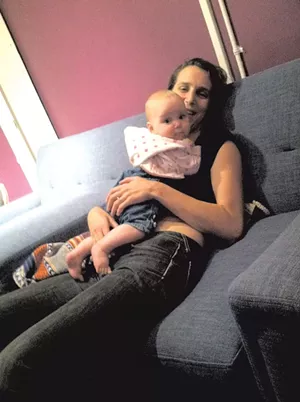 Joni and Megan in the Kids VT Lactation Lounge
One night last September, Daniel and I decided to let our infant daughter, Joni, "cry it out." We didn't have a plan; we were just desperate for sleep. So we kissed her goodnight, put her in the crib and left the room.
She cried for 95 agonizing minutes before I broke down, burst into her room and scooped her up. I nursed her, wrapping my body around hers as I whispered, "I'm so sorry. I love you," until she fell asleep.
We had intended to let her cry it out eventually — and we did, with much less drama and happier results, a month later. But Joni wasn't ready that September night. And the next day, to my horror, we realized she was coming down with a cold.
I had left my sick baby to wail alone for an hour and a half. I felt like a monster.
Joni got over it, of course. But even now, I feel a hot flush of guilt when I think of that night.
The morning after our botched CIO attempt, I came into the office distraught. When Kids VT executive editor, copublisher and fellow parent Cathy Resmer asked me how I was doing, I told her, through tears, what had happened.
"That's nothing," she said. "Just wait 'til you discover all the other ways you can screw up your kids!" And we both laughed.
Overhearing our conversation, another mom chimed in. "She won't remember it," she assured me. "You love her, right? That's what counts. You're doing the best you can."
Sometimes that's all you can do, because parenting is an unpredictable, emotionally challenging, straight-up nutso job. I'm reminded of that every month as I edit stories for Kids VT.
In this double issue, we talk to working moms who sequester themselves in "lactation lounges" several times a day so they can provide their babies with breast milk ("The Sisterhood of the Traveling Pump"). We ask dads if they worry about guns in the homes where their kids play ("Go Ask Dad"). And in an essay about his son with Down syndrome ("Rising Son"), Robert Stuhlmann acknowledges one of the hardest and craziest things about parenting: We can't control how our kids turn out — and that's OK.
I hope that reading these stories makes you feel the way I did when I shared my experience with other mothers in my office: uplifted, connected and eager to keep doing the best you can.