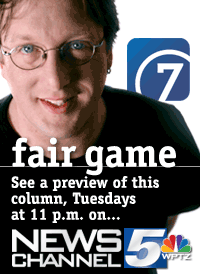 U.S. Sen. Bernie Sanders is on a roll.
The Brooklyn-born, self-described socialist delivered a fiery speech on the Senate floor last Tuesday that has become an Internet hit, topping 500,000 views on YouTube.
Capitol Hill Republicans' call to give tax cuts to the wealthy, and cut benefits to the unemployed inspired Sanders' online blockbuster. In it, he claims the growing gap between rich and poor is turning the U.S. into a "banana republic."
"When we were in school, we used to read the textbooks which talked about the banana republics in Latin America, used to read the books about the countries in which a handful of people owned and controlled most of the wealth in those countries," lectured Sanders. "Well, guess what? That's what is happening in the United States today."
MSNBC anchor Rachel Maddow played clips of Sanders' 13-minute speech on her show and had the senator on as a guest.
The following day, Sanders landed on the pages of the Wall Street Journal for his legislation forcing the secretive Federal Reserve to disclose the names of the entities to which it extended loans during the height of the financial crisis.
In all, the Fed loaned out more than $9 trillion to some of the largest banks in the world — an amount Sanders described as "jaw dropping." The senator pointed out the irony of large financial institutions receiving zero-interest loans while struggling homeowners paid astronomical rates on their mortgage and credit-card debts.
Don't be surprised if progressive circles start suggesting Sanders as a possible primary challenger to President Barack Obama in 2012. Former Gov. Howard Dean has said he's not interested.
Sanders' progressive political stock could rise again this week if he tries to block Obama's proposed deal that would extend tax cuts to the top 2 percent of wage earners.
"I will do whatever I can to see that 60 votes are not acquired to pass this piece of legislation," Sanders told Ed Schultz, host of MSNBC's "The Ed Show." Sanders was so mad, he almost uttered the f-word on Schultz's show Monday night.
Schultz bluntly asked Sanders if he would filibuster the bill.
"I will do whatever I can," Sanders repeated. "This is a very, very bad agreement. I think we've got to hold tough on this, hold firm on this and not concede to Republicans," he added.
This time, will he get in touch with his inner Mr. Smith Goes to Washington? Sanders threatened to hold up the federal health care bill earlier this year unless there was a strong public option. In the end, he caved.
While Sanders is leading Senate opposition against the proposed tax-cut deal, his successor in the House — Rep. Peter Welch (D-VT) — is leading a similar effort there.
"We oppose acceding to Republican demands to extend the Bush tax cuts to millionaires and billionaires for two reasons," Welch wrote in a letter to House Speaker Nancy Pelosi (D-CA). "First, it is fiscally irresponsible. Second, it is grossly unfair."
Must be something in the V8 they serve on those flights from Burlington to D.C.
Obama's "deal" is meant to have something for everyone. It includes extending unemployment benefits, cutting payroll taxes by 2 percent, and other measures to lessen the tax burden on middle-class and working-class people. Price tag: $700 billion.
"Without a doubt, the very same people who support this addition to our debt will oppose raising the debt ceiling to pay for it," Welch added. "We support extending tax cuts in full to 98 percent of American taxpayers, as the president initially proposed. He should not back down. Nor should we."
Democrats not back down? There's hope and change for ya.
Federal Secrets
On Wednesday, Burlington Telecom will be on the hot seat — again — in front of the Vermont Public Service Board. State regulators want to know how the muni telecom plans to stay in business now that it has canceled its lease with CitiCapital. The financier can now seize BT's equipment at any time.
As for news that the FBI has joined the state criminal review: I wouldn't sell tickets to a Church Street perp walk — yet.
"Fair Game" has yet to find a single city official, attorney or external auditor who has been approached by a federal agent. Or by a state investigator, for that matter. Remember, Orleans County State's Attorney Keith Flynn began a criminal review of BT back in February.
In contrast, a federal investigation into the film-financing scheme of Malcolm "Mac" Parker has already yielded grand-jury testimony, the seizure of documents from Parker's home and an interstate pursuit of Parker's coproducer. The grand-jury testimony and seizure happened shortly after the feds took on the case.
If the fed review is contained to paperwork, it could still yield embarrassing, if not downright illegal, acts, such as misstatements to federal and state agencies as well as private financiers such as CitiCapital.
It's happened before. Just five years ago, a top exec at Fletcher Allen Health Care wound up in a federal country club, er, Connecticut prison, for lying to state regulators about the true cost of the hospital's $350 million renovation. Fletcher Allen attorneys, architects and general contractors paid hefty fines to avoid jail time.
More important than who gets blamed for the BT mess — that would be Chief Administrative Officer Jonathan Leopold and Mayor Bob Kiss — is who pays to clean it up.
Look in the mirror, Burlington taxpayers.
Earlier this year, City Councilor Karen Paul (I-Ward 6) raised the specter of the city levying new taxes as part of a long-term plan to cover the $17 million. The Kiss administration balked, saying it was too early to give up hope on a deal with CitiCapital or some other financial white knight.
"I don't know if the city will ever see the $17 million," said Paul. "I think people are still holding out hope, and it's not a realistic hope."
Progressives in Ashes
Mayor Bob Kiss hasn't said yet whether he's running for reelection, but he won't likely survive a Progressive primary because of the Burlington Telecom debacle.
Burlington Progs are a depressed lot right now as they watch 30 years of hard work go down the proverbial shitter.
It's almost a guarantee that Republican Kurt Wright will run. Among Democrats, it's pretty wide open. Andy Montroll may make a third bid, while councilors Ed Adrian (Ward 1) and Joan Shannon (Ward 5) can't be counted out. Independent Karen Paul also seems interested.
Absent Kiss, would there be a Progressive in the race?
Ward 3 councilors and Progressives Emma Mulvaney-Stanak and Vince Brennan are relatively new to the council; they're not ready for prime time.
Who, then? The name I hear most often is that of State Sen. Tim Ashe (D/P-Chittenden), who served on the city council and is a rising star in the state Senate. He's well liked by Democratic leaders such as Sen. Dick Mazza (D-Grand Isle), and incoming Senate President Pro Tem John Campbell (D-Windsor).
Ashe tells "Fair Game" he is focused solely on the upcoming legislative session.
"I am hoping to play a big role in my second term," said Ashe. "I'd have to be a total jerk to be talking about another office or election. Particularly one that is so far away."
Time flies, Senator. Time flies.
Green with Envy
Gov.-elect Peter Shumlin announced his "environmental team" Monday, naming Deb Markowitz secretary of the Agency of Natural Resources. He also named Vermont Law School prof David Mears as commissioner of the Department of Environmental Conservation.
Enviro groups are publicly praising Shumlin's green picks, but sources say they really wanted Mears as ANR secretary. The director of the Environmental and Natural Resources Law Clinic at VLS, Mears also served in the environmental division at the U.S. Department of Justice. He's held top environmental-enforcement posts in Washington state and Texas.
Sources tell "Fair Game" it took a major behind-the-scenes lobbying effort to get Mears an interview with Shumlin.
Why? Mears is the outgoing chairman of the state's largest enviro group, the Vermont League of Conservation Voters. That group backed Shumlin's Democratic gubernatorial rival Doug Racine in the primary.
Whoops.
Markowitz marks the third "rival" to get a job in the new administration. Shumlin picked Racine to serve as secretary of the Agency of Human Services, while fellow gube contender Susan Bartlett is working as a special assistant in his fifth-floor inner circle.
Matt Dunne, the last of the four rivals, is keeping his job at Google.
Even GOP rival Lt. Gov. Brian Dubie is getting into the action. He's agreed to act as an ambassador to Québec next year.
C'est tout!
Go-to GOP Govs
"Fair Game" recently noted Vermonter Will Kinzel is a top aide to Speaker-elect Rep. John Boehner (R-OH). Kinzel is the son of Vermont Public Radio news guy Bob Kinzel. The latest, according to the National Journal: Boehner has made Will Kinzel his chief liaison to the nation's GOP governors.
"Boehner wants to harness ideas and reformist passions to reduce spending, weed out earmarks, and pick apart [Obama's] health care law, as well as evaluate the effectiveness of stimulus spending and find ways to block or return obligated stimulus funds that haven't been spent," the Journal noted. "GOP governors played a big role in the Newt Gingrich-led 1995 Congress, fashioning a welfare-reform compromise that President Clinton eventually signed."
Sounds like déjà vu all over again.
Media Notes
The former editor of the Essex Reporter is slated to become the Baghdad bureau chief for the New York Times. Tim Arango graduated from the journalism program at St. Michael's College before taking a job at the Chittenden County weekly. From there, he went to New York City and quickly made a name for himself covering corporate media for Fortune magazine. From there, he hooked up with the Gray Lady. Guess it was good for him.