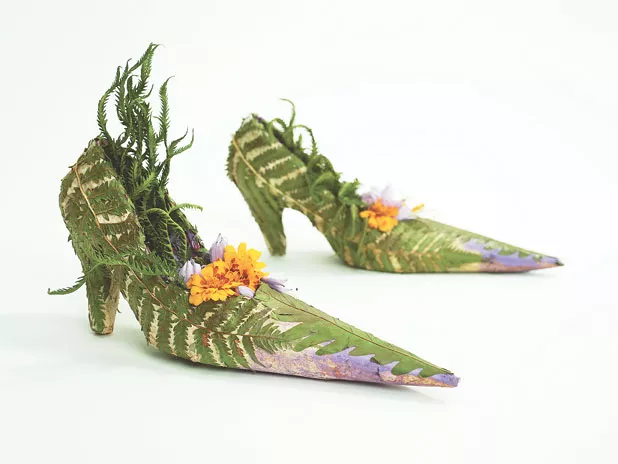 On the second floor of Middlebury's Sheldon Museum, Belle Starr lounges by a window, her arm draped over the back of an antique chair, an elegant fan in her black-gloved hands. She's wearing a long, lace-trimmed housecoat over a caramel corset with hoop and bloomers. Oh, and she is a deer — her doe head is made of papier-mâché.
Belle is just one of Vermont artist Wendy Copp's creations in "Fashion and Fantasy at the Edge of the Forest," the museum's latest exhibit. Copp didn't just create the works on display; she curated the exhibit, digging deep into the museum's collection of 19th-century garments to assemble outfits that are beautiful, funny and a little bit magical.
Copp unearthed corsets, beaver-skin top hats, a sealskin coat, parasols, tea dresses, even an 1895 full-length gown made from a purple, swastika-print material. She paired those items with papier-mâché animal heads and exquisite garments she painstakingly constructed from leaves, grasses, bark and other organic materials.
She made a dress from carefully stitched-together dried maple leaves over a black tulle petticoat; a pair of boots constructed from tall, papery phragmites reeds; an elegant cape lined with dry pine needles.
Copp, who collects her materials in the woods near her home, told the museum: "Both my work and the museum's dresses address time as metaphor — the ephemeral nature of existence, the fact that materials, ideas, styles and humans are in flux, are impermanent and will someday cease to exist."
The museum's executive director, Bill Brooks, asked Copp to do the show after he saw her work at All Souls Interfaith Gathering in Shelburne last winter. "I was really taken with it," he says.
Since Brooks took the Sheldon job a year ago, he's been working hard to create vibrant exhibits that will attract the public. "We don't get a lot of repeat visitors," he says. "We're trying to get more people in here."
He's off to a great start. The current exhibit is beautiful, awe inspiring and so much fun.
"Fashion and Fantasy at the Edge of the Forest" runs through November 2 at Sheldon Museum in Middlebury.
The original print version of this article was headlined "Wendy Copp Makes Leaf Dresses, and Magic, at Sheldon Museum."