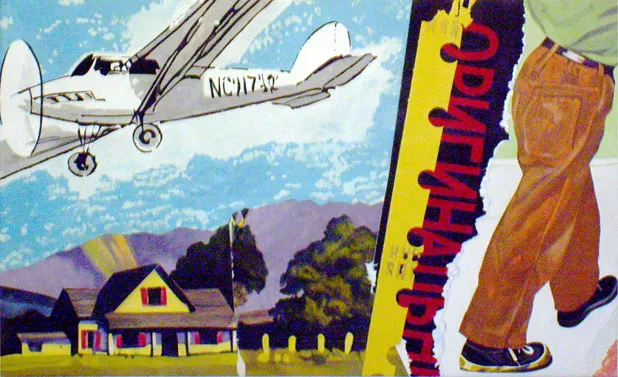 "Yes" by Graziella Weber Grassi
Artistic flights of fancy in the form of paintings grace the walls of Burlington International Airport from now till New Year's Eve. Burlington City Arts curates the venue's revolving shows in its exhibition areas — the pre-security waiting area near Gates 1 and 2, the skyway hall and an expansive space over the escalator leading to and from the boarding gates. This round of three exhibits includes abstractions, landscapes and a large-scale piece with a Pop Art sensibility.
That last is "Yes," by Graziella Weber Grassi. It appropriates 1950s imagery and is the only aviation-inspired work installed. The 4-by-6-foot painting features a single-engine plane cruising over a yellow bungalow on the left side of the composition, and the legs of a figure — a young boy? — in corduroys at right. A mysterious row of Cyrillic letters separates the pants from the plane. Grassi's pastel complementary colors and angled lines make it an active and entertaining image.
Anne Street Bailey's 10 oil paintings at the entrance to Gates 1 and 2 are competent and earnest. A posted curatorial statement notes, "In 2002 Anne decided to leave her career in education to devote her time to painting and the study of various media." Some appealing pictorial ideas percolate in her landscapes. Bailey's vertical 56-by-36-inch "Summer Storm Cloud, Lake Champlain, Battery Park" focuses on a towering cumulus cloud in the upper four-fifths of the canvas, while thicker paint below indicates waves in the lake. A nice representation of the rolling Adirondacks and Juniper Island resides in the lower reaches of the painting.
Four of Bailey's black-and-white landscapes, measuring about 14 by 24 inches, also utilize impasto paint. Her subjects in that series hail from both Vermont and Ireland.
The abstractionist Joseph B. Roque is a stronger painter; he's more adventurous with color and has a well-defined personal aesthetic. One of his main interests appears to be vortices. His 40-by-58-inch oil-on-canvas "Camp Fantasy" presents a stand of black lines — implied trees — at the left side of the image, and a swirl of concentric circles just to the right of the black woods. A nearly perfect harmony of cerulean blue, pale yellow and yellow ocher defines the vortex, which ends in a distant dark spot resembling the eye of a hurricane. Roque also plays with textures in his works; "Camp Fantasy" includes rustic, perpendicular lines that make the piece appear to have been painted on plywood.
The 44-by-44-inch "Play Like Piano" depicts a group of broad lines in a whorl pattern, like a giant fingerprint. Bright orange-reds harmonize with an exterior turquoise border. Roque pulled his brushwork, or perhaps palette-knife work, from the center of his spiraling form toward the edges of his picture plane. His hues look studied, as if precisely calibrated with a color wheel to achieve maximum impact. The colors are robust and expressive without becoming gaudy or loud.
Roque's body of work here also includes a group of well-composed 40-by-24-inch vertical canvasses. "Down the Wishing Well" is another cyclonic painting with a low center of gravity. Its harmony is closely aligned with that of the vortex in "Camp Fantasy," but there is a small triangle of cobalt blue in the upper right corner of the piece. Like a hint of clear sky or becalmed ocean, it suggests Roque's storms will quickly pass.
"Bank art" is a disparaging sobriquet applied to paintings that are decorative, uncontroversial and generally devoid of meaning. "Airport art" seems to be cut from pretty much the same cloth. But the current batch of pictures at Burlington's modest airdrome is worth spending a little time with. And an airport adorned with local art reflects some undeniably lofty ideals.