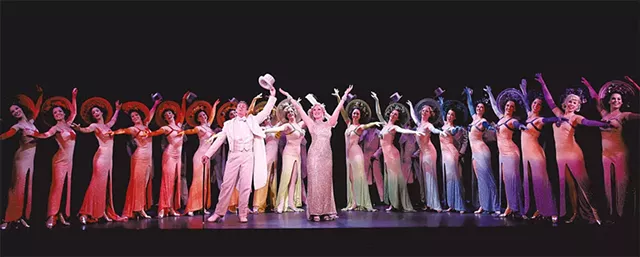 Courtesy of 42nd Street
42nd Street
It may be human to err, but it's also human to get things very right. That is, to pour devotion and diligence into a chosen endeavor until it is as close to perfect as possible. Just weeks ago in Rio de Janeiro, the world watched, mesmerized, as a multitude of athletes performed stunning physical feats. In the coming months and much closer to home, other types of performers — musicians, dancers, thespians, acrobats, comedians — will share their own varieties of near-perfection on smaller stages. And the rest of us will watch.
Hey, performing arts season: Welcome back!
From medieval music to cutting-edge jazz, from Broadway blockbusters to improv comedy, from gospel to guys on ice skates — yes, really — the range of human creative endeavors is astonishing. What drives people to perform? And why do we love to bear witness? We asked these questions of some local experts in the actor-audience equation: performing arts presenters. Their responses were thoughtful and spot-on.
"Ask a performer, and they'll say they can't not perform," said Margaret Lawrence, programming director at the Hopkins Center for the Arts at Dartmouth College. "It's urgent, compelling — it would be unthinkable not to. They certainly don't do it for the money," she added with a wry laugh.
Lawrence noted, too, that the interaction between performer and audience matters. "In an intimate setting — even in a big one — performers are aware of you. Performance is one art form that is simultaneously created and consumed."
"Telling stories is the base," said Steve MacQueen, artistic director of the Flynn Center for the Performing Arts. And, he added, the converse is true: "Everyone likes to hear stories."
Every performer is a kind of storyteller, even if their art form is nonverbal. With or without words, some shows evolve with a topical urgency. "FLEXN is a great example," said Lawrence, referring to the New York-based troupe that addresses issues of social and racial injustice — in particular, the police shootings of black men — through an electrifying form of street dance. "Their performance is created out of a sense that there was no other way for people to express the emotions of what's going on," she said. "It can bring people into this space that's different than just talking."
To that point, University of Vermont Lane Series director Natalie Neuert noted the fortuitous presence of "cultural journeys" in her programming this year. "I didn't set out to book world music, but the performers who really spoke to me were performers who traveled these distances," bringing a story from their part of the world, she said. "It's a conduit that carries a cultural history forward in time."
Neuert agreed that storytelling is "one of the most fundamental ways of receiving information and cultural understanding. Plus," she added, "it's sheer entertainment — you don't think about the clock for a couple of hours."
Witnessing virtuosity, of course, is thrilling and uplifting. And, as Neuert noted, "No matter how scripted, in live performance there's always a degree of spontaneity. I think people are excited by that."
But whether you're moved to tears by a violin solo or a standup comedian, the experience is different when it's shared. "The act of going out and gathering together, it's an ancient thing," observed Neuert.
"In this day and age, it's quite easy to just go home and make connections digitally," said Lawrence, "but that's not fulfilling a human need. It's really important to make human connections."
Pamela Polston
Hilary Hahn, violin, with Robert Levin, piano
Friday, March 31, 8 p.m., Hopkins Center for the Arts, $17-50.
Courtesy of Michael Patrick O'Leary
Hilary Hahn
Violinist Hilary Hahn, 36, has progressed from child prodigy to new-music champion to one of the most admired and widely known violinists of our day. Among her Vermont ties are several summers at the Marlboro Music Festival and an extended collaboration with Vermont Symphony Orchestra conductor Jaime Laredo while at the Curtis Institute of Music.
Nonetheless, the news that she's coming to the Hopkins Center in March to perform a solo program with pianist Robert Levin is a stunner. While Hahn appears regularly with famed conductors and their orchestras around the world, her solo appearances are limited. Says Hop programming director Margaret Lawrence, "It took us several years to score one."
Hahn eschews the stuffy atmosphere of classical concerts, preferring audiences to come in "jeans and chains," as she once put it. For her 2015 Grammy-winning recording In 27 Pieces: The Hilary Hahn Encores, she commissioned 26 composers to write encores for solo violin. (The 27th was chosen in an open competition with 400-plus entries.) Encores are like "candy," Lawrence points out; they're just fun.
One Pieces contributor, the Spanish composer Antón García Abril, wrote the partita for solo violin that Hahn will play at the Hop between three works for violin and piano by Bach, Mozart and Schubert. Levin will play his own contemporary commission by the Romanian Hans Peter Türk. The question is, which encore will Hahn play?
Amy Lilly
If you like this, try...
Macbeth
Thursday through Saturday, October 20 to 22, 7:30 p.m.; and Sunday, October 23, 2 p.m., Town Hall Theater, $10-22. Also Thursday, October 27, 7:30 p.m., Paramount Theatre, $20; and Tuesday, November 1, 7:30 p.m., Flynn MainStage, $15-36.
courtesy of Middlebury Actors Workshop
Shakespeare's Macbeth depicts a politician who gets it in his head that he could be all-powerful. He becomes dangerously ambitious; he acts irrational, even insane. With his back against the wall, he grows paranoid, convinced of conspiracies against him. He clutches at straws, hoping that the fates, who have always been kind to him, will somehow redeem him. We don't know anything about that in 2016.
Middlebury Actors Workshop will produce a 95-minute, no-intermission Macbeth this fall in three locations. Director Melissa Lourie insists that it wasn't just the presidential election that inspired her (though you may find not-so-subtle references to Donald Trump in the famed porter scene). "It's the 400th anniversary of Shakespeare's death," she explains. "When I heard that Craig Maravich was in town, I knew I wanted him to be Macbeth." Equity actor Maravich is currently a visiting assistant professor at Middlebury College and a lecturer in theater at the University of Vermont.
And the leading lady? Enter Burlington actor Chris Caswell, who calls the part of Lady Macbeth "one of my dream roles."
Lourie's production is set in a pretechnological era with, as counterpoint, an original electronic soundscape by Middlebury College music professor Peter Hamlin.
Jacqueline Lawler
If you like this, try...
42nd Street
Monday, March 27, 7:30 p.m., Flynn MainStage, $15-70.
courtesy of 42nd Street
42nd Street
The national tour of Broadway blockbuster 42nd Street will tap-dance its way to the Flynn — and into the hearts of Vermont musical lovers — next spring. Its story focuses on a ragtag group of actors put out of work by the Great Depression. When a director decides it's high time to put on a show, the performers work themselves into a frenzy — particularly Peggy Sawyer, the young protagonist trying to make it in the Big Apple. She gets her chance when a lead actress in the show breaks her ankle, leaving room for our ingénue to become a Broadway sensation.
42nd Street first came to the stage in 1980 and is based on a 1933 Busby Berkeley film of the same name. The play features showstopping dance numbers, swelling love ballads and songs that have become part of the canon, including "Lullaby of Broadway" and "I Only Have Eyes for You." With all that and a come-from-behind American dream story, it's no wonder the musical still gets us right in the feels.
As the Salt Lake Tribune puts it, "42nd Street is so chock-full of entertainment that it barely fits on the stage." And you don't have to leave Vermont to see it.
Jacqueline Lawler
If you like this, try...
Marc Maron
Sunday, March 12, 7 p.m., Flynn MainStage, $25-45.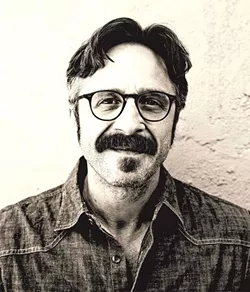 Courtesy of Marc Maron
Marc Maron
When Los Angeles comedian Marc Maron takes the stage next March, he'll almost certainly plumb his fraught backstory for material: the drug addiction, two failed marriages, outright rejection in show biz.
There are plenty of laughs to be had.
But the mustachioed comic, podcaster, writer, actor and director is just as likely to bring the fresh and unfamiliar to his 2016 "The Too Real Tour." Maron is as comfortable monologuing about global warming and Chinese economics as he is confiding in his audience about more mundane affairs — the challenges of aging, the hassle of a forgotten toothbrush, his devotion to his two cats.
It's a formula that's found success. Maron's podcast, WTF With Marc Maron, which features celebrity interviews recorded from his LA garage, has hit No. 1 on the iTunes comedy section several times. Maron has appeared on Conan O'Brien's late-night shows more than any other standup comedian. In 2015, he hosted President Barack Obama on his podcast. (Maron described the presidential visit as "a big day for our country, for me and for my cats.")
Last winter, the Atlantic championed the 52-year-old as a "recovering monologist." Indeed, Maron tempers his clever, self-deprecating wit with a self-awareness and sensitivity learned from his interviewing. The combination is sure to yield a set of what the Atlantic calls "brilliant mistakes."
Katie Jickling
If you like this, try...
No Strings Marionette Company
courtesy of No Strings Marionette Company
Marionettes have been around since ancient Egypt. In the 18th century, serious composers wrote operas specifically for puppets on strings. Mozart grew up watching those operas. Lewis Carroll composed and performed them to amuse his siblings.
Here in Vermont, the art form is still going strong, thanks to Dan Baginski and Barbara Paulson, who have been touring the country as No Strings Marionette Company since 1997. The Randolph-based couple creates original puppets and scenery. And when the two perform, they remain in full view so audience members can see exactly what they're doing to manipulate their puppets.
No Strings shows are family friendly and full of life. In Jack and the Beanstalk, Baginski and Paulson note, "The stage is hardly big enough to contain the one-of-a-kind, handcrafted marionettes, let alone the ravenous, rummaging giant."
In Wasabi, a Dragon's Tale, which the Hopkins Center for the Arts will present in Claremont, N.H., the puppeteers turn the classic fairy tale on its head: A clever princess saves her kingdom from a fire-breathing beast who has run off with her prince.
"The jewel-like setting of [the] stage, in combination with [the] incredible puppets and wonderful stories, created a level of artistry that was pure magic," raved Gene Nelson of Waterbury's the Children's Room early education resource center after one performance. "The children were spellbound!"
Each show begins with a sing-along and ends with a Q&A, during which kids can get a closer look at the puppets.
Despite the company's name, there are strings attached to these marionettes. But, as Baginski and Paulson declare on their website, "Once the mind believes there are no strings ... this realm becomes real and the adventure begins."
Megan James
If you like this, try...
Mark Morris Dance Group and the Silk Road Ensemble
Friday, January 6, 8 p.m.; and Saturday, January 7, 2 and 8 p.m., Hopkins Center for the Arts, $27-70.
Courtesy of David O'Connor
Before Romeo and Juliet, there was "Layla and Majnun." The 11th-century Middle Eastern story, whose original title loosely translates to "possessed with madness for Layla," tells of a man driven insane when parental forces attempt to keep him from the love of his life. Now the Mark Morris Dance Group presents an opera version of the tragic tale.
The Brooklyn-based troupe, known for its commitment to pairing live music with its productions, will dance to instrumentation by members of Yo-Yo Ma's prestigious Silk Road Ensemble. Esteemed Azerbaijani singers Alim and Fargana Qasimov, two of the foremost talents in the improvisational mugham vocal style, will join in.
The timing — bringing an Eastern fable to the Western stage amid rising nationalist tides across the world — is not coincidental. On his website, Morris asserts that "Love, acceptance, devotion and peace are the ruling aesthetics of this production."
Sadie Williams
If you like this, try...
Momix: Opus Cactus
Sunday, February 12, 7 p.m., Flynn MainStage, $25-55; Thursday, February 16, 8 p.m., Paramount Theatre, $32-42; and Friday, February 17, 7 p.m., KCP Presents at Alumni Auditorium, Lyndon Institute, $15-54.
Vermonters seeking a patch of heat come February won't have to go far: Choreographer Moses Pendleton is bringing his desert-themed show Opus Cactus to three venues. The luscious dance features colorfully costumed performers emulating the flora and fauna of the American Southwest.
Vermont native Pendleton grew up in Lyndonville and attended Dartmouth College before starting his own company, Pilobolus, upon graduation in 1971. He later left that company to launch Momix, which now tours around the world with multiple troupes. The choreographer's work is renowned for its brilliant use of acrobatics, body sculpture and humor.
Opus Cactus, originally conceived for Ballet Arizona, benefits from an original score influenced by desert-based communities across the world. In a 2001 interview with the New York Times, Pendleton explains: "The music is more global-desert now. There's a little of the Gobi there. The Sahara. The piece is a walk in a desert botanical garden. Surreal impressions."
Sadie Williams
If you like this, try...
Guy Mendilow Ensemble: "Tales From the Forgotten Kingdom"
Saturday, October 15, 7:30 p.m., Lane Series at UVM Recital Hall, $10-30.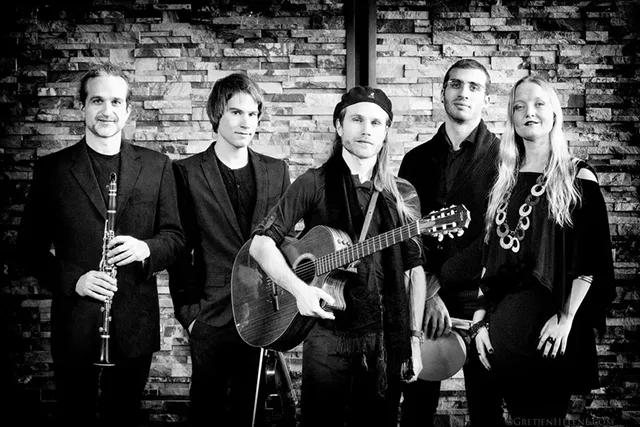 courtesy of Guy Mendilow Ensemble
Guy Mendilow Ensemble
In his mini-documentary about "Tales From the Forgotten Kingdom," international musician and composer Guy Mendilow describes the work as a "21st-century global take on beautiful old music and legends" about "vagabond queens, pauper poets and lovers lost to the sea."
The semi-theatrical performance is set in Mediterranean and Balkan communities that were largely destroyed during World War II. Its songs are sung in a nearly extinct Judeo-Spanish language of the Diaspora called Ladino, which Mendilow himself grew up singing as a boy in Jerusalem. Simultaneously mournful and joyous, these Sephardi melodies are sometimes as haunting as medieval prayers, at other times as raucously uplifting as an Israeli wedding reception.
The Guy Mendilow Ensemble is vibrantly percussive and melodic, composed of a truly international cast: Argentine vocalist Sofia Tosello; Americans Chris Baum on violin and Andy Bergman on woodwinds, jaws harps and electric mbira; and percussionist Tareq Rantisi of Ramallah, Palestine.
Mendilow, whose very surname sounds like a long-extinct musical instrument, is himself a man of the world, holding American, British and Israeli citizenships. Audiences come to this show, he says, to "embark on a journey to far-off times and faraway places. But through the experience, my hope is that they leave with a spark of fascination for cultures that are little known in this country."
Ken Picard
If you like this, try...
New Voices Series: S.I.N.siZZle, A2VT, Benny Nduwayo
Saturday, October 1, 8 p.m., FlynnSpace, $15.
Young hip-hop fans in Burlington may find it hard to think of S.I.N.siZZle as anything but a hometown hero. Rapper, promoter and mentor to many young artists, he's been performing locally — and winning rap battles — for more than a decade. But it was a long journey getting here.
S.I.N.siZZle was born in Ghana as Edwin Owusu in 1981. His family moved to New York City in 1993, and he spent his formative years in Harlem and the Bronx. Owusu came to the University of Vermont in 2001 to study political science. Here he met brash rapper and promoter Lee Anderson (not to be confused with the Radio Bean owner of the same name), and the duo began a run of raucous club shows and college parties as S.I.N. & Lee.
When Anderson moved to New York, S.I.N.siZZle adapted. "I became a promoter out of necessity," he says with a chuckle. "I was left with nobody to make those calls and get those connections, so I had to step up." Today, his Green Mountain Music Group promotion company brings in national names and provides a platform for local artists.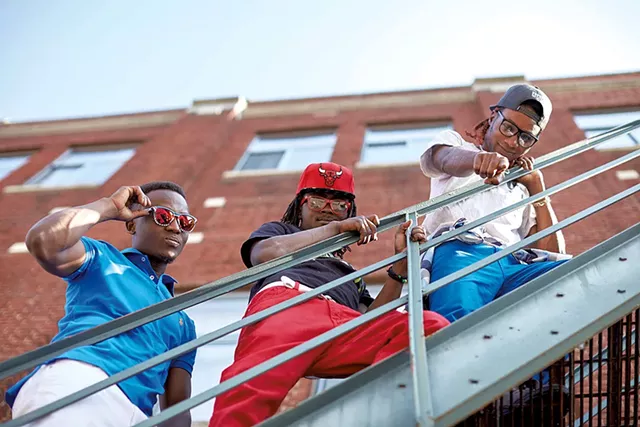 Named an up-and-coming rapper by Vibe magazine, S.I.N.siZZle is preparing to release an EP, Ghana to America, that couldn't be better timed. "Real lyrical rap is coming back," he says, "and that's always been where I'm at."
His FlynnSpace show kicks off the New Voices Series, four concerts that sample the diverse traditions and cultures of Burlington, presented in cooperation with Saint Michael's College music professor William Ellis. S.I.N.siZZle will be joined by A2VT, a young Winooski collective whose members hail from Congo, Somalia and Tanzania; and Benny Nduwayo, an artist with Burundi roots.
Justin Boland
If you like this, try...
Troker
Saturday, October 15, 8 p.m., Hopkins Center for the Arts, $17-25.
Troker would like to make you a deal: They'll bring the genre-shattering, funkadelic noise. You bring an open mind, eager ears and a welcoming soul ready to be inspired by the unknown. (Also, bring an extra shirt for when you sweat through the one you're wearing.)
Born in a Guadalajara cantina, this groundbreaking Mexican sextet has captivated audiences around the globe. Theirs is a hypercharged fusion of post-rock, funk and electronica, made all the more explosive by the brassy swagger of mariachi horns. The sound might be called indefinable. But it's precisely that air of mystery that defines Troker's exotic allure.
Rolling Stone has hailed the band as one of the "top 20 Mexican artists breaking boundaries." The website All About Jazz describes their live act as "noisy, chaotic, sprawling, messy ... wonderful." The New York City Jazz Record named Troker's appearance at the 2015 Winter Jazzfest one of the best concerts of the year. All of which adds up to quite a bargain indeed.
Dan bolles
If you like this, try...
Storm Large
Sunday, May 14, 7 p.m., KCP Presents at St. Johnsbury School Auditorium, $20-50; free for students.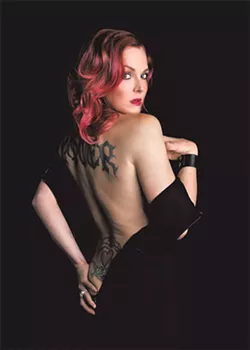 courtesy of Storm Large
Storm Large
Storm Large has a strong name and stronger pipes. The vocalist has recently been touring with fellow Portland, Ore., ensemble Pink Martini; on her own, she delivers an eclectic performance of jazz standards, cabaret and rock classics.
Large rose to national prominence after a stint on the CBS reality show "Rock Star: Supernova" in 2006. But she'd started making a name for herself long before that, having been singing and writing songs since about age 5. In the 1990s, in San Francisco, Large headlined several bands, including Storm and Her Dirty Mouth. After moving to Portland in 2002, she set aside plans to attend culinary school and began singing in area clubs.
Large published a memoir called Crazy Enough — an extension of her autobiographical one-woman show — in 2012. The book, which Kirkus Reviews called "authentic and unapologetic," details Large's early years with a psychologically disturbed mother, her days as a competitive rower and her eventual success in music.
Indeed. Whether interpreting Olivia Newton-John's "Hopelessly Devoted to You" — with less simpering and more sass — or belting a powerful rendition of Leonard Cohen's "Hallelujah," Large lives up to her name with animation and passion.
Sadie Williams
If you like this, try...
Vincent Ségal, cello, and Ballaké Sissoko, kora
Friday, February 24, 7:30 p.m., Lane Series at UVM Recital Hall, $10-30.
Frenchman Vincent Ségal is an acclaimed classical cellist who has collaborated with everyone from Elvis Costello to Blackalicious. Ballaké Sissoko is a Malian kora player whose credits include working with Taj Mahal and Toumani Diabaté, among many others. Individually, they're globally renowned as masters of their crafts. But when they perform together, Ségal and Sissoko are simply otherworldly.
Each player comes from a distinct and deeply rooted musical tradition. And there is something magical in the way the duo weaves disparate elements of those baroque and West African heritages into a grander tapestry. Ségal and Sissoko play with equal parts reverence for their artistic ancestry and appreciation of the present. Their music reflects an increasingly complex and interconnected world and a hope that, through our differences, we might find common ground.
As Bob Boilen, host of National Public Radio's "All Songs Considered," describes the musical union: "It's simply delightful and uplifting to witness." Or, more succinctly, "transcendent."
Dan bolles
If you like this, try...
Bumper Jacksons
Friday, April 21, 7:30 p.m., Lane Series at UVM Recital Hall, $10-25.
Courtesy Of Michael O. Snyder
Bumper Jacksons
There's something revealing about a band that doesn't care whether you preface its name with "the" — a variation that frequently appears online. Bumper Jacksons or the Bumper Jacksons: whatever. Bushy-bearded Chris Ousley, one half of Bumper Jacksons' songwriting team, writes in an email to Seven Days: "We go by both. Tight on tunes, loose on labels." Hot dog, these cats are laid-back. Now, then...
Hootenannies, washboards and Americana music: These things are not typically associated with Washington, D.C. But for the two-time winners of a Washington Area Music Association award, they're bread and butter. Or maybe biscuits and gravy.
Bumper Jacksons play an eclectic mix of jazz, swing, bluegrass and folk, seamlessly shifting between originals and traditional tunes. Ousley was raised on the music of Appalachia. Jess Eliot Myhre, the group's other songwriter and chief vocalist, had her musical epiphany while soaking up the vibrant street music of New Orleans. The two have been making music together since 2012, and in that time their band's live show has exploded into an uproarious, thigh-slapping shindig. Expect to see trombone, pedal steel and clarinet. Come for the swing, stay for the rock and roll.
Jordan adams
If you like this, try...
"Shatner's World: We Just Live in It"
Monday, October 17, 7:30 p.m., Paramount Theatre, $65-105.
WilliamShatner ... is ... well-knownfor ... the ... unusualcadence of ... hisspeech ... pattern. But there's far more to the 85-year-old actor than offbeat elocution. After all, this is a man who has spent his entire career boldly going where no man has gone before.
Shatner is, of course, most famous for his role as Capt. James T. Kirk, star of the iconic American TV series "Star Trek"; last week marked the 50th anniversary of the campy sci-fi fave. He's also an accomplished spoken-word recording artist — perhaps you've heard his spaced-out take on "Rocket Man" by Elton John? Shatner has written or cowritten more than 30 books, both fiction and autobiographies. He's been the pitchman for the travel website Priceline since 1997 — or was until his character, the Negotiator, was recently killed off.
All of these experiences and more form the basis of Shatner's one-man show "Shatner's World: We Just Live in It." He shares moments from his life onstage and off, which run the gamut from hilarious to heartfelt. These are the voyages of an unlikely star, offered through a lively mix of storytelling, humor and music as eccentric as the man himself. Live long and prosper.
Dan bolles
If you like this, try...
Roger Guenveur Smith: Rodney King
Friday, September 30, and Saturday, October 1, 8 p.m., Mahaney Center for the Arts, $6-20.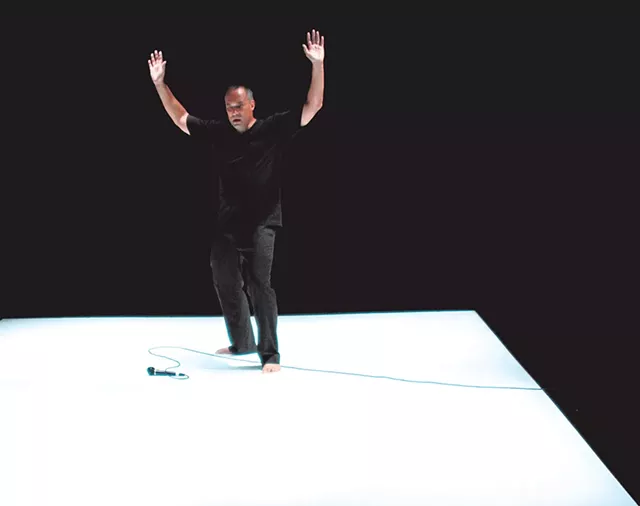 Before we knew the names Freddie Gray, Sandra Bland or Trayvon Martin, there was Rodney King. Today, cellphone videos revealing police brutality of African Americans go viral almost weekly. So it can be hard to appreciate the seismic significance of the 1991 video that captured King's violent beating by four Los Angeles police officers.
One year later, after the four cops were acquitted of all criminal charges, South Central LA erupted in angry spasms of violence. The so-called "Rodney King riots" left 55 people dead, at least 2,000 injured and more than $1 billion in property damage. They also seared King's emotion-laden plea — "Can't we all just get along?" — into the national consciousness.
For actor, writer, director and LA native Roger Guenveur Smith, (Malcolm X, American Gangster, Do the Right Thing), King was a seminal figure. As he told the Washington Post in 2014, he never met King in person but was deeply moved by the former taxi driver's untimely death in 2012, at age 47, in a drug-related drowning.
Almost immediately afterward, Smith began work on Rodney King, a solo spoken-word performance that tries to untangle King's troubled life and death — and why they affected Smith so personally.
Though much of the show is improvised, Smith delivers verbatim King's plea to rioters to end the violence being perpetrated in his name. His now-famous one-line entreaty also included these less-famous words: "We'll get our justice. They won the battle but they haven't won the war." In "Rodney King," Smith continues that fight. His show is for mature audiences only.
Ken Picard
If you like this, try...