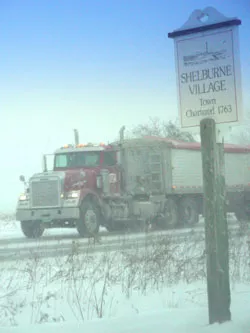 Heavy fines slapped on truckers for violating town-road weight limits often amount to revenue-raising scams on the part of local officials, charges the owner of two Northeast Kingdom logging companies.
"Consumers ultimately have to pay the true cost of business, including the cost of operating trucks," says Ken Davis, a Hardwick-based entrepreneur who regularly acts as a jailhouse lawyer for haulers ticketed by town police in Vermont. Many of the fines impose unfair burdens on wood product companies struggling to stay solvent, Davis argues. He adds: "The best way to keep Vermont green is to have a healthy forest industry."
Davis recalls a series of five tickets handed out to truckers passing through Norwich during a two-day period two years ago. The assessed fines totaled $42,000 for those alleged weight violations, he says. But Norwich "didn't even have any truck-weight ordinances on their books to begin with," Davis notes. And when he challenged the fines, town officials sheepishly reduced the sum of the five fines to $705, he recounts.
"It was a total scam," Davis declares.
More recently, a Québec trucker carrying building supplies to addresses in Shelburne was given a $5626 ticket after being stopped by a town cop on Falls Road. The truck driver, Denis Mathieu of Transport MDM in St-évariste, had made a U-turn off U.S. Route 7 after overshooting one of his destinations. The fine was reduced to $4500 at a December 29 appeals hearing, but Davis, who spoke then on behalf of MDM in District Court in Burlington, says he will probably ask the Vermont Supreme Court to overturn what he still regards as an unjust penalty.
According to Davis, Chittenden County Deputy Prosecutor Bram Kranichfeld contended in court that sizable fines are necessary in order for towns to cover the cost of damage that wayward truckers do to local roads. In response, Davis says he told the court that Vermont traffic laws are not enacted with the aim of padding town budgets.
Kranichfeld declined this week to comment on Davis' version of the court exchange. Kranichfeld referred Seven Days to his boss, State's Attorney T.J. Donovan, who did not return a phone message. The transcript of the court hearing will not be available for at least another week.
Emphasizing the alleged excessiveness of the $4500 fine, Davis points out that truckers can pay $5 for a one-time permit to use some of Shelburne's town roads.
MDM official Brenda Bernard adds that it's not unusual for her company's truckers to be heavily fined for alleged weight violations on Vermont roads. MDM drivers received about 10 such tickets in Vermont last year, while none were written for company truckers who regularly use roads in New York and New Hampshire, Bernard says.
But the seemingly disproportionate rate of ticketing in Vermont may simply mean that towns like Shelburne enforce their weight-limit laws more diligently than do localities in neighboring states.
Davis does not deny that the MDM truck was in violation of weight restrictions on Falls Road. Mathieu's load measured about 35,000 pounds, while the gross weight of his truck was close to 65,000 pounds. A posted sign specifies the "load limit" on the road as 24,000 pounds. But Mathieu was fined on the basis of the truck's total weight rather than the weight of the materials it was carrying, Davis notes.
He acknowledges that truckers do sometimes deserve to be assessed stiff fines for their bad behavior. Davis cites a recent case in Newport where "a grossly overloaded" truck was traveling with no highway permit and was slammed with a ticket for some $8000.
Renny Perry, former city manager of Vergennes, says, "Trucks are not favored when they stray off main routes" in Vermont towns that lie on major commercial thoroughfares such as Route 7 and 22A. In Vergennes, Perry recalls, revenue raised from traffic tickets was "a good number in the budget." He says he doubts, however, that this potential source of revenue "drives the rate of ticketing."
Currently the director of Trial Court Operations for the Vermont judiciary, Perry adds that trucks do pose "a real problem" when they exceed road weight limits. "They can do a lot of damage," he says.
Shelburne Town Manager Paul Bohne agrees that off-course and overweight trucks can wreck roads not built to handle heavy loads. "We don't have quotas for handing out tickets, but we do have fairly strict enforcement of truck laws," he says.
Referring to the MDM incident as well as to the ticketing of trucks in general, Bohne says, "To categorize any of these as a budgetary issue is incorrect."
He points out that Shelburne raised about $37,000 through traffic fines in fiscal 2008, compared to $56,000 in the previous year. In the context of an annual town budget of $6.3 million, neither of those are substantial sums, Bohne observes.
At the same time, Vermont is owed about $17 million in unpaid traffic fines — which does represent a substantial amount in the current state budget. Perry, who is involved in traffic-court issues, says a private collection agency was recently retained to dun the delinquents. It has so far brought in "hundreds of thousands of dollars," he reports.
Perry suggests the state could also try to collect unpaid fines by refusing to renew deadbeats' driver's licenses. Only one problem with that, he concedes. "Lots of people in Vermont drive with suspended licenses."