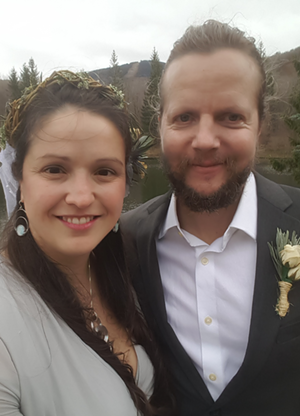 Courtesy Photo
John W. Spinney & Susannah K. Baumer
John W. Spinney (parents Pam Sargent Spinney and Randall and Karen Spinney; four siblings; one nephew) and Susannah K. Baumer (parents LaVonne K. Baumer and Eric and Joyce Baumer; eight siblings; 17 nieces and nephews) joined their lives in an intimate elopement at 11:11 a.m. on November 11, 2020. The couple, with minister John Zimmerman-Hardman and friend Lori Rogers, hiked up to Pico Mountain reservoir in Killington, Vt., for an outdoor marriage ceremony at one of their favorite places to recreate.
JW, a disability equity and transition specialist at the Vermont Agency of Education and coach at QT2 Systems, and Zana, a professional caregiver for Home Instead Senior Care and coordinator for vacation home rental services, reside in Stowe, Vt.
The newlyweds enjoy a life of adventure, which includes traveling, cycling, hiking and skiing. They would like to express how much they miss their family and friends and look forward to celebrating their union in the future!