Oliver Parini
Jane McDougal
In Jane McDougal's Burlington apartment, a storage tub and an oversize heavy-duty tote bag hold hundreds of the fiber artist's place-mat-size weavings. After working on her loom for months, McDougal shows her work publicly just once a year, at the Women's Festival of Crafts. The annual artisans fair, to be held at the Burlington Town Center this weekend, is in its 27th year. McDougal has participated for eight.
The weaver, now 61, was born legally blind. Her yarn works are delightfully unpredictable concoctions of color and pattern. Sometimes dozens of colors alternate throughout a single piece; sometimes large fields of one or two colors dominate. Iridescent metallic yarns electrify some of her works. Whatever the pattern, McDougal makes informed choices — she discerns what yarn she'll use, and how a weaving looks, by holding it very close to her eyes.
Her process, and her textiles, are closely related to Saori weaving. When Misao Jo founded this freestyle hand-weaving movement in Japan in 1968, she bucked the pressure to create technically "perfect" works. Above all else, Saori encourages individual freedom of expression.
"I really don't think about my disability," McDougal said. "I just do what I have to do, and that's it."
She's been weaving for 36 years, using a loom that her brother, Nick McDougal, gave her. "I had a few teachers that showed me how to do it," Jane said, "and ever since I've been doing it on my own."
Her brother helps by wrapping the warp in the loom, and friend and local artist Hilary Ann Love Glass uses a sewing machine to secure the weavings' edges.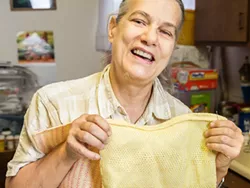 Oliver Parini
Jane McDougal
McDougal's loom occupies a corner of her apartment. Across from it, mountains of yarn that friends and family have brought her sit in tabletop bowls and plastic bins. Before using the yarn, McDougal wraps it into tight spheres, which make the weaving process go much more smoothly, she said. Her cat, August, isn't the type to trifle with the yarn — when he was a kitten, she trained him to lie down at her verbal and clapping command.
"I can't really say how much time [I spend weaving]," McDougal observed. She has plenty of other interests, evidenced by her library of large-print history books and stacks of CDs. "I've been reading politics since I was 12 years old," she said.
A "professional dishwasher by trade," as she put it, McDougal retired from her job at South Burlington High School this year. Gesturing to her apartment, she said, "I got basically everything I want."
McDougal pointed out that "weaving is a very ancient art," and she delighted in explaining that "Not too many people know where their clothes comes from.
"First they gotta weave the fabric before they can ever make the clothes," she mused of early makers. "That's how ancient [weaving] is — can you believe it?"
At last year's Women's Festival of Crafts, McDougal's weavings lay stacked atop a folding table, priced at two for $15. Interested shoppers should leave plenty of time to sort through the many options. For those who want to use the weavings as place mats, McDougal advised that they should be washed by hand and left to air dry.
"I make them [to use] at the dinner table," McDougal said, "[but] you can put them on the wall if you want to."