James Buck
Outdoor dining at Sweetwater's
The arms of a new ventilation system crawl across the ceiling at Stone Corral Brewery in Richmond, reaching over the bespoke plexiglass-and-wood dividers between tables.
"It looks like the Demogorgon from 'Stranger Things,'" server Francesca Genello said. "I think it makes people feel safer, though. It makes me feel safer."
In a world that feels more and more like science fiction, the normalcy of sitting down to a pint of the brewery's Hipster Salad double IPA and a mountain of nachos was comforting, even on Election Day 2020.
As the temperature drops and COVID-19 cases mount, people seek that comfort where they can find it, which may mean heading to their favorite eateries. "Obviously, now you have to do it differently and more safely, but I think people still crave it," Stone Corral co-owner Bret Hamilton said.
The new ventilation system is one of Hamilton's investments in the safest possible dining experience. It took a bite out of his rainy-day savings, but he's betting it will help him make it through the winter.
If Vermont restaurants were poised to head into winter like horses in a handicap race, they would be bearing ponderous weights.
Even in a normal year, most of the state's restaurants see reduced business between November and April, except for those in snow-sports hot spots. This year, restaurateurs face challenges that include capacity restrictions, customer safety concerns, far fewer tourists and cancellation of events that typically bring people to town for early dinners and after-show drinks.
Many of the state's dining establishments survived the first seven months of the pandemic thanks to expanded outdoor seating and federal and state loans and grants. But, as Vermont readies for an uncertain winter, those dollars are running out, and restaurant owners are bracing themselves with every tactic they can muster.
No one is expecting to turn a profit this winter. "It's not about making money," said David Melincoff, owner of Sweetwaters on Burlington's Church Street. "It's about losing as little as possible."
To chef Eric Warnstedt, the immediate future looks "weird, bleak, scary." Warnstedt is co-owner of Hen of the Wood in Burlington and Waterbury, Prohibition Pig in Waterbury, and Doc Ponds in Stowe. Across his four establishments, revenue overall from on-site dining and takeout business was down about 67 percent this summer, leaving little cushion for the slow season. "We are pretty terrified about the winter," Warnstedt admitted.
Restaurant owners are doing whatever they can to keep feeding their customers, sometimes in new ways. Some have invested in new air-filtration systems. Others have bought tents and heaters to seat diners outdoors as long as possible. Still others are offering grocery staples for sale and creating new takeout options. A few may even close for several months to save cash reserves for spring.
In the words of Leslie McCrorey Wells, co-owner of Burlington's Pizzeria Verità, Trattoria Delia and Sotto Enoteca, it's about "meeting people where they are."
Safety First
Since the March 17 shutdown of all on-site dining, the state has gradually eased restrictions on restaurants and bars. Gov. Phil Scott calls this "turning the spigot."
The on-site dining spigot has been stuck at 50 percent of normal licensed capacity, or a maximum of 75 people indoors, since June 26. Seated dining parties must have at least six feet of distance between them. Reservations or call-ahead seating are mandated, as are face coverings for staff and for customers when not eating.
Whether because of these guidelines, the state's relatively low infection rate, or a combination of the two, the Vermont Department of Health has yet to track any outbreaks or case clusters related to restaurants or bars, according to Ben Truman, public health communication officer.
But precautions are still warranted. Dr. Tim Lahey, an infectious disease specialist at the University of Vermont Medical Center, said some international research indicates that dining inside restaurants has contributed to COVID-19 transmission.
Even with carefully spaced tables and optimized ventilation, Lahey cautioned, "there is no getting around the fact that indoor restaurant dining means being in pretty close proximity with people outside of your own household without a mask on." People need to weigh the pros and cons, he said, with their own health in mind.
For his part, Lahey supports his favorite restaurants by ordering takeout. "I'm glad that people in the industry have jobs," he said, "and it's OK for them to have diners, because I don't think it's that risky." But that might change, he noted, if case counts continue to rise.
For those who do dine on-site, Lahey suggested seeking out well-ventilated spaces — outdoors, if possible. "It is increasingly clear that transmission through the air is a much bigger cause of transmission than stuff you touch," he said. And "the air that somebody exhales can probably hang there for a while, even hours in some circumstances, indoors."
What about partitions between tables? While they may reduce risk in a quick exchange, such as one with a store clerk, Lahey said he has not seen any research demonstrating that partitions are effective for longer intervals; over time, he believes, particles will float around or over them.
An outdoor tent? When all of the sides are down, Lahey pointed out, that's little different from being indoors. "I can't imagine that those viral particles know the difference between a plaster wall and a canvas wall," he said.
To minimize your risk inside a restaurant, Lahey recommended wearing a mask unless you're actively eating or drinking. You could also linger less over your meal — which, he noted, also helps restaurants seat more guests over a given meal window. "It's a little bit safer, and it's a way to support your restaurants," he said.
Talking Points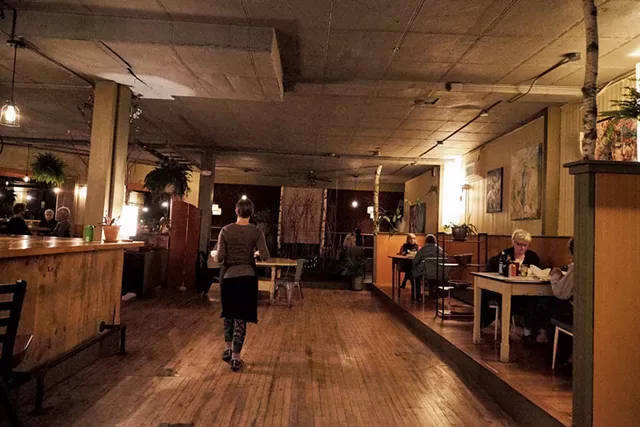 Courtesy Of Chip Natvig
The Black Krim Tavern's new larger space
Safety is a topic of conversation at Richmond's Stone Corral even before diners walk in the door. While customers now place online orders for Pickleback Pig sandwiches, growlers of beer and other takeout items, they still make reservations over the phone.
"A lot of people are craving that interpersonal contact now," owner Hamilton said. "I think that's one of the reasons people go out to dinner, right?"
Where the servers at Stone Corral used to talk through the beers on tap or the daily specials, they now explain the restaurant's $1 temporary surcharge to help defray pandemic-era costs, from personal protective equipment for staff to compostable takeout containers (see sidebar).
The surcharge "isn't enough money to move the bottom line," Hamilton said, but it "provides our service staff [with] a talking point that brings safety to the forefront with our patrons, which is far more valuable."
When customers make a reservation at the two Hen of the Wood locations, their confirmation comes with a clearly worded message outlining expectations for mask wearing and a link to more detailed health and safety information.
Co-owner Warnstedt said it can be a challenge to communicate safety guidelines without overwhelming customers. "People don't want to read 20 rules. They just want to eat," he said.
The Black Krim Tavern in Randolph has many regulars who come from over the New Hampshire border, chef-owner Sarah Natvig said. Her reservation confirmation email requests that guests coming from restricted travel areas rebook for a future date.
So far, Natvig said, "Everyone is really respectful," and a few customers have reluctantly canceled reservations. But she does not vet customers beyond that. "I'm not a police officer," she said.
The Great Outdoors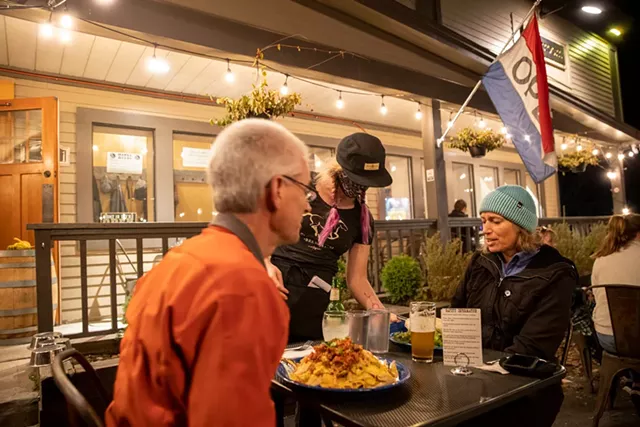 James Buck
Outdoor dining at Stone Corral Brewery
Like many restaurants this summer, Sarducci's in Montpelier took advantage of its outdoor space. The owners installed a plant-filled tent over a parking lot and umbrella-covered tables along the river.
Those options were so popular that the tent stayed up through November 6. At that point, co-owner Carol Paquette said, the realities of winter weather outweighed the benefits of outdoor dining. "I can't have servers walking out in the snow or down icy steps," she said. "But I'm sad and a little bit scared to see it go."
A couple weekends ago, when temperatures dipped into the 40s, Sweetwaters was still seating guests outside at tables arranged around its five new tall, red-flamed propane heaters. The members of one group even brought their own blankets with them, Sweetwaters owner Melincoff reported.
Normally, by November, the restaurant would have stored away its outdoor furniture. This year, "we're trying to keep outdoor seating open as long as possible, and customers are definitely still asking to sit out there much later than usual," Melincoff said. "When it gets dark and cold at 4 or 4:30, it's going to be interesting."
At Fire & Ice Restaurant in Middlebury, co-owner and general manager Paris Rinder-Goddard also hopes to keep outdoor options going. He has erected three individual "safari" tents, each with its own propane heater, that are suited for private parties of up to 10.
"Outdoors has been a huge piece of what's kept us going," Rinder-Goddard said. "The weather has already pumped the brakes. The tents are my attempts to cheat that."
The tents are open on one side for air circulation, though Rinder-Goddard may add some lighter plastic to cut the wind. "You want to dress like a Vermonter; no linen pants," he joked.
Space Out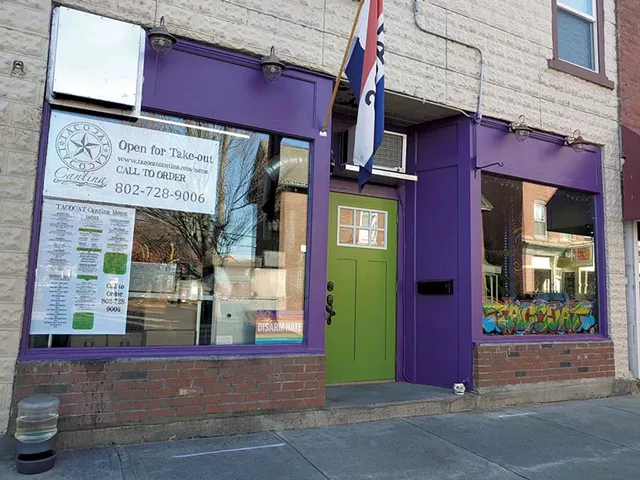 Courtesy Of Tacocat Cantina
Tacocat Cantina in Randolph
On one block in downtown Randolph, a pair of restaurants has played musical chairs to position themselves for winter survival.
The Black Krim Tavern closed in its original Merchants Row space and reopened on October 1 two doors over. On November 6, the food truck Taco Truck All Stars opened a brick-and-mortar offshoot, Tacocat Cantina, in the space vacated by Black Krim.
Black Krim's Natvig hadn't planned to move her restaurant out of the cozy 1,000-square-foot space it had occupied since 2010. But 2020 is not about cozy dining. As it got cold, Natvig said, "I knew the winter would not warrant opening inside. I'd be able to seat, like, eight people."
So, when Natvig's landlord offered her a bigger spot on the same block, she took the plunge. The chef estimates her new space, the former home of a bar, is about three times the size of her old one. It allows her to seat essentially the same number of diners she did before the pandemic, now "super spread out."
In the former Black Krim space, business partners Adam Hineman and Jenn Bird spent October painting the walls and storefront lime green and purple to transform it into the new home of their takeout taco business.
After the pandemic wreaked havoc on the Chittenden County-based taco truck's summer event schedule, a local farmer invited the truck owners to set up residence on Route 66. The community welcome was "huge and humbling," Bird said. "About half of our customers came religiously every week. That's small-town love."
Still, the truck's revenue was down, and winter looked bleak — until a customer who happened to be the landlord of the Merchants Row block offered Hineman and Bird the newly vacant space. "If it wasn't for the pandemic, this obviously wouldn't have happened," Bird said.
Breathe Easier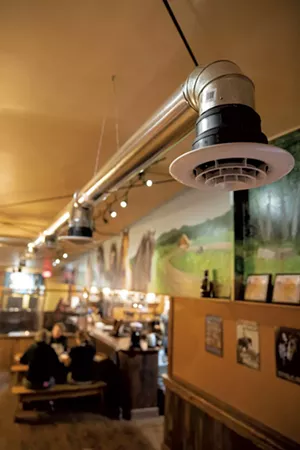 James Buck
HVAC system at Stone Corral Brewery
Engineering challenges are part of what drew Stone Corral's Hamilton to brewing in the first place. Now he embraces them as he takes pandemic precautions.
Hamilton installed the formidable ventilation system that his staff compares to a sci-fi horror creature following guidelines from the American Society of Heating, Refrigeration and Air-Conditioning Engineers — which may well exceed those of the World Health Organization and Centers for Disease Control and Prevention, he said. An air-to-air heat exchanger now pumps a gallon of fresh outdoor air per seat per second into the dining room while exhausting stale air, he explained.
Other restaurants rely on their current equipment with some additions. Pizzeria Verità's HVAC system was a good fit for MERV-13 filters — the engineering society's current recommendation — which the restaurant installed after two months on a waiting list. At the two Hen of the Wood locations, the open kitchens require very strong hood exhaust systems, co-owner Warnstedt said, which have the added benefit of turning over the air in the dining rooms frequently.
Lahey, the infectious disease doctor, said that "it may just not be practical for [restaurants] to totally redo a $100,000 ventilation system, but ensuring ventilation in some way could be helpful." Even cracking windows — weather permitting — can help with air circulation, he suggested.
Takeout Trade-Off
Back in the spring, when restaurants could only offer takeout, many kitchens previously focused on traditional dining faced a steep learning curve. Rinder-Goddard recalled one of the first nights Fire & Ice offered takeout in May. The restaurant was swamped with almost 300 orders. "It was pouring rain, and customers were sitting in the parking lot for 45 minutes," he said. "I was crying and bleeding out of my ears."
His team has learned a lot since then, but takeout is "a completely different beast," he said.
At Pauline's Café in South Burlington, owner David Hoene is seeing takeout orders increase with the colder weather. While the cash flow is welcome, the problem is that everyone still wants to eat dinner in the same roughly two-hour window.
"The difficulty now is to not let takeout overwhelm the in-house customer experience," Hoene said. To help, he is now opening on Tuesdays for takeout only, hoping to divert some of that business.
Takeout customers will likely look for delivery as inclement weather sets in. But delivery services are notoriously expensive for restaurants, taking cuts of 15 to 30 percent on orders placed through them.
Wells took advantage of a 60-day commission-free offer to list Pizzeria Verità and Trattoria Delia on DoorDash. Her staff tried handling delivery themselves, she said, but found it too labor-intensive. She plans to reevaluate the service once its commission kicks in.
Pantry Provisions
Beyond ready-to-eat meals, restaurants are ready to stock your pantry and wine cellar, too. The takeout menus of both Hen of the Wood locations include "Hen provisions": meal components such as fresh, uncooked ricotta ravioli and frozen Bolognese sauce. The restaurants have recently started wine clubs with themed bimonthly offerings sold by the bottle.
"We're just going to continue to do a little bit of everything," co-owner Warnstedt said. "It all keeps the machine moving."
Wells has completely rebranded her snug, subterranean wine bar, Sotto Enoteca, as Sotto Provisions, with a corresponding online store. "I thought it was something that could really work in Sotto's small space," she said. "A nice little Italian market."
Sotto Provisions sells handmade pastas and sauces from the Trattoria Delia kitchen; pizza kits from Pizzeria Verità; local and imported meats, cheeses and produce; wine; and a veritable Italian pantry of other items.
"If we ended up shutting down again, we'd have a store that we could keep open and have some income coming in — and we'd be able to keep staff members employed," Wells said.
Natvig at Black Krim is thinking along the same lines. Her husband, Chip Natvig of Pebble Brook Farm in Braintree, is moving his farm store to her new, larger restaurant space and adding meats and seafood to his inventory. Where the pool tables of the town bar once stood, customers will be able to buy creatures that swam near tide pools.
"Grocery seems like a solid economic plan now," Sarah Natvig said. It may also prove critical, she added, if on-site dining is closed again or slows way down. "A good plan B is really what it is."
Closing Time
A combination of strategies has helped restaurants keep going at low throttle. But, as winter slows business, some may find insufficient reason to keep the stoves on.
The owners of Burlington's Penny Cluse Café and Lucky Next Door planned to close their takeout operation for the winter on November 2, leaving fans temporarily bereft of favorites such as buckets of cheese-lashed home fries. But co-owner Charles Reeves said strong orders have encouraged him to stay open until the Monday of Thanksgiving week, when he'll reevaluate.
Reeves explained that his on-site breakfast and lunch model only works at high volume, which capacity restrictions currently preclude. "We're taking it week by week," he said. "Everybody wants to keep working, but what's really important is that, next spring, we have money to open."
A few blocks away at Sweetwaters, Melincoff is seriously considering cutting back from seven to five days a week through March and suspending lunch service. Not only is midday business down with fewer workers and tourists in town, but he is concerned about losing his college student employees over the extended break this year from Thanksgiving to February.
Trimming the schedule would also give his team needed breaks during what promises to be an especially challenging winter season. "The physical amount of work, the stress, managing the public and the staff, managing the ambiguity — it all takes its toll," Melincoff said.
Still, like many restaurant owners interviewed for this story, the 39-year hospitality business veteran believes his industry has the grit and creativity to make it through. "We just need to suit up and go to battle every day until it's over," Melincoff said. "It's about perseverance."
Trash Talk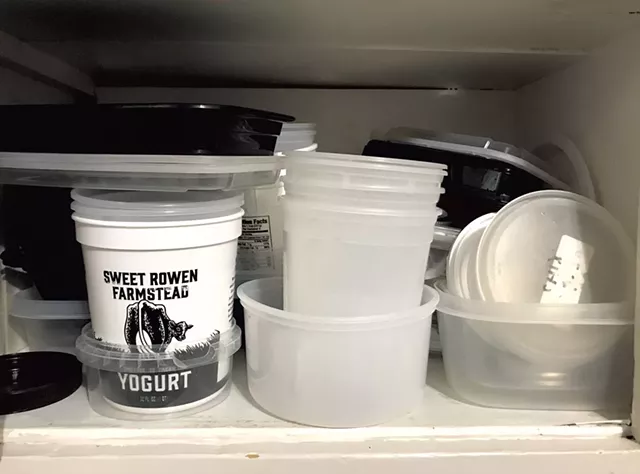 Sally Pollak ©️ Seven Days
Takeout containers in author's cupboard
As the takeout business model helps keep restaurants afloat during the pandemic, it also presents diners with a lot of new waste to deal with. Who needs Tupperware when you've got containers that held chicken curry from Burlington's Pho Hong, corn chowder from Cornwall's Windfall Orchard and chow fun from Stowe's Umami jammed into a kitchen cupboard? Such containers cannot be returned to restaurants for reuse, per the Vermont Department of Health. So, once the cupboard is full, they tend to get tossed in the trash (Styrofoam, foil), recycling bin (plastic, glass) or compost (certified paper/cardboard products), depending on their composition.
Deciding how to dispose of our takeout containers might sound simple on paper, which can be recycled. But in real life, it gets complicated.
A plastic container, like the one Pho Hong's curry comes in, can be recycled, but only if it's empty and rinsed out, said Michele Morris, director of outreach and communications at Chittenden Solid Waste District. If it's dirty or contains food debris, it belongs in the trash.
A greasy pizza box can be recycled. But if there's congealed cheese on it, toss it, Morris said.
Only products clearly labeled "certified compostable" (also signified by the initials BPI) can be put in the compost, she continued.
A traditional paper coffee cup lined with plastic is not recyclable because it's composed of two materials bonded together, Morris said. Throw it out.
The disposal issue "literally gets a little messier if you have a smoothie out and about" and no way to clean out the plastic cup it's served in. "We don't want it in the recycling bin," Morris said. "It's a real problem. Throw it in the garbage."
The "compostable" bags that line compost bins are, indeed, acceptable compost, according to CSWD. So are the compostable bags used for vegetables at some grocery stores, including City Market, Onion River Co-op.
Although those bags have no value to CSWD, Morris said, "We recognize that they help people keep food scraps out of the trash."