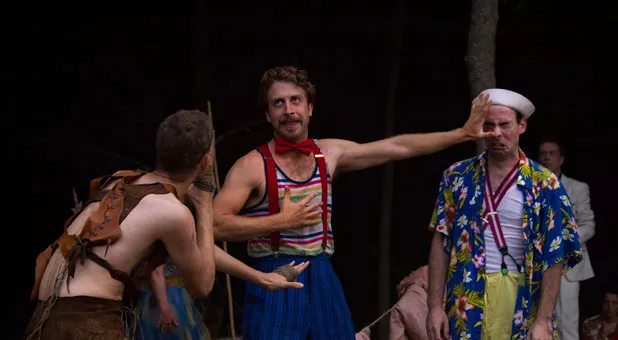 It's ironic for a performance of The Tempest to be canceled — twice — by rain. Actors and audiences were sent scrambling for cover on both Friday and Saturday nights in North Hero as rain sheeted across the open-air stage, robbing Prospero of the prospect of concocting his own tempest with magic and incantations.
But that's the risk you take when performing outdoors in Vermont, as Vermont Shakespeare Company's executive director, John Nagle, ruefully acknowledged in his introductory remarks: "We were going to do, The Winter's Tale next year — but after this year's tempest, maybe we won't."
Still, the veteran director and his wife, artistic director Jena Necrason, seem ready to weather a few storms for the sake of the Bard. (The show went on in extra performances on Sunday.) This is their fifth year producing Shakespeare in Knight Point State Park in North Hero, and the first year they will also perform at Oakledge Park in Burlington — this coming weekend. The company started small: In 2005, Necrason's parents, who live in Alburgh, suggested that the two veterans of the New York stage put on a little show as a benefit for the Champlain Islands Parent Child Center. It didn't take long for the idea to blossom into a full-blown theater company.
"We're both trained as Shakespearean actors," Nagle says. "In fact, we met during a run of Richard III, so we just went whole hog, brought in a bunch of people we knew and carved a little stage out of the woods to start our own theater company."
The couple, who live in New Jersey and regularly perform in New York, are committed to ongoing performances in North Hero, but aim to test the waters for Shakespeare's appeal with this year's Burlington run.
"The Hudson Valley Shakespeare Festival started out in the same way ours did, in the woods with a simple performance of A Midsummer Night's Dream, and now it's a huge attraction," Nagle says. "We feel there's a gap to fill left by the Burlington Shakespeare Festival, because, even in a crowd of veteran theatergoers, you can always find someone who has never seen Shakespeare performed live."
There's something magical about seeing these works in an open-air theater. The Tempest is set on an island and takes place entirely outdoors, so when the actors suddenly appear from their leafy "dressing rooms" to suffer Prospero's magical tempest, the trees seem to howl in solidarity. The current of energy first invoked by Prospero's incantations remains high throughout the show, whether that spark is embodied by the brutish, Gollum-like Caliban (Dean Linnard), revived by the drunken antics of sailors Trinculo (Christopher Payseur) and Stephano (Collin Smith) or reflected in the eyes of the two young lovers.
With professional actors largely culled from Necrason and Nagle's New York community, the performances are a joy — and the staging, even more so. As Ariel, Necrason flits among the trees and around the grassy stage like the invisible spirit she portrays, while the physical comedy enacted by Caliban and the two sailors is riotous and perfectly timed. When Trinculo crawls under a pile of rags, with which Caliban has disguised himself to escape a second tempest, the resulting quadruped of their jumbled limbs is worthy of a "Saturday Night Live" skit.
Far more challenging than the antics of buffoons and drunkards, though, are those of Shakespeare's lovers. In inexperienced hands, young love on stage can become a low point in the emotional current, something to be endured before returning to the high jinks of a Falstaff, Puck or Caliban. In the skillful hands of Burlington native Marielle Renée Rousseau and Nick Piacente, Miranda and Ferdinand are fully shaped characters far greater than the sum of their requisite kisses and caresses.
Costume designer Becky Bodurtha has taken a contemporary view of the costumes for the shipwrecked royals, lending an edgy note to the production. The dignified speech maker and councilor Gonzalo (Steven Cook) is outfitted in an argyle sweater-vest that lends levity to his query, "Is not, sir, my doublet as fresh as the first day I wore it?" as he tugs at the diamond-patterned cotton. The dashing linen suit worn by the usurping Antonio is similarly memorable; if only Parrish Hurley could imbue the villain with a touch more knavishness.
Linnard pours heart and soul into the crouching, wretched slave Caliban, spending much of the performance hunched over on his knuckles. The requisite teeth gnashing and dirty garments capably represent Caliban's evil nature, but Linnard does well to infuse a touch of pathos, as well.
Ultimately, though, it's a short moment between Ariel and Prospero (Michael Sean McGuinness) that is most tender: "Do you love me, master? No?" she asks. Prospero pauses before answering, "Dearly, my delicate Ariel," creating a charged moment that it's easy to overlook when reading the iambic pentameter. This interpretation is skillful and unexpectedly touching, considering that Ariel's gender is generally viewed as ambiguous. Played by a male, the sprite could easily have been a Puck to Prospero's Oberon, but here, the female casting creates a lasting moment of tenderness.
Artistic choices such as that one make this performance of The Tempest masterful. With delicately timed interactions, Nagle and his cast bring new interpretations to the centuries-old tale.
The Tempest, produced by Vermont Shakespeare Company, Friday, August 17, through Sunday, August 19, 6 p.m.; plus 2 p.m. matinee on Saturday, in Oakledge Park, Burlington. $25. Info, 874-1911. vermontshakespeare.org