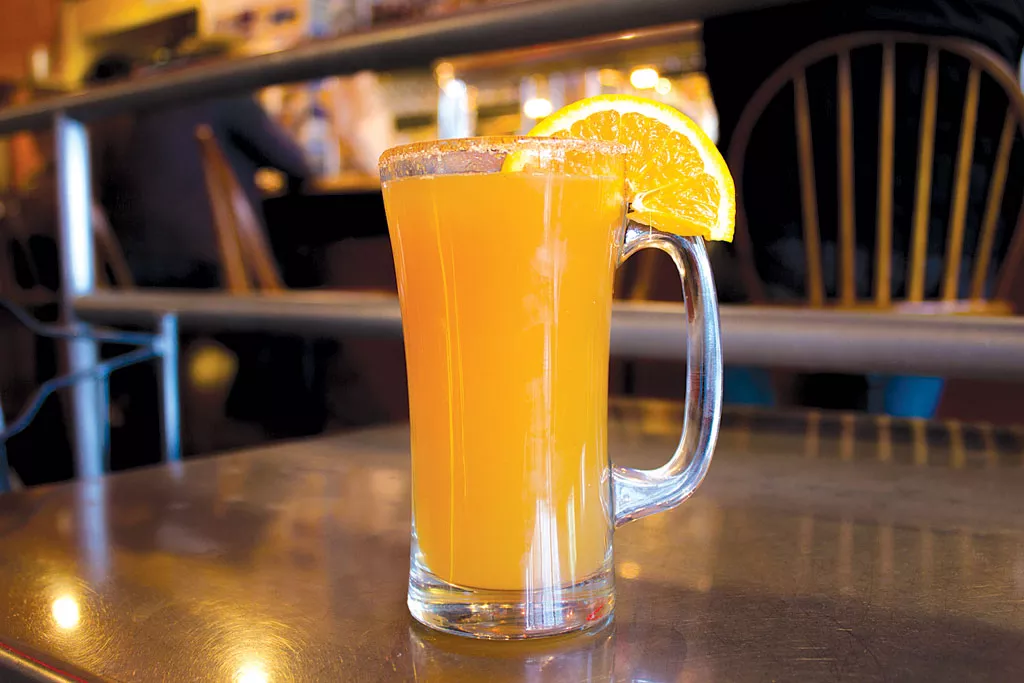 Vermonters love a stiff drink, and that's especially true in winter. A nip of whiskey warms the belly and soul, and calms a body weary from skiing, snowshoeing, skating or even wandering the Church Street Marketplace on a blustery afternoon.
The season's subzero temps are made for crackling fires and hot toddies, but a few restaurants get more creative with their winter drinks. As artisan distilleries crop up across the Green Mountains, local spirits are increasingly common on Queen City cocktail lists. And the drinks seem more nuanced and sophisticated with the opening of each new restaurant.
Here are four Burlington bars where locals like to imbibe in style.
Tucked into the lower level of Hotel Vermont, Hen of the Wood-Burlington just celebrated its first anniversary. All dark wood and low light, it's easily the Queen City's coziest restaurant. And winter just might be its finest season.
Heat radiates from two fireplaces, and the cut logs stacked along the wall in a fireside lounge by the bar remind you that you're in woodsy Vermont.
Combine that atmosphere with some of the city's most sophisticated adult beverages and snacks, and it's easy to while away an hour or three just watching the flames dance.
The boozy bill of fare changes frequently, but a few standards anchor the list. The rye Vieux Carré, made with cognac, Benedictine and bitters, is a slow sipper — a smart choice to drink on its own or with a meal. The menu changes daily, too, but the food is always locally grown, fresh-sourced, seasonal and excellent.
A brick oven and open kitchen warm this downtown pizzeria, which offers excellent pies and other Italian cuisine. But take in the long, candlelit bar and craft cocktails based on fine liquors, and you'll see why Verità is also a worthy stop for a nightcap on a crisp, dark evening.
Cold hands can cling to a Toddy DiCiociaro, a hot, spiced cider drink spiked with citrusy Amaro CioCiaro and sweetened with honey. A stronger option is the Brooklyn to Burlington: The dark bourbon beverage balances sweet maraschino liqueur and rich Italian vermouth with a sharp shot of amaro. If you like bitters, choose from several twists on the Negroni. Meanwhile, connoisseurs of clear-liquor drinks can opt for a foamy, gin-based Matterhorn, swirled with bright citrus and herbs.
Pair any of these with a wood-fired Neapolitan pizza or a plate of charcuterie, and the winter wind will feel miles away.
Matthew Thorsen
Center Street Toddy at the Daily Planet
This Burlington institution has been in business for more than three decades and, in a best-of-Vermont survey earlier this year, locals awarded it top honors for superlative cocktails.
Thaw your chilled bones with a Center Street Toddy, a twist on the hot classic made with Bushmills Irish Whiskey, hot cider, maple syrup and sweet spices. Or go for a rummy hot cider martini, or one of eight house martinis.
It's easy to soak up the booze with a recently refurbished menu of dressy small plates from ambitious young chef Justin Bigelow. Fun dishes such as Cajun mac and cheese, confit duck poutine, and roasted lamb lollipops are tailor-made for sharing.
Matthew Thorsen
The Tavern Toddy at Bluebird Tavern
Bluebird's menu and location have changed since its 2009 opening, but the tavern's cocktail list has remained steadfastly excellent. While some bartenders forge inroads into obscure beverage territory, lead cockteliers Scott Doherty and Ian Cyr offer thoughtful takes on tried-and-true classics. In their hands, standard mixes such as the Aviation — a floral gin martini with violet liqueur — and the Pêche Manhattan — with peach-infused bourbon and cinnamon bitters — become top-shelf.
Warm up with a glass of Tavern Toddy. More exotic than the traditional hot toddy, its whiskey is fortified with Zwack, an aged Hungarian herbal liqueur (similar to bartender favorite Fernet-Branca), and sweetened with a shot of lemon and honey and a clove-spiked lemon peel.
Drink any of these with an appetizer of charred, roasted eggplant with ricotta or maple-glazed Brussels sprouts for a light snack at the bar. Or sip them as a starter to a dinner of roasted pork-shoulder bucatini, duck with plum preserves or, on Mondays, the meatiest $10 burger in town.
Affrontez l'hiver dans ces bars chaleureux de Burlington
Même s'il fait un froid de canard, n'hésitez pas à sortir de vos tanières : quelques restaurants offrent des boissons d'hiver des plus réconfortantes.
Les Vermontois aiment bien prendre un petit remontant, particulièrement l'hiver. En effet, rien de mieux qu'un bon whisky pour se réchauffer le cœur et l'esprit après une dure journée de ski, de raquette ou de patin, ou encore après avoir déambulé au marché de la rue Church en pleine tempête.
Même s'il fait un froid de canard, n'hésitez pas à sortir de vos tanières : quelques restaurants offrent des boissons d'hiver des plus réconfortantes et parfois très imaginatives. On trouve d'excellentes distilleries artisanales dans la région des Montagnes vertes, et les spiritueux locaux sont de plus en plus présents dans les cocktails servis en ville. Les boissons proposées rivalisent d'ailleurs de raffinement chaque fois qu'un nouveau restaurant ouvre ses portes.
Voici quatre bars de Burlington où vont les gens du coin pour boire avec style.
Situé au rez-de-chaussée de l'Hotel Vermont, le Hen of the Wood vient de fêter son premier anniversaire. Ses boiseries sombres et son éclairage tamisé en font certainement le restaurant le plus intime de Burlington. Et c'est en hiver qu'il est le plus invitant.
Les deux foyers dégagent une douce chaleur, et les bûches empilées le long du mur, près du bar, rappellent les forêts du Vermont.
Combinez à cette atmosphère certaines des boissons et des plats les plus raffinés en ville, et vous verrez à quel point il est facile de perdre la notion du temps.
La carte des alcools change fréquemment, mais certains classiques demeurent bien ancrés. Le Vieux Carré, fait de rye, de cognac, de bénédictine et de bitters, se déguste lentement – délicieux sans à côté, il accompagne tout aussi bien un repas. Le menu change tous les jours, mais les aliments sont invariablement d'origine locale, frais, de saison et d'excellente qualité.
Située au centre-ville, cette pizzéria dotée d'un four en briques et d'une cuisine ouverte offre d'excellentes pizzas ainsi que d'autres plats italiens. Son long bar éclairé aux chandelles et ses cocktails artisanaux à base de liqueurs fines en font également un lieu idéal pour terminer la soirée.
Pour vous réchauffer, commandez un Toddy DiCiociaro, une boisson chaude et épicée à base de cidre, avec une pointe citronnée d'Amaro CioCiaro et une touche de miel. Si vous cherchez quelque chose de plus costaud, optez pour le Brooklyn to Burlington, à base de bourbon noir, avec de la liqueur de marasquin, dont la saveur douce est contrebalancée par l'amertume d'un riche vermouth italien et un trait d'amaro. Si vous aimez les bitters, plusieurs variantes du célèbre Negroni sont offertes. Les amateurs de boissons claires apprécieront le Matterhorn, un cocktail mousseux à base de gin, servi avec un zeste de citron et des herbes.
Accompagnez votre consommation d'une délicieuse pizza napolitaine cuite au four à bois ou d'un plateau de charcuteries et vous verrez, l'hiver vous semblera loin... très loin. The Daily Planet
Dans le cadre d'un sondage sur ce qui se fait de mieux au Vermont, cette institution de Burlington, établie depuis plus de trente ans, a reçu les plus grands honneurs pour ses extraordinaires cocktails.
Vous êtes transi? Commandez vite un Center Street Toddy, variante du classique chaud composée de whisky irlandais Bushmills, de cidre chaud, de sirop d'érable et d'épices douces. Vous êtes plutôt du type martini? Essayez la version « rummy » au cidre chaud, ou l'un des huit mix maison.
Histoire de grignoter tout en buvant, le jeune chef Justin Bigelow propose un menu réinventé comprenant plusieurs plats légers à partager, comme le macaroni au fromage cajun, la poutine au confit de canard et les sucettes d'agneau rôti.Bluebird Tavern
Le menu et l'emplacement de Bluebird ont changé depuis l'ouverture en 2009, mais la liste des cocktails est demeurée remarquable. Contrairement à certains barmans, qui repoussent sans cesse les limites du possible, les spécialistes en cocktails Scott Doherty et Ian Cyr réinterprètent les classiques indémodables. Grâce à leur touche magique, les boissons standards comme l'Aviation, un martini floral à base de gin et de liqueur de violette, et le Pêche Manhattan, composé de bourbon infusé à la pêche et de bitter à la cannelle, atteignent vraiment un autre niveau.
Plus exotique que le toddy chaud traditionnel, le Tavern Toddy saura vous réchauffer : le whisky qui le compose est fortifié avec du Zwack, une liqueur hongroise au goût herbacé (comparable au populaire Fernet-Branca). Un soupçon de citron et de miel et une écorce de citron piquée de clous de girofle complètent le tout.
Au bar, optez pour l'entrée d'aubergine grillée et de ricotta ou pour les choux de Bruxelles glacés à l'érable. À table, sirotez doucement votre cocktail en attendant votre plat : bucatini à l'épaule de porc rôtie, canard à la confiture de prunes, etc. Le lundi, pour 10 $, on vous servira le burger le plus copieux en ville!