A rendering of the development
Farmers, filmmakers and at least one forester came to the Tunbridge Public Library last Thursday to make an important phone call. The group of 50 sat in rows facing a laptop that connected them to Utah.
There, an engineer did his best to explain how he planned to build a sustainable development for up to 20,000 residents in the back hills of Vermont. Most people on the receiving end were already acquainted with the basic elements of David Hall's settlement scheme, thanks to the investigative work of a local blogger. They knew it was inspired by an obscure 19th-century Mormon document; that the community he envisioned would be sustainable, with rooftop greenhouses and electric vehicles; and that jobs, food and housing would be provided on-site.
Attendees, most of them longtime residents, had plenty of questions for Hall, who has already acquired 900 acres in the vicinity of the Joseph Smith birthplace in nearby South Royalton. Smith founded the Mormon church, also known as the Church of Jesus Christ of Latter-day Saints, which owns roughly 350 acres around the Vermont memorial.
His voice amplified on speakers, Hall responded to every query in the patient, obliging manner of a corporate president being interrogated by stockholders.
How could people produce enough food within three square miles?
More fish and rabbits; less red meat.
Would nonbelievers be welcome?
Yes.
How would he get the necessary permits?
Unclear.
When would construction begin?
Not for several decades.
At times, people laughed openly at Hall's answers. But there was a reason they kept the eccentric flatlander on the line for 90 minutes.
However improbable, Hall's plan could have a real impact on the four tiny towns — Sharon, Royalton, Strafford and Tunbridge — affected by it. He's already purchased nearly a fifth of the 5,000 acres he wants to acquire, and he has the resources to keep buying. His father invented a synthetic diamond used for drilling and manufacturing, and Hall sold the family company last year for roughly $100 million.
Kyle Milaschewski, an engineer from Sharon who lives adjacent to 150 acres now owned by Hall, had a pointed question for the "neighbor" he has never seen: If the project fails, Milaschewski wanted to know, "What are you going to do with this land?"
Hall's response was not reassuring: "I haven't even thought about that."
Sarah Buxton, the state representative for Royalton and Tunbridge, believes Hall's recent under-the-radar acquisitions highlight a potential blind spot in certain Vermont towns: No one is in charge of monitoring land purchases to identify these types of trends.
"I am taking this seriously," Buxton said.
Locals found out about Hall's plan just two weeks ago, when a local librarian-turned-blogger posted a story on the news site Dailyuv, which publishes citizen journalism covering the Upper Valley.
Like any resourceful small-town librarian, Nicole Antal had been trawling for potential donors to Sharon's Baxter Memorial Library late last year when she noticed something peculiar in the town's property-transfer records. A Utah entity called NewVistas Foundation had been buying up large tracts of land in Sharon and nearby towns. Further research led her to Hall, a Mormon engineer and entrepreneur based in Provo, Utah.
While a student at Brigham Young University, Hall had become fascinated with a five-page document Smith drafted in 1833. Called the Plat of Zion, it outlines plans for a city of believers, complete with street width and population specifications.
Although it's not part of Mormon scripture, and Hall himself noted that some in the church dismiss the document as "a bunch of baloney," he's wanted to build a version of Smith's city since his college days.
Cities, actually. In a phone interview before the Tunbridge talk, Hall said he wants to merge his burgs into hyper-modern megalopolises. He knows it won't happen in his lifetime, but that hasn't stopped him from buying up land in his home state and in Nevada. He's also scouting locations in China, India and Bhutan.
Joseph Smith left Vermont for points west, but his birthplace attracts thousands of Mormons each year. Hall and his family visited when he was a boy.
The church maintains the property, which includes an obelisk and a place of worship with a New England-style steeple. But LDS officials didn't appear to be aware of Hall's plans to build a settlement around it. "We're just learning about this proposed development and haven't had time to study it," church spokesman Dale Jones said in an emailed statement from Salt Lake City.
One hundred and fifty engineers are working on the project in nearby Provo, according to Hall. They are focused on designing stand-alone technologies that play a role in his communities but could generate money long before construction begins. Smartphone-operated blinds are already for sale online. Hall is especially excited about a low-water toilet that would monitor people's health by regularly taking urine and stool samples.
Although he has a legion of engineers, the phlegmatic 69-year-old handles his own PR, and, after locals caught wind of his plan, he has been liberally dispensing his phone number and email.
In an unprompted email to a reporter the day after the conference call in Tunbridge, Hall sounded energized: "By the way ... my ancestor, John Alexander, was one of the first martyrs in the struggle to protect Vermont from the depredations of [French king] Louis XV and his allies ... I think that by inheritance, I have ample right to take environmentally friendly development of the area to the next level. Lots of fun ahead for all!"
He has ample money, too, and while many locals oppose Hall's plan, some are selling to him. He bought one 63-acre parcel in Tunbridge for $140,000. A few miles away, he purchased another 110 acres for $145,000. In total, local real estate agents have already hooked him up with 900 acres. Since news of his plans surfaced, Hall said, others have come calling, looking to off-load property.
In Sharon, several of Jack Jennings' neighbors have sold. He'd prefer to keep his brook-side homestead in the family, but he hasn't written off the possibility of following suit. At the right price, he observed, "Everything's for sale."
Hall told residents it will be several decades before his family attempts to build anything in Vermont, and they will take good care of the land they acquire in the meantime. Hall's 32-year-old daughter, Barbara Catron — heir to the project when he dies — is in charge of managing and renting out the property.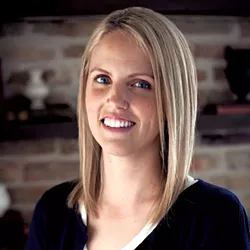 But the rapid consolidation of so much land under single ownership may have a real effect on residents. Hall's purchases could inflate property values, which could in turn raise tax bills and limit other people's ability to buy property.
The Two-Rivers Ottauquechee Regional Commission is organizing a meeting for residents and officials in all four towns to discuss the implications of Hall's project.
One goal, according to Paul Haskell, who represents Sharon on the commission, is to inform people about the regulatory protections already in place. Most notably: Act 250, the state's rigorous environmental review process, created in the 1970s. More than 10 years ago, a Mormon man from New Jersey tried to build a gift shop across the road from the Joseph Smith Birthplace Memorial, but state officials ruled that it would degrade agricultural soils and clash with nearby homes. Multiple court battles later, he still doesn't have a permit.
Among other criteria, Act 250 requires development proposals to be consistent with town plans. And Sharon, Royalton, Strafford and Tunbridge all have plans stating an unequivocal commitment to preserving their rural character.
Still, Haskell suggested, it would be wise for the towns to revisit their plans to make sure there's no room for misinterpretation: "Ten years ago we thought, We'll write down the phrase 'rural character,' and that covers a lot." Positing a hypothetical, he continued: "What happens when someone comes along and proposes a nine-story building that looks like a dairy barn?"
John Echeverria is a professor at the Vermont Law School who specializes in property and land issues, and he also serves on Strafford's planning commission. He described Hall's vision as a "uniquely worrying development proposal" because details are nebulous and the time frame is distant — but land purchases are already under way.
"I think the project is a potentially useful wake-up call to communities," Echeverria observed. "What this project shows is that Vermont has a lot of attractive territory that could attract major development, and if towns don't have in place plans and regulations to address it, they may find they are in a position where they cannot effectively influence the course of development." In his opinion, Vermont's land use regulations, while advanced for the 1970s, have "atrophied" in the intervening decades.
Local zoning can provide an additional layer of protection against unwanted development. But Sharon and Tunbridge are among the towns that have never enacted such rules — in large part because many people consider them an infringement on landowner rights.
Vermont has a history of attracting planned communities, from back-to-the-land hippie communes in the late 1960s to the fundamentalist Christians who settled in Island Pond a decade later. Locals thought the Northeast Kingdom Community Church — now Twelve Tribes — was a cult. The group still operates businesses in Vermont.
In Hall's "city," people would live in energy-efficient modular homes within walking distances of heavy industry, farms and a central square consisting of 24 four-story buildings. Residents would deposit their assets in a communal fund upon arrival, though they'd be free to leave whenever.
As fanciful as Hall's vision sounds, Echeverria suggests it's not unreasonable to expect that climate change will spur coastal residents to migrate northward. Hall, too, mentioned this. Emergency preparedness is a Mormon tradition; every family is encouraged to keep up to a year's supply of nonperishable food on hand.
"In the grand scheme," Echeverria continued, "Vermont is going to be ripe for new development."
In the short-term, old-fashioned Yankee obstinance might be the first line of defense.
Ivy Leaf works at the South Royalton Market, a food co-op and local gathering spot at the center of town. She and her mother live right by the Joseph Smith Birthplace Memorial on Dairy Hill Road, but she said they demurred when a real estate agent asked if they'd sell. Leaf summarized her concern: "The Mormons have their church. Our church is the outdoors, and he's buying it up."
As if on cue, a man in a denim cap reading the paper at nearby table started extolling the woodcocks inhabiting the land in Hall's path.
Royalton Selectboard chair Larry Trottier lives on Dairy Hill, too. Standing among gleaming green and yellow John Deere mowers on sale at the family business, he scoffed at the notion of moving: "I've lived here all my life on this hill!"