Caleb Kenna
Stacy Beckett
S
tacy Beckett is famous. At least, sometimes it feels that way to her. She and her mother, Jane Smith, are part of a public service messaging campaign — created in partnership with the
Vermont Department of Health
and HMC Advertising — to increase awareness of, and end, the stigma surrounding substance use disorder. The commercial they recorded, "End Addiction Stigma — Stacy & Jane's Story," has been viewed on YouTube more than 273,000 times.
Sometimes people recognize Stacy while she's working at Community Health Rutland. That worried her at first, because of the subject matter. Stacy is in recovery from substance use disorder. From about 2010 to the middle of 2015, she struggled with addiction to various substances, including crack cocaine and heroin. It was a dark time in her life.
Stacy doesn't speak in the video, though she appears on-screen and often looks straight into the camera. The only voice is her mom's: "Stacy, out of all of my children, was not somebody who smoked cigarettes. She was not somebody who drank. She was not somebody who went out and got into trouble," Jane says.
"So, I couldn't figure out what happened. What did I do, what did I not do? What happened to her?" Jane continues. "At that point I didn't really realize, substance use disorder happens to everybody."
It's a powerful clip. But there's more to the story. Stacy's supervisor and her coworkers at the clinic know about her past, and they support her in her recovery. In fact, in many ways, Stacy's experiences illustrate the point of the ad campaign: that ending the social stigma around substance use disorders can help people seek treatment — and survive and thrive in recovery.
'We support you'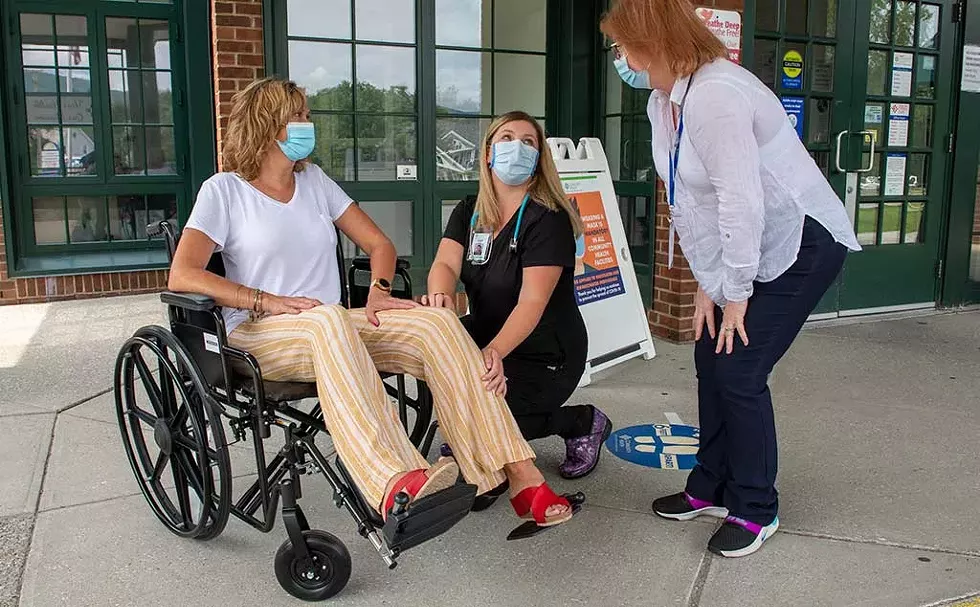 Caleb Kenna
Stacy Beckett (center) with her supervisor Norma Austin (right) at Community Health Center Rutland
Stacy was excited to be part of the health department campaign because, now, her life is on an upward trajectory. She stopped using drugs in June 2015, with her mother's steadfast help and support. She successfully completed inpatient treatment, lived for a time at Lund in Burlington and turned her life around. Today Stacy is married and has 3-year-old twins, in addition to an 11-year-old stepdaughter and a 10-year-old daughter who lives with her parents; in April she regained custody of her 6-year-old son. Though Stacy grew up in Vernon, she and her family now live in Danby.
Stacy had long wanted to work in health care but thought her substance use disorder would prevent her from getting a medical job. She had been working as a manager at a McDonald's; then came the pandemic. The Rutland clinic needed additional staff to screen patients for COVID-19 symptoms at the front door. Stacy applied.
The clinic did have questions about her past drug use and criminal record — while actively using, she was convicted of shoplifting and child endangerment. But after she explained her situation, and her progress, the clinic took a chance on Stacy, hiring her for a 90-day trial period.
Her supervisor, practice manager Norma Austin, remembers that conversation. "I was very upfront and honest with her and said, 'I'm going to judge you based on the job that you do for the company, right? So are you reliable? Are you dependable? Are you honest? Are you thorough? Are you trustworthy? That's the only thing that I ask from any employee, and I wouldn't be asking anything different from you.'"
Norma appreciated Stacy's candor and told her, "You're always going to be supported here as far as that addiction part of your past goes. I would never hold that against you."
When Stacy first saw the health department commercial, though, she worried that her employer might not like it.
Would her bosses be embarrassed to have her at the clinic's front door now that everyone knew about her substance use disorder?
Nope, not at all, Stacy says. "Instead they were like, 'No, no, no, we support you. You've changed so much; you're thriving. We want you to help other people and encourage others,'" she recalls.
Norma agrees. "I think that everyone here is proud that we see people for what they're actually offering in the here and now," she says. "We're not looking at who they once were."
Norma adds that everyone knows someone who has struggled with addiction. "If we can help to stamp out that stigma, I think even as a community health organization, that's something we need to do," she says. "I think it just really goes in line with our service and values."
Caleb Kenna
Stacy Beckett
And Stacy's been a great employee. Norma describes her as "energetic" and "a go-getter," curious about how the clinic works and how she might help out. Norma supported Stacy's application to a medical assistant training program, which enabled her to get a promotion from screener to certified medical assistant. Stacy's now pursuing a nursing degree, taking introductory classes at the Community College of Vermont, which Norma "absolutely" supports.
Stacy "landed in the right place at the right time," she says, "and I'm really glad she did."
'I get to tell my story'
That support from her employer has made a big difference for Stacy. She's not living in fear of losing her job. In fact, she feels empowered to use her experiences, when appropriate, to connect with patients who are struggling with substance use.
There are a lot of them. Substance use disorders have spiked during the pandemic. Nationally, overdose deaths hit an all-time high in 2020; more than 93,000 Americans died of an overdose last year, 157 of them in Vermont. The Vermont number is up 38 percent from the year before.
Stacy says she regularly sees people who are dealing with substance use issues; they often have telltale bruises. "I can tell right away what's going on," she says. "They'll come in and sit down and be very quiet, head down." If she asks what's going on, the reply is "nothing," though after a brief conversation, they might mention something about it.
"And then they're like, 'It's just so hard and nobody understands,'" Stacy says, "and that's my cue. I'm like, 'Lucky for you, I actually understand what you're going through right now.' And I get to tell my story.'"
She tries to listen and connect, to remember what she went through to get help and to assist people if she can. "Then they usually feel better before they leave, or they feel better about talking to their doctor about what's going on after I leave the room," Stacy says.
Stigma: a 'paralyzing influence'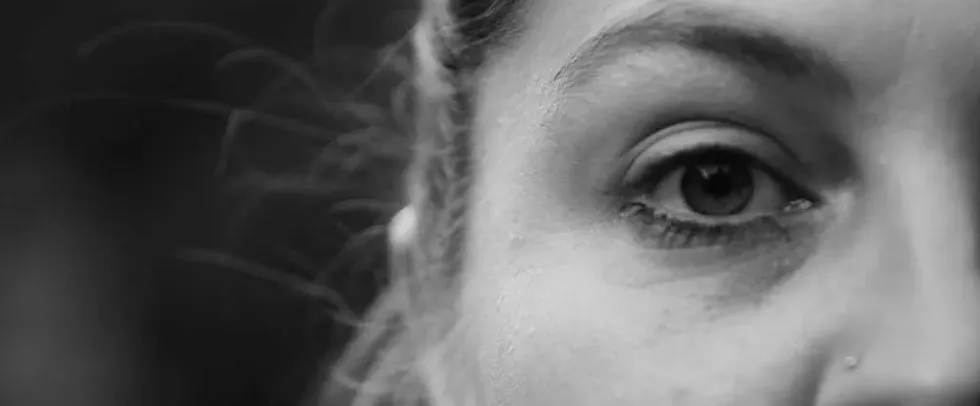 Vermont Department of Health
People are often reluctant to talk about substance use disorder, in part because of the social stigma attached to it.
Stacy herself had a very negative view of people dealing with addiction, which is partly why it took her four years to admit to anyone that she had a problem. Her mom worked for a drug counseling and mental health service for 20 years, and Stacy didn't want one of her mom's coworkers to find out that she was in trouble. "It's kind of what kept me from asking for help," she says.
This idea is at the heart of the health department's anti-stigma ad campaign, says Kelly Dougherty, deputy commissioner of the Vermont Department of Health. She says the campaign grew out of focus groups with those in recovery, their family members and other community stakeholders.
"We really heard loud and clear that stigma is sort of this paralyzing influence and really interferes with access to services," Kelly says. "We wanted to do something about it."
The campaign includes a website,
EndAddictionStigmaVT.com
, and connects people to
VTHelplink.org
(802-565-LINK), which offers referrals to support, treatment and recovery resources for people struggling with substance use disorders, as well as their families and friends.
Giving people hope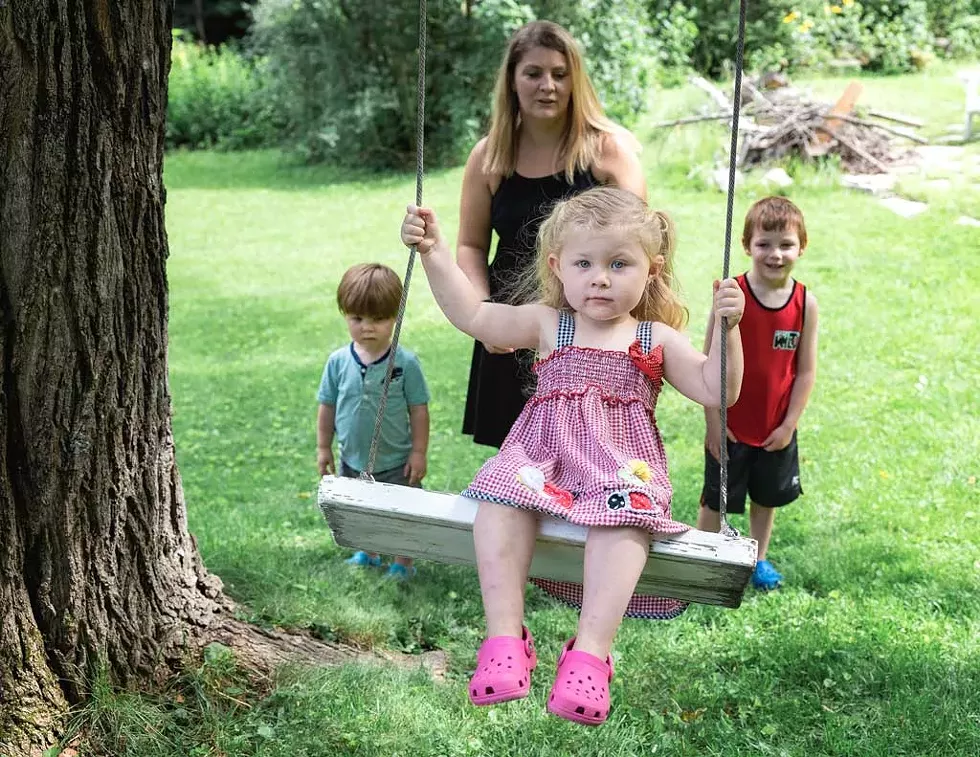 JL Damon
Stacy with her kids: Christopher, Olivia and Carter
When she was growing up, Stacy says she never saw positive portrayals of people in recovery. "For a long time, there wasn't anything out about people doing better," she says. In the movies, she notes, drug users "ended up in a ditch — murdered or overdosed." Only in the last couple of years has she begun to notice portrayals of individuals actually succeeding at recovery.
Stacy wants to be one of those examples. And she's interested in seeing more profiles of people in long-term recovery.
"You know, I think it would be really neat for other people to see, because a lot of people don't really have a whole lot of hope," she says. "I met someone again today who had no hope, and was just talking about how crummy this and that is."
That person recognized Stacy and remembered meeting her before. They realized they knew people in common. "And he was just like in awe and proud of me," she says. "He said, 'Good for you for doing this. This is amazing. I wish I was there, too.'"