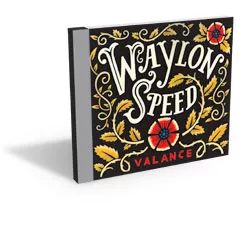 (Crow on Ten, CD)
Waylon Speed, undoubtedly Burlington's most renowned country-rock outfit, no longer require any introduction. This is a band hell-bent on making a name for itself, and its members have played their cards —Texas Hold 'em would be my guess — extremely well from day one. Since the quartet's inception in 2010, Waylon Speed have released two full-length albums — 2010's Georgia Overdrive and 2011's Horseshoes & Hand Grenades — and one EP, 2011's Boots. Each effort markedly improved upon the last, and their live shows, as you most likely know, are not to be missed. As Kelly Ravin's down-home lyrics frequently suggest, the wheels on this vehicle have no intention of slowing. A full-on stop, in most cases, would signify nothing short of death.
Valance, Waylon Speed's latest effort, trades in the classic-country themes of whiskey, speed, gasoline, trains, smoke and best friends' wives. Perhaps this sounds trite on paper, but rest assured that Waylon Speed transcend cliché and deliver to listeners all that is great about balls-to-the-walls country music, and American music in general.
An almost mind-numbing energy runs through this album, from its first notes to its last. The guitar, drum and bass work — courtesy of Chitwood Hammaker, Justin Crowther and Noah Crowther, respectively — that drive Ravin's lyrics down the dirty back roads and endless interstates of America sound like Johnny Cash's Tennessee Three ridin' on some serious amphetamines. This is energy that would have been incomprehensible in the 1950s. Tracks "Then Again" and "Killin' Time" feature some of the finest quick-fingered guitar solos to come out of a Burlington amp in a long minute. Ravin's lyrics regarding "broken bottles, broken bones and broken hearts" ("Smoke") are written and delivered with heartfelt sincerity.
Recorded live to two-inch analog tape, Valance has a timeless quality — so rare these days — that can only be realized in a room full of musicians playing alongside and against each other. And louder'n hell!
Put this record on, turn it way up, and your surroundings all but dissolve; you're now in a beat-up old truck and don't give a damn about open-container laws.
Waylon Speed play the Parker Pie Co. in West Glover this Saturday, July 14.