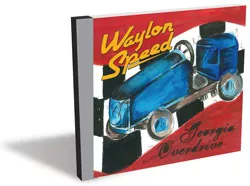 (Crow on Ten, CD)
For a modest chunk of the last decade, few Burlington bands were as successful as Chuch. The progenitors of "denim-fueled speed Western" were consummate road warriors, averaging scores of shows each year and traversing the country several times over. At the time of their breakup in 2007, they were on the precipice of mid-level national renown.
In 2008, three-quarters of the band reformed under the name Jesus Vanacho, adding a keyboardist and second guitarist to the established core of vocalist and bassist Noah Crowther, drummer Justin Crowther and guitarist Chad Hammaker. Like their namesake, JV was short lived. But the band was popular among Chuch loyalists.
With Georgia Overdrive, Hammaker and the Crowther boys are back, this time as Waylon Speed and with local songwriter and guitarist Kelly Ravin in tow. Once again, longtime fans should find plenty to like. Equal parts Merle Haggard and Motorhead, Waylon Speed fuel up at the same backwater truck stop as the late, great Chuch.
Opener "Leave Me Blue" finds the boys in classic form. Hammaker, long one of the area's more underrated axe men, shreds fiery, twang-metal licks. Justin Crowther, as always, is a paragon of metronomic precision. But it is Noah Crowther, here and throughout the record, who truly stands out. The songwriter seems reinvigorated and gives an inspired performance.
Before we go any further, let's address the elephant in the room. It's not fair to compare Waylon Speed to Chuch. It is equally unfair to compare Ravin to Chuch co-front man and steel guitarist Matt Hayes. Still, the instinct is to do just that. And really, how can you not? Hayes is the only missing piece of the original puzzle. But on the disc's second track, "Bobby's Car," Ravin puts his singular stamp on the proceedings. The veteran songwriter sounds self-assured and muscular, his reedy drawl a potent foil to Noah Crowther's plainspoken delivery.
Ravin and Hammaker also complement each other well as guitarists, nowhere more than on the instrumental "Running Colors." The song shifts — and sometimes grinds — gears with alarming intensity. At the song's metalicious breakdown, an unleashed Hammaker seems fully in his element.
The album closes with "Stump," a tune that perhaps embodies the evolution from Chuch to Waylon Speed, and all within the span of about two minutes. It is a smart, concise and slyly crafted punkabilly song. But the song — and the album, really — retains a certain playful grit, boasting that same blue-collar charm that once endeared Chuch to a legion of fans, and will likely do the same for Waylon Speed.
Waylon Speed celebrate Georgia Overdrive with a release party at Nectar's this Saturday.