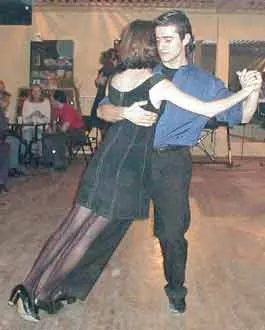 Got those "I Can't Stand the Cold and Dark Anymore But Don't Have Enough Frequent Flyer Miles to Leave" blues? This is the point in winter when many Vermonters pine for balmy climes, brighter colors, hotter just-about-anything. So how about a night of tango and Cuban rum, or a dinner of great paella spiced with flamenco? Ironically, you can find it all in that even colder metropolis to our north.
Several dance academies and dozen of teachers of both flamenco and tango are located in Montréal and produce plenty of local talent. Because of Montréalers' apparent love of these passionate and complex dance forms, the performance scene is frequently supplemented by international stars as well. You can find spectacles throughout the city every weekend.
Flamenco shows are staged at several Spanish restaurants in the city. The best is Casa Galicia, where three members of a local flamenco troupe — two women accompanied by a guitarist/singer — perform each weekend. This two-level restaurant, on St-Denis between Ontario and Sherbrooke, looks touristy from the outside, with neon signs announcing the spectacle de flamenco. But we were quickly charmed by the cozy ambiance and good food, and the flamenco was positively formidable.
As Montréal flamenco dancer Julia Cristina told a local reporter, "Flamenco — it is to possess another skin, another soul; to have other passions, other instincts and other desires. It is to see the world differently, with a sense of grandeur. To have fatality in your head, and the music in your nerves."
During a 40-minute set, the troupe led us through every range of passions and emotions, from smoldering anger to pleasure, from wrenching sorrow through the triumph of love. I was gasping for breath and wiping tears from my eyes. And this was in a restaurant, with waiters moving through the crowd and serving up paella, Zarzuela — an incredible fish stew — and sautéed sole that melts in your mouth. I could only imagine the impact of flamenco in a less distracting venue, but I will certainly settle for this.
Casa Galicia, 2087 St-Denis, 514-843-6698. Reservations are a must; ask for a table near the stage, either upstairs (show at 8:30 p.m.) or downstairs (show around 9:30 p.m.).
Other restaurants with flamenco: El Gitano, 3507 Av. de Parc, 514-843-8212 — a lovely place, shows 8:30 Saturday only; La Bodega, 3456 Av. de Parc, 514-849-2030. This informal dining room offers a single dancer with a guitarist — a sweet young thing, but with little of the passion and power of the older women at other venues.
If your blood isn't boiling yet, follow up with tango, which is danced late into the night at several clubs around the city. At the "Milonga," or dance evenings, tango aficionados practice their moves, learn from each other and share their love of the music and dance. Most clubs are affiliated with schools, but non-members are welcome to dance or just watch, for a modest cover charge of $5 to $7. The clubs aren't glitzy, the bars are usually limited, but the music, heat and skill of the dancers can still transport you to a much warmer world.
At the informal Tango Libre, we took our glasses of port to a ringside table and fell under the trance of the music and the hypnotic steps of the dance. Argentinean tango, we quickly noticed, is not the Bugs Bunny or Groucho Marx version of our childhoods. No cheek-to-cheek race across the dance floor, and the dips and swoops appear at the end of the dance, if at all. There's a basic pattern of steps with endless variations, depending on the skill of the dancers, on the rhythm of the particular tango being played, and also by the intimacy of the couple.
At 11:30 p.m., the dance floor cleared and the teachers gave a recital. The three offerings were as different as could be: The first — performed by two women, one in drag as a stripe-shirted French sailor, the other as a coquettish ingénue — was a story of endless pursuit and capture. The second was a display of footwork virtuosity as complex and quick as a Hong Kong action film, but oh-so-sensual. The third was a passionate, nearly operatic love story; the music ripped at our hearts as dancers struggled to become as one.
After everyone caught their breath, the deejay started up the CD player and the floor filled again with dancers.
Tango Libre, 1650 Marie-Anne East, 514-527-5197. Friday - Sunday, starting at 9:30 p.m.
A little more upscale, with a higher caliber of dancers, is Tangueria. Many people arrive as singles and pair up with new partners for each dance. One particular couple, however, seemed to be glued together from foreheads to hips. Their footwork was dazzling, their feel for the music intense.
Dance academy owner Lily Palmer started the tango movement in Montréal with her partner in the mid-1980s. I mentioned to her the tendency at Tango Libre for women to dance with their eyes closed. She tossed her head and declared it was just another trend. "Someone says, 'All the women in Argentina dance with their eyes closed,' and then the next week all the women in Montréal dance with their eyes closed," she said with disdain.
Palmer insisted that following trends is "to not understand the culture or the tango. The woman is one-half of the couple; she is not in a trance. She has her job to do." Pausing, Palmer added, "But maybe if she is intimate with her partner, maybe if the music is right and she is overwhelmed by the moment, a single moment, then she could close her eyes. But it would be an extraordinary moment."
Yes, I thought, as I watched the couples with their close embraces and silken moves. I took another sip of Havana Club.