Rick Davis, cofounder of the Permanent Fund for Vermont's Children, can talk a blue streak about early-childhood development. But there's one word, in all of his proselytizing, that you likely won't hear: daycare.
"Most people think of daycare as the place where you drop the kids off on the way to work in the care of a nice person who loves kids," he says.
Davis thinks the word "daycare" gives short shrift to the most important years in a child's development. Citing the now-definitive science that shows 72 percent of a child's brain is wired by the time he or she reaches 3 years old, Davis is leading the charge to reimagine early-childhood education in Vermont — and his vision goes way beyond daycare.
Davis wants to see every Vermont family have access to high-quality childcare. He believes the state could be the first in the country to offer universal preschool for both 3- and 4-year-olds. He wants home childcare providers to have access to professional development and mentoring.
That's particularly important in Vermont, he says, where 70 percent of the state's nearly 20,000 infants and toddlers spend part of each day away from home while their parents work. That percentage is higher than the national average and every other New England state.
"Most people in Vermont today would think that early childhood is an important period of your life, but not that it's the most important," says Davis over a cup of coffee in his hometown of Stowe. He wants that to change. "Education doesn't start in kindergarten. It doesn't start at preschool, or 3 years old. It starts at birth."
In many ways, Davis, 69, is an unlikely champion for this cause. The bushy-browed, charismatic reformer is neither an educator nor a biological dad; his wife, Lynn, already had four children — the youngest was 12 — when they married six years ago. He's a real estate developer who's spent his so-called golden years reinventing himself as one of the state's most outspoken advocates for kids. Examining the issue from 30,000 feet up, Davis is seeking to leverage resources, inspire collaboration among funders and make strategic investments instead of piecemeal ones.
And his work is paying off.
According to Aly Richards, Governor Peter Shumlin's director of special projects and intergovernmental affairs, Davis' involvement on this front helped the state get a hefty $37 million Race to the Top Early Learning Challenge grant last December. The federal funds will beef up existing family programs and create new opportunities for everything from prenatal care to educator training.
"He's just a natural leader on the issue," says Richards.
In part, that's because Davis puts his money where his mouth is: In 2000, he and a friend collectively ponied up $250,000 to start the Permanent Fund for Vermont's Children. Davis has continued to fund the foundation, and he's convinced others to help, too. This year, the Permanent Fund will dole out $1.2 million to finance strategic investments that support early-childhood development and mentoring in Vermont.
In 2006, Vermont selected Davis as its Philanthropist of the Year.
The fundraising honor points to another of Davis' strengths: "He's a connector," says Richards.
Fagan Hart, the co-executive director of the Vermont Children's Trust Foundation, echoes Richards' assessment. "He knows who to call, who to get in the room, who to invite to the meeting."
And he has the ear of Vermont's most powerful decision-makers. Davis recalls a meeting with Shumlin in the fall of 2012 during which the two discussed smart investments for the state. Davis says the governor asked him, "'What's your one big idea?'"
His response: affordable childcare for families. A few months later, Shumlin made a similar pitch to lawmakers during his 2013 State of the State address. He diverged from tradition and devoted his entire speech to one topic — education — and called for the state's largest-ever single investment in early childhood education.
Coincidence? Could be. But it fits with the picture painted by Davis' admirers, who describe him as a guy who knows how to make things happen.
"Sometimes in the nonprofit world you can do a lot of discussing and meeting and presenting of charges, but it doesn't always translate into action," says Curt Fields, who heads up the New Jersey-based Turrell Fund, which frequently partners with the Permanent Fund. "Anything Rick is involved in leads to direct action."
Developing an Interest in Education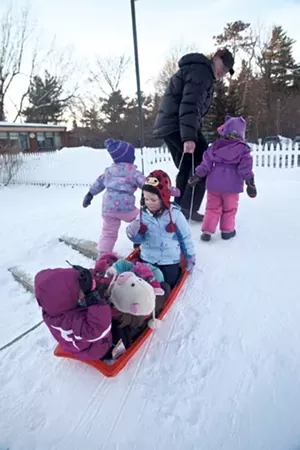 Matthew Thorsen
Rick Davis with some friends at Trinity Children's Center
Davis stumbled into what would become a decades-long commitment to serving children and families in the early 1980s — thanks to some neighborhood kids who were up to no good.
A native Vermonter, Davis joined the Navy young, then shipped off to serve in Vietnam. He returned home at 26 and spent the next few years managing the Shelburne Shipyard and racing sailboats along the Burlington waterfront.
That's when he started thinking seriously about redeveloping it. "There was nothing there," says Davis. He started the Davis Company — where he still works one day a week — and in 1976 bought the old Champlain Mattress Company, renovating the property into what is now the Ice House restaurant and offices.
A few years later, Davis and a business partner bought the Holloway Block, across the street, at auction. One morning, when renovations were under way, he and his crew showed up to work and discovered that someone had broken in and stolen their tools. The culprits? Elementary and middle school kids from the King Street neighborhood. Police found them that afternoon trying to hawk the tools on Church Street. When the police asked Davis if he wanted to press charges, he opted instead to sit down with the children and their families.
"Long story short," he recalls now, he hired a few of the kids and put them to work on the Holloway Block. It was his first taste of mentorship — and he wanted more. Soon after, Davis was directing the board at the King Street Youth Center a few blocks away from the Holloway worksite. He set out to understand, as best he could, what growing up in poverty meant for the children in that neighborhood.
"I saw these kids that had the cards stacked against them from the day they were born," says Davis. "I really wanted to try to create a level playing field."
That's part of what drove Davis to start the Permanent Fund in 2000. He'd put his day-to-day work at the Davis Company on hold to spend a few years in New York studying sculpture. At a crossroads, Davis realized he could either continue to focus on art, or he could return to Vermont and try to make a substantive difference in mentoring and early-childhood education. He'd seen firsthand how organizations serving children "cobbled together" funding, program by program, from various grants and foundations. Without collaboration among funders, Davis says, no one was looking at "systemic change."
"He made the case that there's an opportunity here to really change the game if we come together and make substantial investments in projects," says Fields. "Rick kept at it until he demonstrated to all of us the power of banding together."
Focusing on the Littlest Learners
Over the years, Davis has shifted his focus to younger and younger children. Though the Permanent Fund still supports the mentorship work that initially inspired Davis, he realized that it wasn't enough to intervene several years into a disadvantaged child's life; the achievement gaps were starting, and widening, much earlier.
To that end, the Permanent Fund has been instrumental in supporting a few major projects in the State, chief among them, the Vermont Community Preschool Collaborative and, most recently, Vermont Birth to Three.
VCPC focuses on creating new, high-quality preschool opportunities for 3- and 4-year-olds. The project, driven by philanthropic dollars, provides start-up grants and technical assistance to pre-K programs in their first two years of operation. Then, under Vermont's pre-K funding law, the state steps in to fund the existing programs.
It's been a tremendous success. Since 2005 VCPC has created nearly 1,700 permanent, publicly funded pre-K spots in more than 50 Vermont communities. School districts are reporting that kids who start kindergarten after attending pre-K are better equipped to learn. Davis estimates that upwards of 85 percent of superintendents in Vermont school districts now recognize the value of pre-K programs. The public isn't quite as convinced, he says, though that's changing, too.
The Permanent Fund's work has "really underscored the need for universal pre-K," says Linda Allen, Hart's coexecutive director at the Children's Trust Foundation. Lawmakers in Montpelier are currently weighing a universal pre-K bill which, if passed, would guarantee every preschooler in Vermont at least 10 hours a week of high-quality, publicly funded education.
Vermont Birth to Three starts even earlier. The goal of this program, created in 2011, is to provide the best care possible for Vermont infants and toddlers. The program has focused on motivating, training and mentoring the home-based care providers who make up much of Vermont's early childcare network. In just three years, VB3 has connected nearly 400 childcare providers — nearly half the state's total — with mentors.
The quality of the care those young children receive, Davis says, is critically important. Children who participate in high-quality early-childhood programs are more likely to graduate and earn better wages.
And, he adds, investing early means saving money in the long run on other social services. Reduced special education, welfare and crime costs — as well as increased earnings and tax costs — tally up to returns of between $4 and $9 for every dollar spent on early-childhood programs, according to Harvard's Center on the Developing Child.
These are the kinds of programs that will get a boost from Vermont's Race To The Top funds. And the money isn't the only evidence of momentum. In October, Shumlin's office unveiled the state's first-ever "road map" for early-childhood programs and investments.
Now, early-childhood advocates are outlining benchmarks they hope to hit in coming months and years: Ninety percent of early-childhood programs should be rated by the Department for Children and Families' STARS system; 100 percent of students with special needs should be in high-quality programing; childcare programs should receive bonuses for nutritional snacks and professional development.
"We're off to the races," says Aly Richards from the governor's office.
Meanwhile, Davis is off to Sun Valley, to visit one of his nephews, who has three children under the age of 8. He says he and his wife, Lynn, can't wait to have grandchildren.