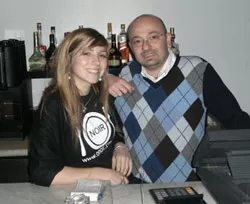 Moe Alameddine with assistant Paulin
If this island city on the St. Lawrence has a quirky, nonconformist style, it's largely thanks to the countless eateries that serve up personality along with their solid square meals. Parts of the burg boast an oddball joint on every corner; flaky foodie joints are so predominant that city dwellers are occasionally bedazzled by the boring. Case in point: When a Taco Bell opened recently, curious customers lined up for hours to get a predictable taste.
Here, independently owned restaurants have fought back against the influx of menu multinationals. As a result, some downtown burger joints such as McDonald's, Burger King and Wendy's have recently closed, while more interesting indies have sprouted up. In some of them, kooky cuisine is king, and the recipe seems to be working.
Québec restaurant industry officials report several straight years of 5 percent growth. Those steady profits have led many an intrepid entrepreneur to transform that twinkle-in-the-eye into a real place to lay down tablecloth. Here's a small but tasty sampling of some spots where a visitor may be able not just to chow down but to have an unforgettable experience.
O. Noir
It's hard to say what this place near the bustling corner of Guy and St. Catherine looks like. Many have eaten here, but none have actually seen the dining room. There are no candles, and it's unknown whether any light bulbs roost overhead. This cozy place gives new meaning to "intimate." It may be the only restaurant in North America where diners eat in the dark.
That's right, dark. Patrons enter a lit area where they are asked to store their cellphones in lockers and place their orders. Then they are guided by a server into a room as black as a raven's tail. What's more, the waiters are blind or visually impaired.
Owner Moe Alameddine got this dim idea after visiting two similar eateries in France and Switzerland. O. Noir's seats have been regularly filled ever since he turned on the stove and turned off the lights. "The customers love it. In French they say chapeau bas [hats off]," he says. Diners also like the restaurant because it serves a good cause as well as meals. "I have hired some visually impaired people who had a dream of working in a restaurant but never had a chance to," Alameddine explains. "Now their handicap has been transformed into a requirement at our institution."
The 10 waiters are thoroughly familiar with the lay of the land where they sightlessly transport meals from kitchen to table. Waiters must also escort anyone wishing to use the toilet. And yes, the bathroom is illuminated, as is the kitchen.
Customers have the option of not knowing what they're eating. "To go all the way with the experience, you should order the surprise," says Alameddine. "It's the chef's choice. Only when the customers finish do we tell them what they just had."
Turns out it's not that easy to recognize food when you can't feast your eyes on it. In general, the fare is Italian, French or Mediterranean.
Alameddine ran a Lebanese place in a downtown food court for a few years before he spent some time in Lebanon and returned to Montréal, this time aiming to do something new. "Previously I was in fast food, and that's a completely different line of business," he says. "I thought we should do something different, because everything is franchises and nobody is thinking about concepts anymore . . . I wanted to bring concept, design and good food all in one."
The restaurant certainly saves on decoration. Although customers will never know for sure, the dining room is reportedly presentable. "It's nothing fancy, because it's dark," Alameddine says, "but that doesn't mean there's holes in the walls."
Meals run around $30 to $40 for a two- or three-course meal; 5 percent of profits benefit associations for the blind. Demand at the restaurant has been outrageous, so reservations are recommended. "We're planning to expand, but it's not easy," says Alameddine. "It's not like any other restaurant, because it takes a lot of effort to train the servers. It's a big process feeding 55 people in the dark."
The occasional client may get a bit claustrophobic, but most are enthralled by the combination of sensory deprivation and stimulation. "Everything is heightened - your taste, your hearing. People end up speaking louder without even noticing it; all of the senses are on full alert," reports Alameddine.
Customers have also been known to take advantage of the darkness and furtively snuggle up. One young female journalist confesses that her table of mischievous ladies removed their shirts for a recent meal. She says the unusual situation inspired some randy impulses, but in the end the experience was pithier than she had anticipated. "The food wasn't anything exceptional, but the overall experience was beautiful," she says. "I felt like crying afterwards."
Whatever grown-ups might do at O. Noir, the place is also a hit with kids. "We explain to children that it's totally dark and the servers are blind, and you will have to trust them to be your eyes," says Alameddine. "The kids get excited - they want to take pictures with the blind servers."
O. Noir, 1631 St. Catherine W., 514-937-9727
Open nightly; seatings at 5:45 p.m. and 9 p.m.
Restaurant Kremlin
Half a century ago, downtown Montréal's restaurant scene exploded with the arrival of Soviet émigrés. The new establishments, mostly Hungarian soup-and-sandwich shops, hosted patrons who groaned and blustered about the evils of the Iron Curtain.
It's backlash time, Babushka!
Some former Soviets have been getting their restaurant revenge here since last July, when a full-fledged Stalinist-styled restaurant began serving beef Stroganoff, hot borscht and vareneke (a.k.a. pirogies) to the urban lumpenproletariat. Owners Elena and Dmitry Shteingold formerly ran a Russian bar, but it went out of business after the Québec government declared indoor smokers to be enemies of the people.
This Kremlin relies on family recipes to please its customers, according to Comrade Violeta Shteingold, 20, the owners' daughter; she also handles propaganda for the eatery. "It's mostly meat that we serve - it's not really a place for a vegetarian," she warns. "Russians put sour cream on everything, and we serve lots of it."
The décor is heavy on Soviet symbols. Uncle Joe Stalin stares down from every side with menacing eyes aglow, and there's no escape from the motif, given that tablecloths are adorned with hammers and sickles intertwining. The Shteingolds, who come from Russia's Black Sea area, hope they can reverse somewhat justified stereotypes about bad service in Soviet restaurants. Considering the state of eateries in Poland and East Germany during the mid-1980s, the couple's standards may not need to be that high. One diner on a recent lunch break from the nearby International Civil Aviation Organization confessed he wasn't thrilled with the service.
"It's a fun, interesting ambiance, it's unique, and you won't find anything like this place," promises Shteingold, who left Russia as a toddler soon after the collapse of the U.S.S.R. The restaurant offers a wall of windows overlooking nearby Victoria Square, at the foot of the hill that divides the old city from downtown. On Friday and Saturday evenings, the Kremlin is awash in mayhem that includes various entertainments, ranging from magicians to Russian singers to karaoke. The Kremlin is a great place to practice your Russian singing and chat with sailors sampling small - or very large - amounts of vodka.
Restaurant Kremlin, 1015 Beaver Hall Hill, 514-876-0555
Open Monday through Wednesday, 10 a.m to 3 p.m.; Thursday through Sunday, 10 a.m. to 3 a.m.
Gryphon D'Or
It could take a lifetime to sample the culinary delights of villages in Ireland, Scotland and England. Peggy Regan thinks that's a little too much effort, so she's gathered the most obscure dishes and serves them at her tearoom on trendy Monkland Avenue, near Royal. On any given day, the longtime drama professor, now retired from John Abbott College, might be serving haggis - boiled in cheesecloth rather than the traditional goat's belly - or the wild and weirdly addictive Welsh pork and apple pie, which is simply an apple pie with ground pork in it.
"We're not known for the type of camera-ready cuisine that's pyramided on a plate," says Regan. "We're about comfort food you'd particularly enjoy when you're hungry and tired."
The average aficionado of this old-country cuisine enjoys the quiet atmosphere and is, Regan notes delicately, "a bit older - you'd be surprised at how often we're thanked for not playing rock 'n' roll."
Regan learned the art of cooking "crofter," or rural, food from her grandmother, a native of Abernathy in the Scottish Highlands. Thanks to her granny's culinary secrets, Pure Canada magazine christened Regan the unofficial Scone Queen of Québec. Her recipes are closely guarded secrets, but this much is known: They no longer contain transfats.
Regan will put an obscure meal on the menu for a day upon request. She's also a big caterer - she supplies the Montréal Highland Games with 70 pounds of haggis per year. Many local cafés serve her baked goods, which are made in a giant kitchen downstairs at Gryphon D'Or. Regan's shortbread will probably be big in Japan, too - she recently signed a deal to ship mega-quantities of the stuff to the Land of the Rising Sun.
Meals average about 10 bucks and generally include a quiche, soup and daily special, which ranges from chicken with artichoke hearts to Guinness stew to Irish pancakes with creamed mushrooms. The restaurant hosts the occasional evening of Celtic storytelling or music.
Regan credits her mascot, the gryphon, for her success. The legendary beast, a precursor to the dragon, migrated from Babylon to Europe and now has perched on Monkland Avenue. "I'm not sure if it's attacking or defending," she says, "but when we started this place I felt that we needed the protection, and so far it's worked out."
The Gryphon D'Or, 5968 Monkland Avenue, 514-485-7377
Open weekdays 10 a.m. to 6 p.m., Saturdays noon to 5 p.m.