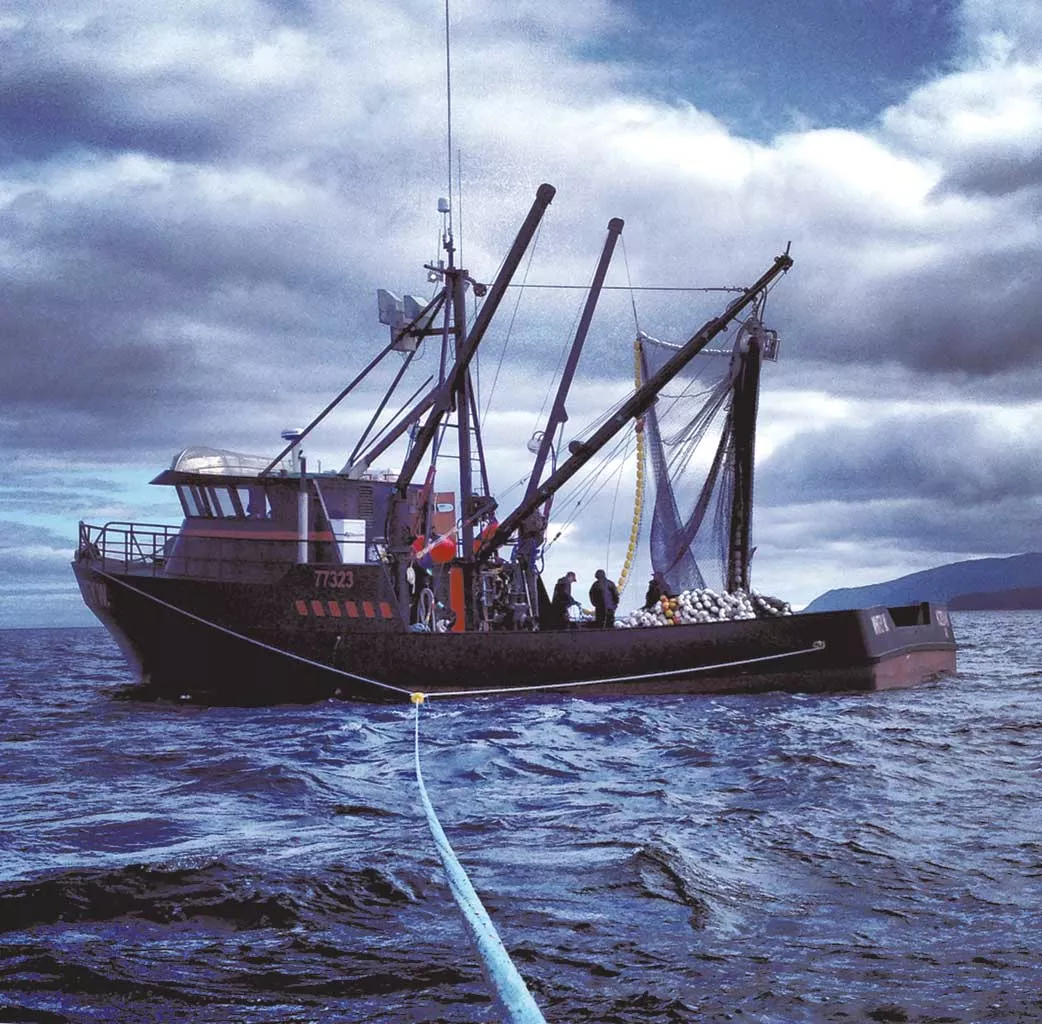 courtesy of Tristan Baribeau
Vermont farmers and food producers have many ways to measure the success of a year. But Burlington's Anthony Naples, aka "Captain Tony," is probably alone in calling a season a triumph because "nobody died."
Fortunately, the captain and owner of Starbird Fish says he hasn't lost a crew member yet. As an Alaskan salmon fisherman, Naples is one of the lucky ones. The popular television show about fishing in Alaska wasn't named "Deadliest Catch" purely for the sake of sensationalism. The complex mechanics of a fishing boat paired with sloppy weather can often be a recipe for disaster.
Avoiding fatalities wasn't the only reason 2013 was a banner year for Naples and his crew. "This past season was one of the largest salmon returns in history," he explains. "It was incredible. There were just so many fish. I had never seen so many fish — nobody had."
Now Vermonters can see the deck of Naples' boat alive with salmon for themselves in a film from him and Burlington musician Tristan Baribeau, who made "a split-second decision" to join Naples' crew last year.
The Doctor Sailor front man was the only local to make the trek to Oregon with Naples, who at 32 is one of the youngest commercial captains in Alaska. It was Naples' sixth year in the business but the first year he built the boat he skippered.
Once on the West Coast, the mostly inexperienced team constructed that massive boat from scratch. Before it was completed, the men headed 380 miles up the Columbia River to fish the waters of southeast Alaska, still nailing boards to the deck floor as they went. Baribeau filmed much of the process on his Flip camera and iPhone, something Naples has also done for years.
Upon their return to Burlington late last summer, the friends realized they had enough footage to make an hour-long movie. The result is Pirates of Tebenkof: Fishing Southeast Alaska 2013, composed of footage linked by music the crew listened to while on the boat, both big names and Vermont artists. The movie's title refers to Tebenkof Bay, "a place where we got into a lot of tiffs with other boats, hence the pirate reference," says Naples.
For now, the only way to see Pirates is at its premiere screening at Burlington's Hotel Vermont on Saturday, February 22. Naples says that, based on Facebook response, public demand may necessitate additional presentations.
Matthew Thorsen
Anthony Naples and Tristan Baribeau
The Hotel Vermont viewing party will begin with a slideshow during which Naples and Baribeau will explain the finer points of the building of their vessel, the Whitey W., and flesh out the season's tribulations and rewards as captured in the film.
For the uninitiated, that exposition will be necessary. Pirates of Tebenkof is not so much a narrative as a tone poem of place and feeling, not unlike the 2012 documentary Leviathan stripped of its multiple angles and underwater cameras. Like that wordless, professionally made film, Baribeau and Naples' movie brings viewers viscerally into the fishermen's world. When they hit rough waters, the waves crash menacingly to the strains of JJ Cale's "Call the Doctor."
"My whole crew got so sick," Naples recalled recently during his first full watch-through of the film.
By contrast, a viewer's heart leaps when the team overcomes dangerous weather (and an incorrectly hung net named Lisa) to haul in a record-breaking catch. Salmon flop on board out of the quarter-mile-long net in one continuous shot, filling the vessel all the way up to the fishermen's knees. Naples says he and his crew caught about 100,000 fish on the day that supplied the movie's happy ending.
That day's catch alone is far more than Starbird Fish sells in Vermont each year. Only a tiny portion of Naples' catch comes home with him at the end of the season. Those fish are flash-frozen, then stored at Waitsfield's Mad River Food Hub, not far from the captain's teen-years home of Moretown.
The rest makes its way to Europe and Asia, the final destinations of most Alaskan catch. "I'm trying to change that, though," Naples says. "Somehow we gotta make seafood sexier! It's good for you, and we have the most sustainable fishery on the planet, yet most of it is sold out of country."
Why did Naples return to live in Vermont despite a career based in the Pacific? The fisherman says he's traveled the world, from hitchhiking across the Caribbean islands to touring Africa, South America and France, but he finds the Green Mountains the best place to feed his dual loves of food and music. "I have a community of people here that are very receptive to what I do," Naples says. "I try to provide really high-quality fish, and people here appreciate good-quality food more than most places in the country."
That's certainly true at the Burlington Farmers Market, where Naples' fish makes customers stop in their tracks. "They say, 'Oh, no way,'" the captain says, miming the shock of passing shoppers. "They are so excited to see Alaskan salmon. It's a niche people appreciate."
Many of Naples' Vermont fans first encountered his salmon at the farmers market or in community-supported agriculture shares from Jericho Settlers Farm or the Intervale Food Hub. Starbird Fish is also available at City Market, Healthy Living Market and Guild Fine Meats.
Starbird's relationship with Hotel Vermont predates his movie screening. Last year, Naples supplied salmon to Richmond Elementary School at what he calls a "blowout fire-sale" price. Though he didn't make much of a profit, he says, he enjoyed providing the students with healthy fish and educating them about where their food came from. One young boy returned home and told his father about the salmon.
That father was Douglas Paine, chef at Hotel Vermont's Juniper. He purchased a supply of Naples' fish before the hotel opened and stored it in his walk-in. Since the restaurant began serving last spring, Paine's gin-cured salmon with pickled onion and a local bagel has become a breakfast menu staple. He says he expects to add Starbird Fish's upcoming shipment of whole Coho salmon to the dinner menu. And Paine assures that later this year, when sister hotel the Marriott Courtyard Burlington Harbor opens its seafood restaurant, Bleu, Starbird Fish will have a place on the bill of fare.
"Without a doubt, wild salmon is far superior to anything farms do. But it's so rare to have a guarantee that it's coming off a quality boat," Paine says of working with Naples. "I like having that connection."
Selling fish to restaurants is a new business practice for Starbird, but a natural one. Naples is keenly attuned to the pulse of the local food and music scene. Also an amateur guitarist, he has a close relationship with the owners of ArtsRiot in Burlington, which has sponsored Starbird events. The Farmhouse Tap & Grill has held a special event featuring Starbird's fish. And to young, hip Burlington, Naples is a relatable representative in skinny jeans and Beatles boots.
Now, in a small way, he's also an unlikely movie star, along with Baribeau, their crew and Lisa the net — who gets her own credit in Pirates of Tebenkof, despite her flaws.
In May, Naples and Baribeau will return to Washington State, where Whitey W. is currently moored, and make their way back to the chilly waters of Alaska. Reliably, the two Burlingtonians will bring back fish to feed Vermont for the rest of the year. And they just might rustle up a sequel on the side. m
Pirates of Tebenkof: Fishing Southeast Alaska 2013 premieres on Saturday, February 22, 6:30 p.m., at Hotel Vermont in Burlington. $12 includes salmon appetizers and a drink ticket. A slideshow precedes the film; a concert by Paper Castles and Floating Action follows at 10 p.m.