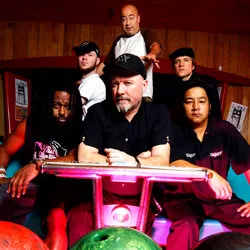 Since their inception in the early 1980s, The Toasters have become one of the most succesful ska bands in history. Having bridged the gap between ska's second wave and its rebirth in the 1990s, the band is also among the genre's most important. Front man Rob "Bucket" Hingley's late, great record label, Moon Ska, was virtually synonymous with and essentially symbolized the genre's third wave. And if an impending fourth wave really is on the horizon, a new generation of the Two Tone Army will owe the band a debt of gratitude.
In advance of the Toasters' upcoming Burlington appearance on Wednesday, September 29, at Club Metronome, Seven Days chatted with Bucket by phone from his home in Valencia, Spain.
SEVEN DAYS: You came up at the tail end of the second wave, played through the 1980s and emerged as possibly the single most important figure in ska's third wave. So, more than most, you've had a front-row seat to the genre's ebb and flow. Why is the popularity of ska so cyclical?
BUCKET HINGLEY: It all has to do with the culture of the music. Ska has a rich history of blending music and politics, but also a history of largely being ignored by the mainstream for long stretches of time. So that breeds a kind of appreciation among fans that try to keep the music and the meaning of the music alive. Those people hang on to it, even when others have moved on. But really, ska is always there.
SD: But there was a noticeable commercialization that grew out of the third wave.
BH: I think that came more from bands that other people claimed were ska but really weren't, bands that were simply lumped into the genre and didn't belong. I mean, I wouldn't call Smash Mouth ska, would you? And I suppose No Doubt was really the tipping point. But a lot of the bands that are still out there playing, like the Toasters, the Slackers, the Pietasters, were bands who were out there before. It's come full circle in a lot of ways and gone back to the bands who have long-hauled.
SD: It seems there has been a resurgence of interest in ska of late. I know we're starting to see more ska bands crop up around New England, at least. Would you say we're approaching a fourth wave?
BH: First of all, I discount the wave theory. I think it's all one wave. It's more of a spatial-temporal continuum that some bands can materialize out of. But it's all branches coming off the same tree, whose roots stretch back to the late 50s in Jamaica, whether it's two tone or third wave or whatever you want to call it. But a lot of the bands that are coming up now are bands that are playing more pure forms of the genre, more rock-steady, more reggae, more dub. And a lot more bands are getting back into two tone, which is refreshing.
SD: Any younger ska bands that have caught your ear?
BH: Well, for two-tone style, there's a young band out of Arizona called the 2Tone Lizard Kings. The Green Room Rockers, out of [Indiana]. There's a band called the Forthrights in New York. There are a lot of kids really in disparate scenes who are all really pulling together. So, I have high hopes of ska music coming back out of the doldrums, because it always does.
SD: There is some peculiar cultural baggage associated with ska: the punny names, the suits, whatever. How much of that stuff do you wish would just go away?
BH: [Laughing] Well, I think some people would try to stereotype it. And mostly, it's music that a lot of reviewers have had a problem with because they don't really get the roots and culture of it. I mean, a lot of people don't understand that it's where reggae music came from. A lot of people don't understand it's where a lot of punk-rock music came from as well — the cusp of that was really 1977-78, the two-tone music in the UK, which really crossed over from reggae into punk. There's a sociopolitical movement there, as well. So, there's a lot more to ska than just the music, and I wish people would dig a little deeper and realize it's not all party music. There are a lot of socially conscious lyrics, and socially conscious history embodied in the music, too. This is music that originally came out of the Trenchtown ghetto. So, there is a political facet that people would do well not to forget.
SD: Last question: What the hell happened to Moon Ska?
BH: Moon Ska has been in the grave since 2000, basically. We had to close that simply because of the marketplace. But we have a new label, Megalith, which is going ahead as well as can be expected considering that nobody wants to buy physical recordings anymore. But I think the trick these days is to reposition yourself more as a facilitator for bands playing out live. I think ska music is best carried out in a live venue and to a live audience. It's always been difficult to really capture that on a record. So, I think most of the emphasis we have is just to get bands out on the road and on the performance value of ska music, as opposed to the wax value, which is pretty much diminished in the age of unbridled piracy.