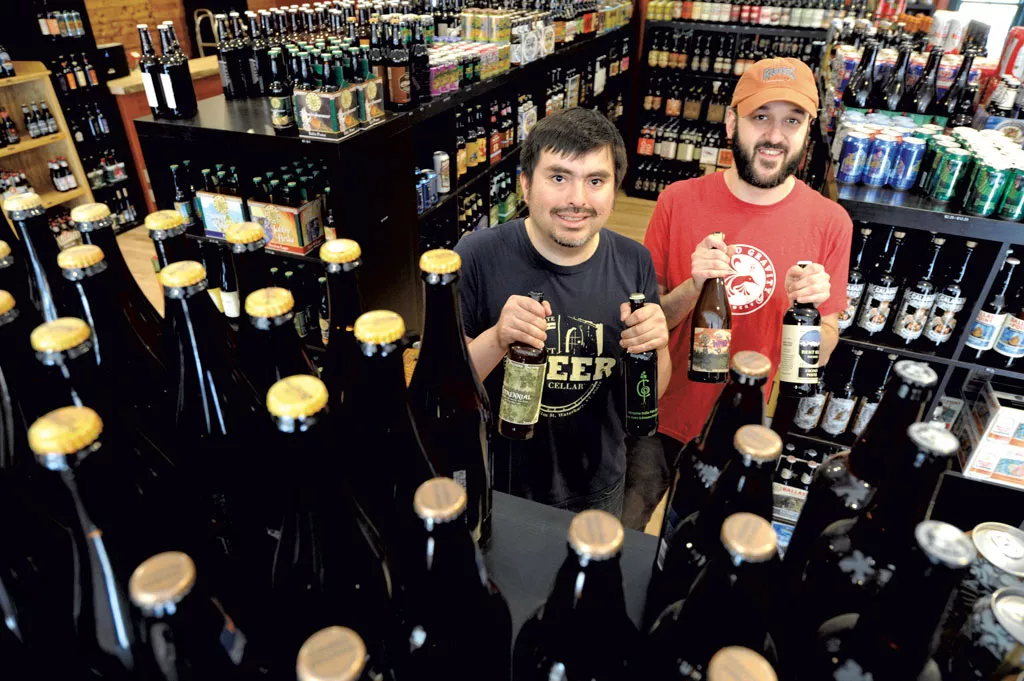 Jeb Wallace-brodeur
Victor Osinaga and Mark Drutman
What's your hankering: Even More Jesus or Even Less Jesus? How about some Yin & Yang, Sour Monkey, Kentucky Ryed Chiquen or Wet Hot American Wheat? If none of these tastes tickle your fancy, how about Citra Ass Down? Or maybe crack open a Sawtooth Nitro or get Hazed & Infused? Unless you're a seasoned beer tourist or a dyed-in-the-wool craft beer aficionado, you've probably never sipped any of these suds — or even seen them for sale — in the Green Mountain State.
Life is good these days for Vermont's craft beer lovers, especially those who've discovered Craft Beer Cellar in Waterbury. With upwards of 800 craft beers on its shelves — as well as eight rotating varieties available only on tap and sold in growlers — the Cellar is fast becoming a mecca for those who've been bitten by the craft beer bug. Whether you're in the market for the next double-IPA sensation, looking to broaden your palate with sour beers, stouts or hefeweizens, or just seeking an oldie but goodie such as Allagash Saison Ale or Ommegang Three Philosophers, the Cellar is unlikely to disappoint.
Unless, that is, you arrive before the store opens in the morning. Such was the case for one customer on a recent weekday, when a well-dressed man pulled up in his shiny new BMW with New York plates and a big-city attitude. He checked his watch impatiently and grumbled with annoyance when the owners wouldn't let him inside until the store opened at 11 a.m. (In fairness, Craft Beer Cellar is open seven days a week for at least nine hours each day.) The man sped off to search elsewhere for his quarry: Heady Topper.
By the time the store did open, a half dozen other customers were patiently waiting outside. None, it should be noted, were there for Vermont's fastest-moving double IPA. As one customer with a Mohawk browsed the shelves, co-owner Victor Osinaga checked in and asked, "Do you have any questions?"
"Too many questions," the man answered with a smile. "You have so much stuff!"
Osinaga, along with co-owner and fellow "head beer geek" Mark Drutman, are glad their customers face such a dilemma. But they're also quick to point out that Craft Beer Cellar isn't about encouraging beer snobbishness or having the largest possible beer selection. Their goal is to offer a well-curated selection of quality craft beers, including many in a refrigerated walk-in case that highlights Vermont and regional brands — or hard-to-find ones.
Osinaga and Drutman admit they haven't tried every beer in the store. But the few they haven't, Drutman emphasizes, are selected based on online beer reviews, as well as the breweries' reputations. "In the beginning, it was a bit more manageable to try them all. Now it's a little overwhelming," he says about the Cellar's hundreds of offerings, which come from at least 20 states and 17 countries. "On the most basic level, [we offer] the best of what's available in Vermont that's fresh and good," Drutman adds.
Jeb Wallace-brodeur
Mark Drutman fills a growler
The owners say they deliberately steer clear of bland mainstream brands from large corporate brewers such as Anheuser-Busch and MillerCoors, in part because they don't want to spend their dollars that way. And, as Drutman puts it, "No one really wants that stuff anymore."
"Plus, it's more fun to sell stuff that we can personally vouch for because I drink it at home," Osinaga says.
He and Drutman opt instead to select from the burgeoning number of small, independent craft breweries now operating nationwide — more than 3,400, according to figures from the Brewers Association, an industry trade group. (As BA staff economist Bart Watson told CNBC last year, at least one new craft brewery opens in the United States each day.)
Craft Beer Cellar's selective approach to beer buying also means that its customers won't find some quality craft beers that are readily available in local supermarkets and convenience stores. Instead, the owners prefer to stock more limited-edition items, seasonal offerings and specialty products. (That said, the store's emphasis on "local first" generally means that it keeps most offerings from Vermont's craft breweries on hand, including the Shed, Switchback, Rock Art, Northshire and Otter Creek.)
Osinaga and Drutman also buy craft beers from around the world. The store itself is organized by region, with sections for Vermont and New England, the mid-Atlantic states, the Rocky Mountains and the West Coast. Craft Beer Cellar cannot, of course, sell brands that aren't available for distribution in Vermont. For example, Drutman says, customers occasionally request New Belgium Brewing's Fat Tire, from Fort Collins, Colo., and Bell's Smitten Golden Rye Ale, out of Kalamazoo, Mich. Neither is distributed in Vermont.
Osinaga points out that the Cellar also has a growing selection of meads and ciders. The latter is a product neither partner knew much about before opening the business. But now, he says, "[Cider] sales have definitely exceeded all our expectations."
Today, the store routinely carries many of Citizen Cider's products, various Vermont brands of ice cider and several California ciders, as well as European styles imported from Spain, England, France and Italy. Also, in keeping with their goal of supporting local businesses but only carrying more difficult-to-find items, Osinaga and Drutman stock Woodchuck Hard Cider, but only its more limited releases, including Gumption and the Vermont-apples-only Local Nectar.
Not surprisingly, many of the beers on Cellar's shelves are IPAs and double IPAs, which, Drutman says, reflect the most popular trend in craft brew consumption. "That's what gets people into craft beers to begin with," he says. "It's so different from all the mainstream stuff. It's such a unique style and flavor."
Drutman notes that many of their customers come to purchase Heady Topper, then return later looking for other beers with similar tastes. But the Waterbury beer geeks also have plenty to offer those who don't cotton to the bitter hoppiness of an India pale ale. For example, due to the growing popularity of sour beers, the Cellar now carries Lost Nation Brewing's Gose, which, Drutman says, has attracted a lot of customer interest as "an approachable, easy-to-drink sour beer."
Drutman, 32, and Osinaga, 38, are both New York City transplants who opened the store in December 2013, just across the street from Prohibition Pig in Waterbury. Osinaga says they deliberately chose Waterbury because they see it as "the epicenter of craft beer in Vermont," yet it lacked a store like theirs.
Previously, Osinaga spent 12 years as a computer programmer before relocating to Vermont but had always indulged his passion for craft brews. For his part, Drutman says he spent eight years working in various aspects of the beer industry, including stores, bars, a beer distributorship and a homebrew shop. As he puts it, "This is just the culmination of my beer career."
In fact, Craft Beer Cellar is also a full-service homebrew shop. Curiously, on an exposed brick wall behind the cash register hangs a blackboard with a complex chemical formula written on it. When asked what it means, Drutman explains that the reaction shows what happens when you add hops to wort to extract humulone, the organic acid that gives beer its hoppy flavor. Drutman and Osinaga had planned to write a different chemical reaction on the board each week. "We thought it would come off," Drutman explains sheepishly, "but we may have accidentally used a permanent marker."
So what are their favorite brands? Neither was willing to nail down just one brand — or even one style — as their go-to beverage.
Says Drutman, "I just like new things that taste different."
"I'm not saying this to be political, but I really don't have favorites," Osinaga adds. "Like many people, I drink by season. But there's nothing I won't drink all year."